After almost two months of battles between Challengers, Daredevils, Royals etc it all boils down to final today between Kolkata and Punjab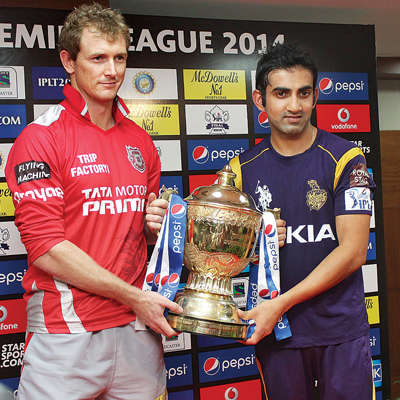 Respect to Kolkata Knight Riders. Respect to Kings XI Punjab too. It goes without saying that two of the best teams in fray have made it to the final of the seventh edition of the IPL. Given the form and progress of both the teams, to hazard a guess about the winner is difficult. There is little that sets them apart.
Barring a few anxious matches when they were really tested, Kings XI Punjab have had a smooth passage to the title clash for the first time in the last seven years. On the other hand, 2012 champions Kolkata Knight Riders had a forgettable start in the first leg in Abu Dhabi before finding their wonted form in the second leg in India.
It will be interesting to see how things transpire when the two teams with contrasting approach lock horns in what promises to be a tough battle for supremacy. If Punjab look to outplay their opponents with their batting might, which they have done time and again, Kolkata, too, have the likes of captain Gautam Gambhir and the indomitable Robin Uthappa in their line-up that is capable of rattling any bowling attack. Who can forget Yusuf Pathan who clobbered Dale Steyn over the park a few days ago.
It is the bowling in Gambhir's team that looks well balanced. Morne Morkel, Umesh Yadav and the enigmatic Sunil Narine are in fine form, while Piyush Chawla and Shakib Al Hasan have been more than useful.
That they won eight matches on the trot on the way to the title clash will definitely have KKR in the right frame of mind. The three-day rest before coming to Bangalore for the all-important clash seems to have done a world of good for the Kolkata team.
Kings XI captain George Bailey could not hide his smile on the eve of the match. He had every reason to feel so as everything worked according to the team's gameplan against Chennai Super Kings in Mumbai on Friday. Delhi dasher Virender Sehwag played a match-winning knock of 122 that virtually sealed CSK's fate.
Though he looked good in the previous outings, a big knock was long due from Sehwag. The India discard could not have timed his century better. Many were left wondering if he was out to prove his detractors wrong, while his awesome batting display left all the CSK bowlers running for cover. By the time he got out after completing his task, he had done enough damage.
It is exactly this devastating form that Punjab will be hoping from Sehwag again if they nurture any hopes of winning their maiden IPL title. Though David Miller has been in good form, it is Glenn Maxwell who has hit a bad patch in the last couple of matches.
Having said that, both the teams know there is little room for mistakes in a T20 match. The team that gets its basics right stands a better chance of walking away with the glory.
Gautam Gambhir
We dont give importance to critics. Most important thing is what the bunch of players sitting in the dressing room say about me and what I feel about them as well.
It was a great innings from Virender Sehwag against Chennai Super Kings in Mumbai on Friday. He showed what he is capable of. Yes, he is a good friend of mine off the field and on it, it is a different issue.
George Bailey
KKR have been consistent in all the departments right through the tournament. Worrying about your opponents doesn't help. We want to focus on what we are supposed to do.
I think we have been lucky to have played the last three games at Mohali. So we had a nice little base there for a week. That gave us bit of time to refresh. However, if we get to this stage in a very long tournament, players are a bit tired. There is no doubt that the guys are eager for the match.