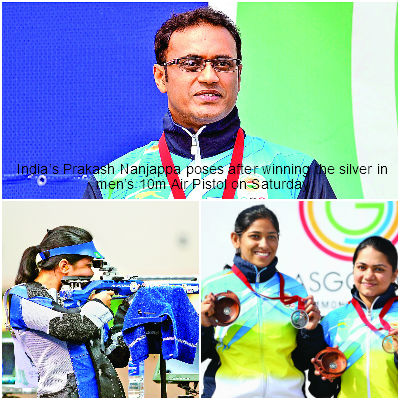 It never rains, it always pours. But this downpour of medal is more than welcome, especially from shooting, which has historically produced the most medals for India at any Commonwealth Games.
Already seven of the 15 medals, including three of the five gold, have come from Carnoustie, a city more famous for its golf course that hosts the British Open, but is now playing host to the shooting competition at the neighbouring Barry Buddon Shooting Ranges.
After a gold and a silver each from seasoned Abhinav Bindra and the teen prodigy Malaika Goel respectively on Friday, it was a kind of a deluge with as five medals on Saturday, when the haul included two gold and three silver.
The trend was set in the morning. The 38-year-old Prakash Nanjappa, a late bloomer in a squad full of young shooters won a silver in men's 10m Air Pistol. Nanjappa, a motorbike freak turned software engineer turned International shooter, justified his selection ahead of World No. 1 Jitu Rai in men's 10m Air Pistol by delivering a silver, that quite for sometime looked like a gold.
As the afternoon gave way to evening, the Indian shooting team revealed another young duo in Apurvi Chandela, 21, and Ayonika Paul, 22, who won the gold and silver in women's 10m Air Rifle.
And just as the evening session was drawing to a close, Rahi Sarnaobat, the 24-year-old who seemed to have served an apprentice-ship under Anisa Sayyed with a silver to latter's gold at the 2010 Games in Delhi, reversed that result this time. Rahi, 24, took the gold, while defending champion, the 34-year-old Anisa was left with the silver.
It was a treat for the Indian fans to watch Rahi ballet Anisa in the final duel for the gold, after Australian Lalita Yauhleuskaya and Alia Sazana Azahari battled for the bronze.
Rahi and Anisa were tied till the second series of shots, before Rahi ran away with the next three to emerge as the champion. Rahi and Anisa had teamed to win the Pairs four years ago. Alas there is no Pairs event this time.
This was Rahi's second big win after the World Cup in Changwon last year. The girl, whose motto is "Shooting is my life", wants to qualify for the Olympics through World Championships. Anisa added a silver to her individual gold of 2010 and she now has two gold and one silver from two CWG.
Apurvi Chandela upstaged her favoured teammate Ayonika Paul in the 10m Air Rifle clash. Ayonika, a World Cup bronze medallist this year, ended 1.9 points behind Apurvi, for whom this was her biggest win in her short career. Both were competing in their first CWG.
Nanjappa, born on that rare day, February 29 – the same as former India Prime Minister Morarji Desai, has had a life full ups and downs. Son of a state-level shooter, PN Papanna, Prakash was a motorbike aficionado who turned to shooting to take up his father's challenge, turned away from the sport to go to software engineer, which he was by training. He worked in Canada for more than five years. "I was happy in Canada and doing very well. I was so settled that I may not have come back. But I also realised that I missed something, maybe it was shooting," he said after winning the medal.
Motivated, once again, by his father, he returned to India and shooting in 2009 and a little later made the state team. He won the state championships and he was hooked to shooting, yet again.
By 2013 he was in the Indian team winning a bronze medal at the ISSF World Cup in Changwon, Korea. But fate had another test for him – at an event in Spain a few months later, he was struck by Bell's Palsy, which saw the right side of his face paralysed, which even threatened his eye. "I was more worried about the eye, it would affect my life, not just shooting," he said. Nanjappa was told he could be back to normal with therapy, eye drops in around six months. But with added will power he made in one and a half months.
And then he was selected ahead of Jitu Rai, now World No. 1 in Air Pistol. But when the team was chosen, Rai had not flourished. He won a gold and a silver in two successive World Cups, within two months of the team selection. So it was Nanjappa's destiny to represent India and win the medal.
"Now I am focusing on World Championships in Spain to make the Olympic team for 2016 and then the Asian Games," says Nanjappa.
Nanjappa totalled 198.2 to Australian, Daniel Repacholi's 199.5. The legendary Michael Gault, now 60, was leading at one stage, but finally ended with bronze. third. It was Gault's 18th medal in his sixth Commonwealth Games.