After losing yet another ODI series abroad, dna looks at what went wrong with Indian team that capitulated to a 0-4 defeat to New Zealand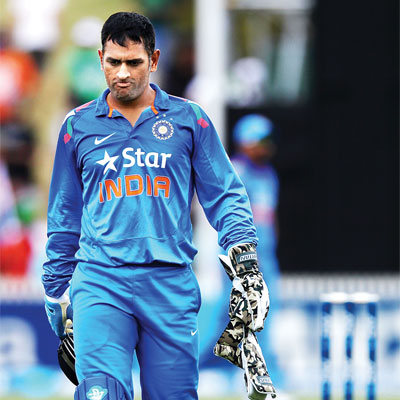 1. Captain clueless
Not too long ago, MS Dhoni was 'Captain Cool'. Not anymore. After being thoroughly outplayed in the three-match series in South Africa, India were supposed to make amends against a side ranked seven rungs below them. Alas, a tie is all they could muster. Each of the other four fixtures went in New Zealand's favour. Dhoni did just two things right: he called correctly at the toss and batted like a champ. But truth be told, he seemed clueless otherwise. In fact, it wouldn't be wrong to say that Brendon McCullum outwitted him in every aspect of every game. Dhoni persisted with the openers, both of whom failed to deliver. He did drop Shikhar Dhawan for the fourth ODI, but blundered big time by fiddling with Virat Kohli's batting position. Ajinkya Rahane should have joined Rohit Sharma at the top. The skipper's preoccupation with his good friend, Suresh Raina, also hurt India. He benched the out-of-form left-hander only after the tied third ODI, by which time the series couldn't have been won. And what's so special about R Ashwin? Isn't it obvious that he is simply ineffective outside the subcontinent? Here are the numbers: five matches, 44 overs, no maidens, 227 runs and just one wicket. It was no different in South Africa. What's Amit Mishra doing on the bench? And what about Parvez Rasool? Among pacers, Mohammad Shami was the only one who looked threatening. His 11 wickets came at 29, but he gave away over seven an over. Bhuvneshwar Kumar stands exposed. Ishant Sharma? Well, let's not even talk about him.
2. Shikhar, s(h)ort out
Even a 10-year-old can write an essay on 'The importance of a solid opening pair'. It's true that India have invested a lot of time and resources in Shikhar Dhawan and Rohit Sharma. And rightly so. Neither Gautam Gambhir nor Virender Sehwag merit a place in the ODI side, but that doesn't mean Dhawan and Sharma can fail in every second match. After disappointing one and all in South Africa, the duo failed to post just one 50-plus partnership in New Zealand. Their stands were worth 15, 22, 64 and 8. Sharma and Kohli managed eight in the fourth ODI. Not only did the openers falter, but they also consumed far too many deliveries. Remember India batted second in four out of five matches. The pitches were nowhere close to deadly and the bowlers certainly not as good as Dale Steyn and Morne Morkel. Still, our openers disappointed. To watch them fall to the short ball was even more frustrating.
3. One-man middle-order
This is something even Dhoni admitted to. He said the series was decided by the middle orders. While Kane Williamson and Ross Taylor clicked in almost every match, Dhoni and Kohli were often left with a mountain to climb. It's time the selectors took a good hard look at Raina's contributions. Just like they eased Yuvraj Singh out of the side, they must get rid of Raina. For a man who has played 189 ODIs, Raina is worse than a schoolboy when it comes to tackling the short ball. Thankfully, Dhoni dumped him after the third ODI. Fathom this: Raina last scored a half century in August 2013 (Zimbabwe). Ajinkya Rahane is way better than what you saw of him. High on confidence after a couple of stupendous knocks in the Test series in South Africa, the Mumbaikar was supposed to seal his spot at No. 4 in the ODI team. He tallied no more than 51 runs in five innings. How about swapping places with Rohit?
4. Pacers, really?
Bhuvneshwar Kumar, Praveen Kumar, R Vinay Kumar, Ishant Sharma, Umesh Yadav and Mohammad Shami. These are the pacers India have fielded outside the subcontinent since the 2011 World Cup. Only one — Bhuvneshwar — has an economy rate of below five. Some of them have a strike-rate of over 50. Shami was, by far, India's best bowler in New Zealand. Varun Aaron (4 wickets), Bhuvneshwar (4) and Ishant Sharma (2) flattered to deceive. Obsessed with the short-pitched ball, they failed to use the conditions on offer. That's something Tim Southee and Mitchell McClenaghan did. India did break the opening stand fairly quickly in all matches because of Jessy Ryder's indifferent form. However, they couldn't quite dislodge Kane Williamson and Ross Taylor, two players who defied and denied India in every other game. They were also clueless against the broad blades of Brendon Corey Anderson, Luke Ronchi and Brendon McCullum.
5. Ash(no)win
It's true that the ball doesn't turn as much in New Zealand. But the Kiwis played smart by going on the backfoot and playing R Ashwin and Ravindra Jadeja into the gaps. Still, they managed to collect more than five an over off both spinners. Kane Waiiliamson, a very good player of spin, did all he could to negate the spinners. The big hitters then put immense pressure on the fifth and sixth bowlers. While Jadeja picked up four wickets at an average of 60 in five matches, Ashwin was worse (1/227). The so-called mystery spinner managed to pick up just one wicket in South Africa too. Ashwin enjoys the confidence of his skipper, but as a fortright cricketer, he must opt out of a few matches and work on his basics, like putting his body into his bowling. Right now, he is just inept. Ashwin must remember he is a spinner first. His exploits with the bat should not get him immunity. It's time the selectors noticed this.
India since 2011 WC
In Tests
Won in West Indies 1-0 (3 Tests)
Lost in England 0-4 (4 Tests)
Defeated West Indies in India 2-0 (3 Tests)
Lost in Australia 0-4 (4 Tests)
Defeated NZ in India 2-0 (2 Tests)
Lost to England in India 1-2 (4 Tests)
Defeated Australia in India 4-0 (4 Tests)
Defeated West Indies in India 2-0 (2 Tests)
Lost to SA in South Africa 0-1 (2 Tests)
In ODIs
Defeated West Indies in West Indies 3-2 (5 ODIs)
Lost in England 0-3 (5 ODIs)
Defeated England in India 5-0 (5 ODIs)
Defeated West Indies in India 4-1 (5 ODIs)
CB Series in Australia 3-4 (W-L, 8 ODIs)
Asia Cup 2-1 (W-L, 3 ODIs)
Defeated Sri Lanka in Sri Lanka 4-1 (5 ODIs)
Lost to Pakistan in India 1-2 (3 ODIs)
Defeated England in India 3-2 (5 ODIs)
Won ICC Champions Trophy in England 5-0
Won tri-series in West Indies 3-2
Defeated Zimbabwe in Zimbabwe 5-0 (5 ODIs)
Defeated Australia in India 3-2 (7 ODIs)
Defeated West Indies in India 2-1 (3 ODIs)
Lost to SA in South Africa 0-2 (3 ODIs)
Lost to New Zealand in New Zealand 0-4 (5 ODIs)
—Arun Gopalakrishnan