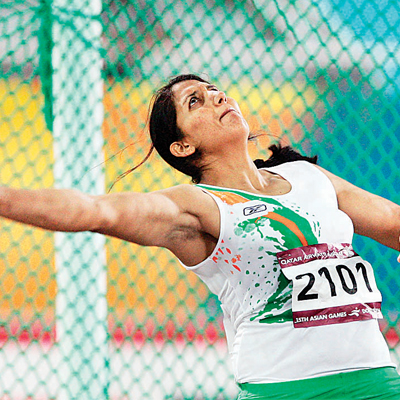 The Athletics Federation of India (AFI) has announced 32-member Indian team for the Commonwealth Games in Glasgow that will commence today. It has thus brought down the number to 32 from 41 selected originally.
India's track and field squad, comprising of 17 women and 15 men in addition to 12 coaches and three support staff, will be seen in action in track and field competitions.
After announcing the squad, chairman of the selection committee and former Olympian Gurbachan Singh Randhawa had told: "We have selected the best medal prospects and it is a fine blend of experienced and talented youngsters."
Also read: Here's why few Indian athletes will not be homesick
Below is the list:
Men: 4x400 M Relay: Rajiv Arokia, Kuni Mohammed, Sachin Roby, Lalit Mathur, Jithu Baby, Jibin S
110MH: Thingalaya Siddhanth; Triple Jump: Arpinder Singh; Shot Put: Om Prakash; Discus Throw: Vikas Gowda; Javelin Throw: Ravinder SinghA Khaira; Devinder Singh, Vipin Kasana
Hammer Throw: Kamalpreet Singh, Chandrodaya N. Singh.
Women: 4x100 Relay Saradha Narayan, H. M. Jyothi, Asarbani Nanda,A Asha Roy, Santhini Vallikkad, Merlin K. Joseph
4x400 Relay: M R Poovamma, Tintu Luka, Debashree Majumdar, Ratandeep Kaur, Anilda Thomas, Ashwini Akkunji; High Jump: Sahana Kumari; Long Jump: Mayookha Jony; Discus Throw: Seema Punia, Krishna Poonia; Javelin Throw: Annu Rani.
Coaches and support staff: Chief coach:ABahadur Singh; Manager: P.K.Srivastava; Sprint coach: AP.T Usha
Jump coach: Shyam Kumar; Sprint coach: Ramesh(400m Women), Vinayaikin Sprint Coaches (100m), Anatoly Vardha (400m Men), Throw coach (Shot putt): Shakti Singh
Throw coach (Discus): Shiv Gowda; Throw coach (Javelin): Kashinath; Throw coach (Discus): Ankush Punia; Throw Coach (Discus): Virender Poonia
Physiotherapist: Kamalpreet Walia; Masseur: Baibu; Recovery Expert: Andre Filimonua.
Read: Cramped housing and lack of vegetarian food bothers Indians in Commonwealth games
With agency inputs