World No.1 Irishman starts favourite in last major of the year but speculation continues over American star's participation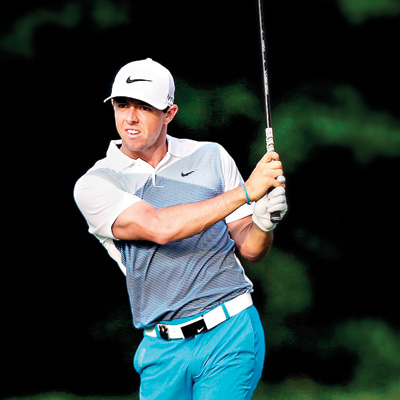 Rory McIlroy coming off two successive wins at the British Open and the WGC Invitational at Bridgestone, will start as a big favourite. In his last two starts he has shown he as comfortable chasing as he is when leading from the front.
On the eve of the fourth and final Major of the year, McIlroy said his goal was not to worry about the world No. 1 ranking but to win "every single tournament from now until the end of the year". On current form, he would have a fair shot each time he tees up.
After wins at the Open and Firestone Country Club McIlroy is trying to join Tiger Woods (five times), Tom Watson, David Duval and Vijay Singh as the only players to have won three consecutive PGA Tour events since 1980.
"I've had a great run of golf and I've played well over the past few months," McIlroy said on Tuesday. "Look, I said at the start of the year that golf was looking for someone to put their hand up and sort of one of the dominant players of the game.
"I felt like I had the ability to do that and it's nice to be able to win a few tournaments and get back to where I feel like I should be, which is ranked near the top of the World Rankings and competing in majors and winning tournaments."
Watson won three in a row during the 1980s, while Duval did it in 1997 — the last being the Tour Championship — before Singh did it in 2004.
Woods won seven in a row, including the British Open and PGA Championship late in the 2006 season and into '07. He also had a streak of six consecutive in late 1999 and early 2000. He won five in a row in 2007 and '08, and twice won three in a row.
Meanwhile, even in his absence Woods is a major story. Much of the media was still waiting to see if he would register before the 5 pm (Tuesday) deadline at Valhalla. The deadline could be extended if the player notifies the PGA of America that he would be registering late.
According to PGA of America, Woods contacted officials to ask for an extension of registration and it was granted. He can now register till 8.35 am, which is his tee alongside Phil Mickelson and Padraig Harrington. If Woods shows up on Thursday he would be playing Valhalla blind as the course on which he won the PGA Championship in 2000 and played the Ryder Cup in 2008, is very different from the one set up for this year.
Woods, who has not added a single Major to the 14 he had won at the end of the 2008 US Open, hobbled off from the WGC at Akron, Ohio as his troubled back made it virtually impossible for him to carry.
The field at the 96th PGA Championships is one of the strongest in the history of the game with 99 of the world's top-100 confirmed, but if Woods pulls out, that number could come down.
Sergio Garcia, who chased and lost to McIlroy at the Open, allowed McIlroy to catch up and beat him at WGC last week, but the genial Spaniard will still be a big factor this week. As will be young Rickie Fowler, who has had top-10s in each of the first three Majors this year.
There will be any number of other big names including Henrik Stenson, Adam Scott, Bubba Watson, Justin Rose, Phil Mickelson, though he has not had a top-10 in 17 PGA Tour events this year, and of course the defending champion, Jason Dufner.