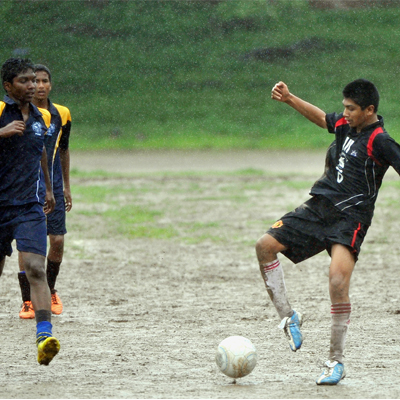 The Fr Agnel Sports Complex, Vashi, is all set to organise the under-16 football tournament where top 120 players of Navi Mumbai will be given a chance to play around 37 matches. The tournament will be held between April 12 and 19 at Fr Agnel's football ground in Vashi.
In an important initiative, the Fr Agnel group came up with this unique idea of spreading the game of football among masses. All local players will be given a chance to play and show their talent.
"On many occasions, good players fail to make place for themselves in the team and have to wait for another opportunity to play the game," said Ravi Nair, sports head of Fr Agnel group.
The seven-a-side football tournament will have 12 teams of 10 players in each team. All ten players of the team will be given a chance to play in an individual match.
"The tournament format will help each player to hit the ground even though there can be only seven players in the ground at a time," said Nair.
A total 37 matches will be played in the tournament including the final. "There will be two groups of six teams each and 30 league matches will be played," said Nair.
Additionally, each team will be given a coach to receive training. "We will assign a coach to each team to guide them," said Nair.
The matches of seven-a-side tournament will of 30 minutes with 15 minutes in each session. "Each day, a total six matches will be played after 5pm and all matches will be of 30 minutes,"said Nair.
According to Nair, the tournament is unique as it will help local players to showcase their talent and it will also help authorities to tap talents from city players.
"I am happy that this kind of tournament is being organised as it will help local players to excel," said a player, likely to play in the tournament.