Highest ranked men's singles player at the upcoming Chennai Open, World No. 8 Stanislas Wawrinka tells Rutvick Mehta that he is pleased with 2013 results and wants to do well in Grand Slams next year.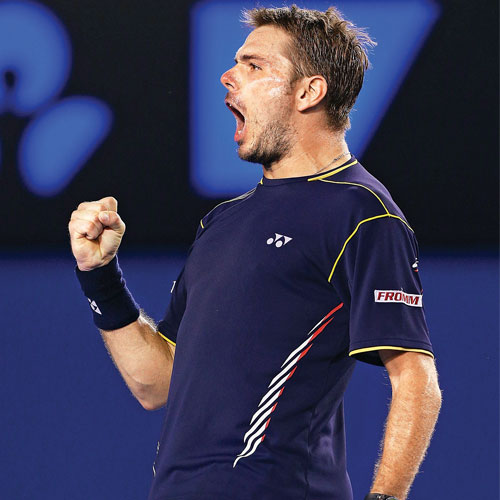 You finished the season ranked eighth with a 51-23 match record and a first Grand Slam semifinal appearance. Would you call 2013 your breakthrough year?
Well, it depends how you look at it. For me 2006 was also kind of a breakthrough year because that's when I won my first title in Umag (Croatia), reached semis in Barcelona and Basel. But if you look at my results at the Grand Slams in Melbourne, Paris and New York, then 2013 was definitely an outstanding year.
You won your fourth ATP title at Oeiras (Portugal) in May, your first the 2011 Chennai Open title. Did the long wait for another title frustrate you?
As a tennis player, you want to win titles and at that point I really wanted to win another title. I was never frustrated because I knew that my work would eventually pay off, but I was relieved and happy when I finally held that trophy in my hands.
You broke into the top-10 in May after a five-year gap. How desperate were you to get there?
As I said, winning the title in Oeiras was an important step. I always knew that I could be back in the top 10. All the players in the top 20 were very close to each other and it's so tough to step ahead. I'm glad that I made it back to the top 10, and even more because I reached my career best ranking of eight this fall.
Reaching your first Grand Slam semifinal in US Open this year must've been a great feeling, isn't it?
Yes, it was amazing. The US Open is a very special tournament, the atmosphere during the night sessions is different from any other tournament. I'm very happy with what I did in the US Open and am already looking forward to being back in August.
What did it take for you to go the next level in Slams – from second or third round exits earlier to making it to quarters and semis?
Experience helps a lot. You always have to keep fighting, work hard every day and believe in your chances.
What changes did you make in your game – both physical and mental – to bring such a marked improvement in your game?
No major changes. It was just working a lot, making some improvements here and there. But nothing dramatic.
Your battles against Novak Djokovic in the Australian and US Opens were tightly-contested five-setters. Were you disappointed to let go the opportunity to win?
Of course you are disappointed after losing such matches, especially during the first few days after the match. But then you need to discuss the match with your coach, analyse it and see the positive stuff behind it. Those defeats make you stronger mentally and give you extra motivation to keep fighting, working hard and try again.

How would you rate your overall clay court performance this year? Losing in Madrid final and the Roland Garros quarterfinal must be disappointing...
No, I'm very happy with those results! Both in Madrid and in Paris I lost against the best clay court player of all times, Rafael Nadal. He's such a tough opponent, he doesn't give away a single point. I'm very happy with my clay court season and my consistent results.
Was the Wimbledon first-round exit your lowest point this year?
Probably yes. I was also very disappointed after losing at my home tournaments in Gstaad and Basel.
Being his compatriot and someone who has watched him closely over the years, what do you think is going wrong with Roger Federer?
He was unlucky with the back injury he had this summer and didn't do as well as he usually does. His season was still a very good one, but people always compare it to the unbelievable seasons he had in the past. I know that he is very motivated, he loves this sport and will be back in great shape in 2014.

Federer has said he hopes to compete in the 2016 Olympics in Rio de Janeiro. Looking forward to partnering him again, probably for one last time in an Olympics?
2016 is still pretty far away. But of course it would be great if Roger and myself could play doubles together again. The gold medal in Beijing is still the most important success in my career and a treasured moment.

You've won in Chennai in 2011 and doubles last year. What do you like the most about the event? How confident are you of winning it this time?
Chennai has always been one my favourite stops on tour. I like coming here and the atmosphere on centre court is always great. I have great memories from 2011 and also from last year when I won the doubles together with my friend Benoit Paire. I'm looking forward to being back and hope that I can make another strong appearance.
Finally, any goals you've set for next year? Winning a Grand Slam, or breaking into the top-5, perhaps?
I want do well and make it to another quarterfinal. You don't have to take anything for granted. It would be arrogant to say that I want to reach a final because I reached a semifinal this year. I want to go as far as possible and I would love to do very well again.
STAN THE MAN
Full name: Stanislas Wawrinka
Age: 28
Residence: St. Barthelemy, Switzerland
Height: 6' (183 cm)
Plays: Right-handed
Turned Pro: 2002
Coach: Magnus Norman
Current ranking (singles): 8
Highest ranking (singles): 8
BEST SHOW IN SLAMS
Australian Open: QF (2011)
French Open: QF (2013)
Wimbledon: 4th Rd (2008, 2009)
US Open: SF (2013)