Ahead of the gruelling five-Test series between India & England, Australian legend Glenn McGrath tells G Krishnan that MS Dhoni's batsmen will have to do the job if they want to win. Excerpts: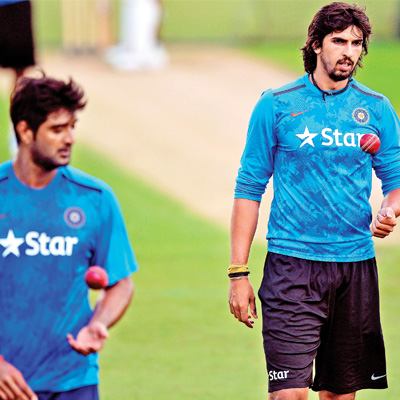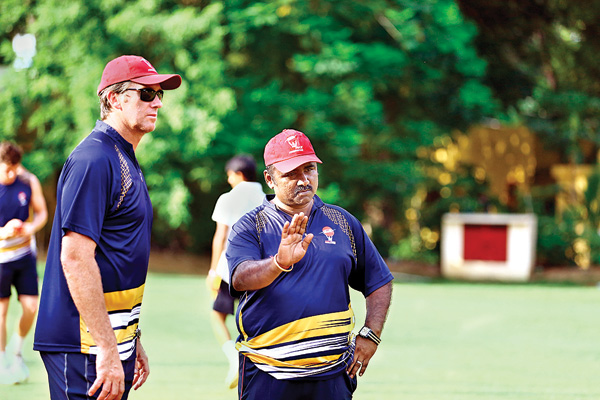 Glenn McGrath at the MRF Pace Academy, Chennai, recently
It is 22 months since you took over from Dennis Lillee as the director of MRF Pace Foundation. How has it been so far?
Everything is going well. I am enjoying my time here. It feels good to be back at the MRF Pace Foundation. It has been excellent for a couple of different reasons. Before I started here, I did not know a great deal about coaching. I thought I had a lot to offer because of the experience I gained from playing international cricket and playing at the top level. For me personally, it has been a great learning experience, firstly doing work with Dennis and now with M Senthilnathan (chief coordinator) at the pace academy. Just watching how we go about it, the technology used, I think I have learned so much, it is great from that respect. I feel apart from helping the boys with a few things, the more I learn, the more I will be able to help the young guys here. I have seen big improvements and everything is going well. It is a great set up at MRF Pace Foundation and they are doing an incredible job. I am more than happy to be part of it.
Six young Aussies were with you for a week in Chennai. Two Indians are currently training at the Cricket Australia's National Cricket Centre in Brisbane. What can we expect from them?
I think it is a great concept. It is a good experience for the young boys to go to Australia. It is a good experience for young Australians to come over to Chennai. I remember I came here in 1992. That was my first experience here and a little bit of work with Dennis at the Pace Foundation. It is great to get the experience in India, such a contrast to what we have got back home in Australia, bowling in different conditions, getting a feel of the different wickets. I was watching the young Australian boys chat with the young Indian boys here and you can make a lot of friendships as well. There are a lot of positives.
Varun Aaron and Ishwar Pandey were at the Pace Foundation before embarking on the tour of England. How much did they pick your brains?
They came and spent time at the MRF Pace Foundation before they went to England. I spent about three-four days with them. They just wanted to work on a few things, wanted to get back in the mode of the longer version of the game because obviously it has been quite a bit of T20 stuff happening of late. It was quite a smart thing to do. We got them used to Dukes cricket balls so they are accustomed to bowling with the ball they use in England, and just having a bit of chat with me. I played quite a bit of cricket in England. They asked me the different lengths to bowl, how to go about things over there, what the Dukes ball does as against SG and different conditions playing in India compared to the UK. I was a bit successful in the UK and shared as much information as possible before they headed over there. They both looked like bowling pretty well. I was impressed with them. Given the opportunity, and I am hoping that both get the opportunity to play over there, I think they will do very well there.
Could the entire Indian pace attack have benefitted from you?
Look, the Pace Foundation is happy to do whatever we can, help them in any way, what advice and help we can pass on, we are more than happy to do. Top line bowlers, not only in India but also around the world, know how they have to prepare. They know what they have to do. At the end of the day, it is up to them. Obviously, the BCCI wants them to be fit and strong and as ready as possible wherever they are playing cricket. So in the future, we will be more than happy to help out. But it is also an individual thing.
How do you think India will fare in England?
I think India have an opportunity to do well in England for a couple of reasons. England have just got beaten by Sri Lanka in the two Test series there, which was Sri Lanka's first series win in the UK. So in that respect, England will be pretty down about that loss. Probably they are not playing quite as well as they would like. The Indian bowlers would do well in England. The Indians have always had issues playing outside of the subcontinent, more so the batsmen. If India are to win, their batsmen have to do the job, score runs and bat well outside of India.
With the big guys leaving the scene, it is up to the youngsters like Virat Kohli and Cheteshwar Pujara to put on the runs, isn't it?
It is time for these guys to put their hands up and perform well outside of India. They are quality players and should be able to play well wherever they go. For India to win the series, those guys have to perform very well. They have senior players too. They have to take up the responsibility along with MS Dhoni to give themselves a pretty good chance (of winning).
India have not played in a five-Test series in a long time. How should they go about it?
You just have to take it one Test at a time. To win that first Test will be pretty big. There is still a lot of cricket, so you just think about each Test as it comes along. Obviously you have to win the first two Tests and you are in a pretty strong situation. If for some reason you don't get off to the best start, it will be difficult to come back. You have got used to playing in Indian conditions. The batsmen and bowlers have to adjust to the conditions as soon as possible. If they don't do that, they don't have a chance.
How much of a difference will Zaheer Khan's absence make?
He has so much experience playing all around the world. He has so much to offer. But unfortunately he is not there. You have got Ishant Sharma, who has played a lot of cricket. He is a senior statesman and it is time he put his hands up and be more consistent. He has had a good tour to New Zealand and has to build on that. He has to take up the role of one of the senior players now.
Are you surprised that Umesh Yadav is not part of the squad in England?
I was a little bit surprised when I found that he has been left out. But I have not seen much of Yadav recently, so I don't know how he is bowling or the reason to be dropped. But it throws up opportunities for the two guys I spoke about early – Aarun Aaron and Ishwar Pandey. Yadav has got a bit of work to do to make his way back to the team now.
India will tour Australia for four Tests this year end. How much of that will help them prepare for the ICC Cricket World Cup 2015 Down Under?
There is a lot of cricket being played. India will be keen to do well in the UK and take that confidence into Australia and the World Cup. They want to do well in the UK so that they get that confidence, otherwise you go to Australia down on confidence. The Australian team now has been playing some incredible cricket like the Ashes (in Australia) last year and the tour of South Africa. They have got a great bowling attack led by Mitchell Johnson, the batsmen are doing their jobs, Michael Clarke is captain really well and Brad Haddin has had an exceptional couple of years. So, if India turn up in Australia lacking in confidence, they can be blown up in the park. So, this tour of UK is pretty important. The next six months are important for a lot of teams.
Are you ready for a coaching role with the Australian team?
I am really enjoying it here (MRF Pace Foundation). I am just getting into the coaching role. I am going to take it easy. There is no ambition to coach Australia or be a bowling coach for Australia. Craig McDermott has got that mantle at the moment and is doing an exceptional job. There will be no pressure on him from me for his job. I retired to spend more time at home. The players spend a lot of time away from home as do the coaches. There is no ambition for me to be bowling coach of Australia. May be I will help the younger boys back home, may be there will be a good opportunity coming up in the near future.
What are your future plans? Anything new coming up?
Nothing new. Just working with the young guys here, keeping an eye out for talented young fast bowlers. Hopefully we have an express bowler coming through to work with him and see what we can do. Also, last year, we invited a few of the fast bowling coaches from the states to come here and do a bit of work and see if we could offer anything to them.. It is about building relationships with the Tamil Nadu Cricket Association and the BCCI and continue those relationships. At the end of the day, it is about producing fast bowlers for India.