Former India captain Sourav Ganguly tells Rutvick Mehta that he hopes the MS Dhoni & Co. take strong decisions in England and holds the Test series by the scruff of the neck. Excerpts: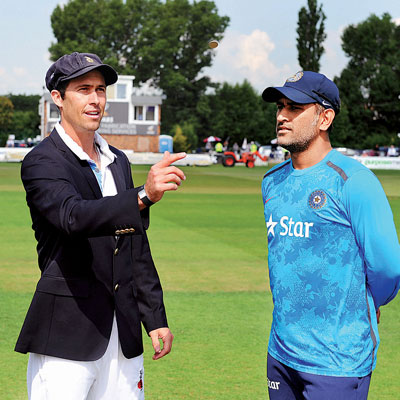 Going by the first tour match against Leicestershire, India's bowling still looks a worry. Does this attack without Zaheer Khan has the teeth to take 20 wickets in England?
Yes, I think we have got the ability to pick up 20 wickets in England. It will happen if the spinners bowl well. A lot of responsibility will be on the spinners. And don't go much into a practice game because in the end, it is just a practice game. By the time the Test match starts, it's going to be different.
So you will stick with the likes of Ishant Sharma and Bhuvneshwar Kumar for the Tests as well?
I think there is still time. Let's see how their form is by the end of the (ongoing) Derbyshire game, and then we can take a call. Not we, MS Dhoni can take a call.
For someone who has played a lot of cricket in England and succeeded there, what does it take to win Tests there? A lot of the current players have never played there...
I hope they bat well. I think batting will be the key. Also, I hope they take tough, strong decisions, like winning the toss and batting first, and holding the Test series by the scruff of the neck. Hopefully, they will do that. And I think this is India's best chance of winning.
Talking of India's batting, the likes of Virat Kohli and Cheteshwar Pujara have proved their Test credentials even away from home. Their form will be key, isn't it?
Yes, absolutely. But it will depend on everyone. Like (Shikhar) Dhawan, who played so well in New Zealand. They all are talented players. And that's why I feel India have a good chance of winning this series.
England captain Alastair Cook has come under criticism of late. MS Dhoni has often been accused of being a touch defensive in Tests too. How do you asses the two captains at this stage?
I think when you lose, you will get criticised. Obviously Dhoni is a lot more experienced captain, is the senior captain on the boat. Dhoni has been at the job for a long time and he's been pretty successful at it. So it's not right to compare the two captains. Cook's playing at his home, so obviously he'll have the home advantage. But Dhoni has a lot more experience than Alastair.
Dhoni said before departing that they're not used to playing five-match Test series. How challenging will that be?
I think they'll manage because they've played four Tests before. So it's just one more Test, and it's just the mindset. And I think it is a good thing for both the sides because you get an opportunity to get back into the series if you're down after one or two games. So I think it's a good thing for both the teams.
India continue to have a poor Test record away from home, with recent losses to South Africa and New Zealand. How crucial do you think the tour is for this team?
I think every tour is crucial. And England is always the place to play, because the entire world will be watching on how the cricket is going on in England.
Coach Duncan Fletcher has faced criticism for India's losses away from home. Do you think this will be a make-or-break series for him?
Let's not worry about criticism. I think you will be criticised when you're at the top job. Duncan Fletcher has the job till the World Cup and hopefully we can win in England, and Australia, and the team can do well in the World Cup.
What do you make of the England squad without Kevin Pietersen and Graeme Swann?
Yes, they're rebuilding. They've had their share of troubles and they're rebuilding. And again, that's why I feel this is India's best chance. Sri Lanka just beat England in England. I think India should take a leaf out of Sri Lanka's book.
What's the thrill of playing in England and on grounds like the Lord's?
Oh yeah, England is a great place to play the sport. It's a fabulous place to play cricket. And all these young boys will enjoy it, they'll love it. It's a great country to tour, and I'm sure these boys will just love it.