After KKR's win coincided with his return to the national side, Robin Uthappa tells Taus Rizvi that it is the most important opportunity for him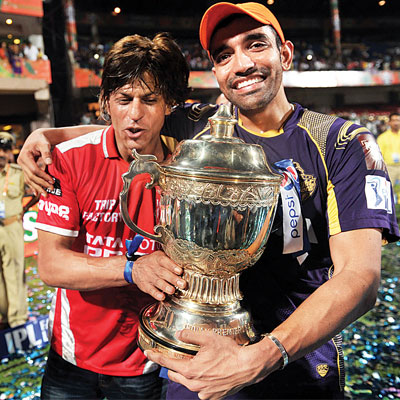 Congratulations. How does it feel to be a part of an IPL winning side?
Thanks. Well, it's fantastic and a great feeling to have won major tournaments in one year. I have been a part of four tournament wins which is stupendous. It's amazing and definitely one of the goals that you want to be part of teams that won the Indian Premier League, Ranji Trophy, Vijay Hazare One Dayers and Irani Cup. It is great to win all of them.
The win coincided with your India selection (for a series of three ODIs in Bangladesh)...
It feels good. I understand this is a big opportunity for me to express myself. Playing at the highest level, to be able to win matches for my country is a great opportunity. I would like to make most of it and consider it as the start of a new journey.
You have had a great IPL season scoring 660 runs and proud owner of the Orange Cap. How does it feel?
Feels good. It is more about being able to contribute to the team's cause. Those knocks came at a time when your team needed them most. It is more meaningful now to have been successful in scoring and getting the Orange Cap as your team won the tournament. The success seems to be more meaningful now, more enjoyable and sweeter rather than if you had scored those runs and won the cap but not the title.
How has been Gautam Gambhir as captain?
Gauti led the team beautifully. He made some great changes especially, in the bowling. He led from the front and I really enjoyed playing under him. He has a good sense and is most of the times one or two overs ahead of the game which is great in T20. Gauti was great while leading a side and I have only good things to say. We played as a unit truly and trusted one another.
How did you guys keep your morale high after losing five off seven games in UAE leg? What was the turning point of the tournament?
The turning point of the tournament for us was where we lost six wickets for three runs (Chasing Rajasthan's 170, KKR lost six wickets in the span of 121/1 to 123/6 eventually being restricted to 160/6 in 20 overs). Everybody was hurt after that. And with even a little amount of self respect, we wouldn't want to be in a situation like that — losing from that situation after a fiery start. Everybody in the team was disappointed and everybody wanted to make a difference and that was to perform in each game. We stuck to the process. Gauti led the team well and then we played beautifully.
How disappointing was it not to end the tournament on a high in the final on Sunday — after scoring all those runs through out the IPL?
It would have been an icing on the cake if I could have contributed to the team's win in the final.
However, it was disappointing not to get the runs. I would have liked to, had put my best foot forward. You try and learn from what you have done wrong. But I am happy that we won and stuck to our plan. Everybody's runs were crucial. So, I wouldn't say for me it was an out and out disappointment. It was a complete team performance and I'm very glad that we won and I was always positive about it.
So how did you guys celebrate after the win?
We partied till the wee hours. Now I am waiting to go back to Kolkata. I will be joining my team there from then on will start preparing for the Bangladesh series after taking a couple of days rest.
You have played for four IPL teams – Royal Challengers Bangalore, Mumbai Indians, Pune Warriors and now Kolkata Knight Riders. How crucial was it for you to perform and how difficult was the switch?
I was the first player to be transferred. Put back in the auction. Was bought for a higher amount ($2mn) by a team that is not part of the IPL team (Pune Warriors) any more. It has been quite an experience and a challenge. The experience with Kolkata Knight Riders has been great and is second to none. Each member, support staff and everyone is treated equally. The environment is simply great and straight forward.
You had a decent first class season. How did you prepare and switch to the T20 mode for the IPL?
I spent a lot of time at Khar Gymkhana, Mumbai, where I was also given honorary membership. I trained there lot and a worked on my skills as far as playing freely and targeting the areas and still play correct cricket and not just really slog.
All charged up to make a comeback into the Indian team for the Bangladesh tour?
Well, at this point in time I will take a day or two off and then immediately get back to preparing for the tour. It is the most important opportunity for me and I want to make the most of it. The idea is to be in the right frame of mind as it's a 50 overs cricket not T20. So, I will prepare accordingly.