Former F1 driver Bruno Senna talks to Wriddhaayan Bhattacharyya about his Uncle, the legendary Ayrton Senna, electric car racing and FIFA World Cup 2014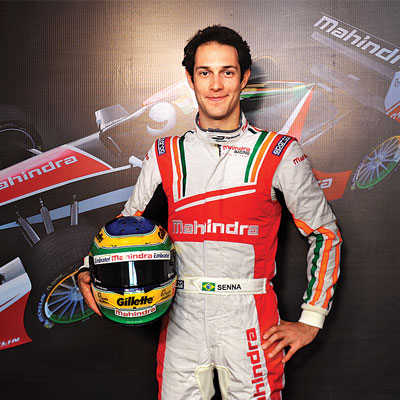 What interested you in the FIA Formula E Championship?
For me, it is a direction towards the future of cars. Both the road car and race car industry is going there. Electric car racing optimises energy. This is new power-trained technology.
Better prospect than Formula One?
I think so, though it is a different time frame now. Everybody is trying to move to these cars as they are more friendly with city centres. More people are moving to city circuits now. If technology and battery develops, this is the future. It is going to be a change for the people who feel horrified by engine noise.
What drove you to join Mahindra Racing?
Out of the many, Mahindra had a very good structure. It gave me confidence and I knew them.
And you also have old friend Karun Chandhok along..
Karun and I have a great relationship. We have travelled across the world racing. Year 2010 was a difficult for him, he struggled but he has always been in great spirits and competitive which pushes my game too. Whenever I am not on top of my game, I have to raise it or else Karun might beat me. You will never want to be beaten by your teammate. We keep each other on our toes.
Your Uncle (Ayrton Senna) died on the track while driving a Williams during San Marino Grand Prix (1994) and your father, in a motorcycle crash in 1996. Does it bother you when you speed up on the track?
No, not at all. I think if you are mentally weak before you race, it doesn't work. If you are scared, you're never going to do good. You have to make decisions that is going to preserve your life. I am also lucky that Motorsport is lot safer these days than it used to be. Your time comes when your time comes, you can also die of a heart attack while sitting on a chair.
You even drove for the Williams team in 2012, what was your family's reaction?
They were happy because they felt a sentimental connect. I was welcomed by Williams. I had a great time with them. Nobody discouraged me.
If you could share certain incidents, times spent with your uncle?
Most of the time I spent with him was when he was back home for the holidays in between seasons. He was a playful man, up in spirits. He came home and enjoyed being with the family. He used to go-karting, go for races and engage in some sport or the other. He was an active person. Though he was part of the family but it was so rare to see him that at times that the first few moments were strange especially for a child. Whenever he came home, first fifteen minutes, he seemed not from this world (laughs).
And you also went karting with him...
I started doing that with my grandpa (Milton da Silva) who was my mentor but whenever uncle used to come, he used to teach me bits and pieces.
Anything which Ayrton taught you and is still fresh in your mind?
He was a man who liked to teach by experience. The first thing he taught me was tactics to apply when overtaking and defending. One thing that is clear in my mind was when I tried to overtake him from outside during one of our practice sessions. He came and pushed me off the track telling me that I need to be certain, confident and alert when doing that. Being honest, I did not learn much for I kept overtaking people from outside (smiles). I had the advantage of being lighter in terms of weight but he had the advantage of being more experienced, so we were a good combination.
Was it your decision to model your helmet on the design used by your uncle?
Yes, of course, I could not wear my uncle's livery, it is not right to do that. I wanted to do something which would remind people of his livery, it is a tribute to him. I am probably the biggest fan Ayrton had. I had the opportunity to know him closely for me it is important to remember him. Hence, I thought of designing the helmet on similar colours (yellow with green and blue – also seen in the Brazil national flag). Though it is slightly different but when you look at it from the behind, you remember him. So many people remembered him for his helmet, so it worked very well.
Born in Brazil, how connected are you with football?
I have to say that I am a bad Brazilian because I cannot play football. I am terrible at it. I don't even follow it. I used to be a horrible player. My friends used to put me as a goalkeeper when in school because I could not play on the lines. Even though I am right handed person, I had two left legs when it came to football.
You plan to attend any matches in the upcoming FIFA World Cup?
I'll be going to a non-official match on June 6 where Brazil is playing. A warm-up match. I don't think I'll have time later on as Mahindra is going to keep me busy.
Do you have footballer friends in Brazil?
Yes. I know Ronaldo and Kaka though they are currently not playing in the national team. We speak very often. We exchange messages. But they don't talk about Motorsports, even I don't ask them about football.
Your thoughts on the Monaco Grand Prix which concluded on Sunday? Lewis Hamilton spoke about taking a revenge on Nico Rosberg in Ayrton Senna' style..
Unfortunately, I was in the flight. I could not watch it. But it is great to know how Ayrton keeps inspiring race drivers even now.
On Jack Brabham who passed away recently, your thoughts?
It is sad but if you look at it considering the time when he raced, he lived a long and healthy life. He had a very successful career too. I think he died a fulfilled man and now his son, David, is keeping his legacy.
How does it feel coming to India?
This is my third time. I have been to Delhi a couple of times before but first time in Mumbai. I know how to say 'Namaste' and 'Kaise Ho'. People here are very friendly and hospitable even though it is a big city.
How can Motorsport and Formula One be popular in India?
I think motor racing in India is coming up. It will be good if there are more Indian drivers because that is the best way to make this sport grow here. Hopefully, me and Karun can inspire people.
Note: On Monday, Mahindra Racing announced that former F1 drivers Karun Chandhok and Bruno Senna will represent the team and pilot the Formula E car at the FIA Formula E Championship. The season starts from September 2014 with the first race in Beijing.
Formula E Car
Max power – 200kw, equivalent to 270bhp
Acceleration – 0-100km/h (0-62 mph) in 3s
Maximum speed – 225 km/h
Wheels and tyres – Series specific 18'' Michelin treaded tyres (no separate dry and wet tyres