Robin Uthappa talks to Taus Rizvi about changes in his batting and his efforts to make comeback into national side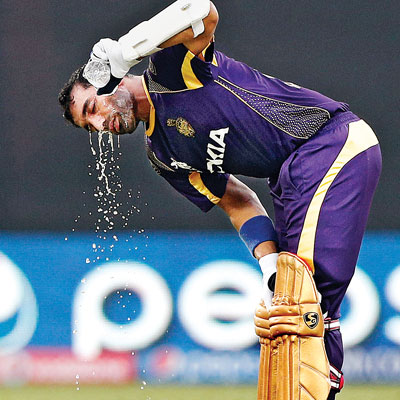 With scores of 47, 65, 47 you are back among runs in IPL...
Great to be opening. Frankly speaking, I deliver the best when when I open. Day in and day out, I have been working on my batting and my technique. I feel a lot more confident, sure about my skills and ability. I know, I will be able perform my role as an opening batsman. That is what is most important. Once you set good a foundation, you can build on from there. I am confident about playing well. Happy to repose faith having got an opportunity to open the innings.
Clearly, you were unhappy batting in the middle-order...
I am an opener. Opening the batting is what I do and is my bread and butter. It is here where I am comfortable the most.
Was it difficult to adjust after playing in the middle-order?
I wouldn't say it's difficult but it's a challenge of a different kind. I played in the middle-orderin the last two IPLs. It was quite new for me, but had to do it since the team had asked me to.
How is it opening the innings with Gautam Gambhir in Kolkata Knight Riders?
Gauti and I go way back opening for India. We were competing for the same same spot with Sachin, Ganguly, Sehwag. We share a healthy relationship. I enjoy opening with a lefty as it unsettles the bowlers and gives opportunity to score. The left-right combination is always good.
You have changed your style of batting. Earlier, you would deal only in sixes and boundaries and now you have adopted a cautious approach. What prompted the change.
I am still aggressive but I don't need to go hammer tongs when I can played good cricketing shots and still score runs. I think in the last couple of years, I have cleaned up my technique and learnt to respect the ball, bowlers and the wickets on merit. Play true to the merit and that is when you get the best chance to score. I am aware about the fields, what the bowlers are bowling. I keep it simple now and there is no need to panic. I do what I need to do for the team and that's the approach which you can say is a lot more calmer.
You have a different stance now. What other technical changes have you made to your batting?
I have changed quite a lot actually. About the stance — two or three different set ups in technique for (different) bowling and pitches. I have been taking some time. That is one of the reason I am feeling confident and sure of the all work and the hours I have put in. I feel strongly about my skills — batting, shot selection and mindset. Have gone into a lot of details — changed my feet position, initial movements depending on the bounce on the wicket.
You have been working with Pravin Amre. What has been his role in the new 'Robin Uthappa'?
Choosing to work with Amre sir was my best decision. He is someone who practically helped me change my game, from where it used to be to where it is now. I am very grateful to him. He has worked hard with me and has been patient. I know him since my days with the junior Indian team. There is a certain comfort level which I don't share with anyone else. As his pupil, I have complete faith and trust in him. He gave me things on the platter and asked me to pick whatever I like the most, which is what I have done.
You are 28 and have been wanting to make a comeback to the Indian team. How far is that destination?
Frankly, I think with the talent I used to have, I played maximum to the potential. But now, I have cleaned up my technique. Today, I feel it is the start of my journey and there is no specific destination. The destination will be when I am done (with cricket) but I am far from done as I am in the best shape of my life, being skillfull, I have to continue working hard. Right now, I am happy enjoying my game putting in hard work. There are no ulterior reasons for playing cricket but I am enjoying and loving it more.