Dutch legend and Wizards player Teun de Nooijer talks to Rutvick Mehta about the HIL, life after retirement and managing a football team back home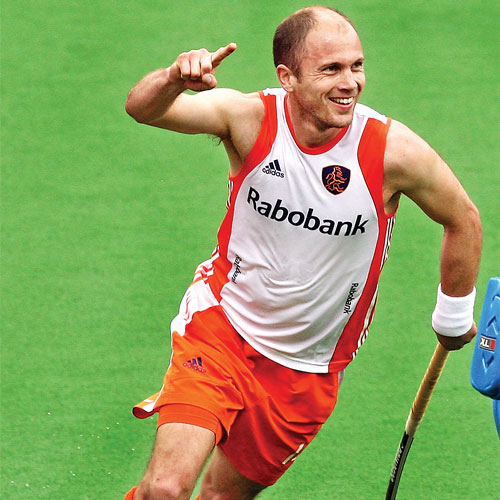 It's been 18 months since you retired from international hockey. Do you still miss playing the game at the highest level?
Of course, you miss playing hockey. I retired from international hockey after the 2012 London Olympics. Last year, I stopped playing for Bloemendaal (club) too. For me, the last (Hockey India League) game was the first one in about five months. So it was like something new again! But I'm still enjoying hockey. I have missed it for a lot of years.
How long do you plan to play in the HIL?
I go year by year and game by game. And I think that's how it should be if you're 37, and almost 38 (laughs). But I enjoyed the first game, it was a good result and a nice win.
You had said last year that HIL will be a game changer for Indian hockey. But the results produced by the Indian team in the past 12 months paint a different picture...
It takes time. You go step by step. It won't happen in one year, not in two years. I think in six to eight years' time when the HIL develops, you will see the progression. And I think with Terry Walsh, India have a great coach as well. So if it goes on like this, we will see that India is going to play for the medals again.
So we shouldn't expect any immediate impact?
HIL is really for the long-term impact of Indian hockey, and also for world hockey. I hope and I would like to see HIL develop itself. This year is going to be bigger than last year, and that's how it should be for the next 20 years — bigger every year. Then you will see Indian hockey develop.
Talking of the current Indian team, they beat Germany in the Hockey World League and showed some improvement overall. What's your take on the present bunch of players?
Germany... that's not too bad, eh? I watched a lot of games, and I saw India's matches too. In all the HIL teams, you see the Indian players, and you see that there is enough talent there to make a good Indian team. But then again, that will also take time. You need experience, you need to play good games, you need to play a lot of games at the highest level. That was the case last year with HIL, and I'm sure it will be the same this year too. Every game will be like 50-50, and that kind of games you need to play a lot.
So you agree with Walsh's assessment that it will take about one year for India to match the level of the top teams?
Yeah, that's a really fair assessment. It takes time. But I think Indian hockey is on the right track.
Do you plan to take up coaching?
Of course, it is on my mind. I'm already coaching in Holland with the little kids. I really enjoy it. A couple of years ago I would've said no, but I started to coach about five years ago and every day that I'm doing it, I'm enjoying it more.
Maybe coaching the Indian team ...
I'm with the kids in Holland, so no (laughs).
You're also managing a football team back in Holland — the AZ Alkmaar Football Club. Why the switch from hockey to football?
I think it's good to have a different kind of view, to be in a different environment. Soccer is another good sport like hockey, but in Holland it's the biggest sport, like cricket in India. It's the most professional sport, and I'm stepping into a professional organisation as a manager for my own development. With all the experience I had as a player in hockey and with the experience I'm going to have now in a professional sports organisation with soccer in Holland, it will be great for my development. And also, I'm a soccer fan!
Finally, you're the highest-paid player in the HIL ($87,400). That's some pretty good money after retirement, isn't it?
Of course. But it's for the fun and enjoyment of the game, and everybody here is earning some money as well. That's good in life, and it's good for the professionalism in hockey. But everyone here plays for the love of the game.