Chris Gayle talks football and more with Wriddhaayan Bhattacharyya, says he would love to play for Brazil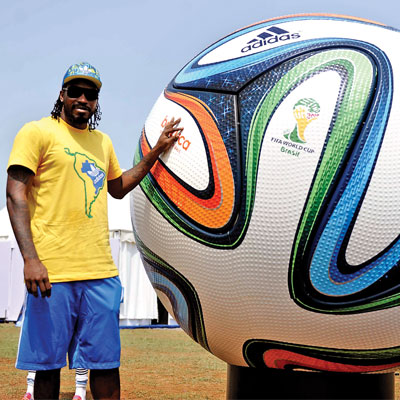 How popular is football in the West Indies?
Very popular! It is actually huge. It has calmed down a bit in the last couple of years. But at one point in time, when Jamaica and Trinidad qualified for the World Cup (for the 1998 and 2006 editions, respectively), it was huge for the Carribean people. They still turn up for football matches. But there should be focus at the grassroots and the authorities must ensure more kids take to the sport.
Are there good enough coaches?
Yes, definitely. There are lots of clubs and coaches. A lot of Jamaican coaches get overseas contracts too.
You played quite a bit of football in your school days. Why did you quit?
I played three versions of football in high school — under-14, under-16 and the highest level. But then, the intensity of the training was like, 'Oh okay, no thanks (sticks his tongue out)'. It was too much of running. I could not take it.
Your jersey says you are rooting for Brazil in the upcoming FIFA World Cup..
Yes, I have been a big fan of Brazil since childhood. I wish I could play for them. I am ready to play for them.
Will you try to sneak in some time in between the New Zealand series to fly to Rio?
I would love to, but I know I can't. I'll have to watch it on television.
Who is your favourite footballer?
Ronaldinho for his skills, awareness of the game. He is smooth-sailing.
Which position did you play?
I was a striker because I liked to score goals, but I could play any position.
You were versatile...
You have seen Cristiano Ronaldo, right? He has copied my style. If you see him, that's Chris Gayle playing. That's how good I am (smiles).
Brian Lara is close to Dwight Yorke. Do you have any footballer friends?
Ricardo Gardner. He used to play for Bolton (Wanderers). Also Ricardo Fuller, who was with Stoke City for six years. They have all grown up with me in Jamaica. Now, they have become big playing in the English Premier League, but I saw them play live much before that.
Do you follow club football? Where is the EPL trophy going this season?
I do. I think it is going to Manchester City. A Manchester team winning the title would be great.
Coming back to IPL, what was your reaction when you saw Kieron Pollard hurling the cricket bat at Mitchell Starc during Tuesday's match?
My immediate reaction was go off the field, get two pairs of boxing gloves, form a ring and let a boxing match take place.
Who, has the best chance to win the IPL this season?
At this stage, everybody is a contender. Though there are a few teams struggling but if you see the T20 format, anyone can bounce back. We will have to wait and see who makes it to the final four. Then we will know who stands the best chance.
Your take on AB de Villiers's knock the other night...
Unbelievable. He is the only person who has taken on the No. 1 bowler (Dale Steyn) and he has done it twice now. Hitting Steyn for sixes requires superhuman abilities.
How is your injury now? You looked comfortable in the three matches you played this season...
It (injury) is still there. I have not recovered fully but these things keep happening.
You are about to play your 100th Test match against New Zealand soon. How does it feel?
I have 100 more matches to catch up with Sachin Tendulkar (smiles). It is going to be a special occasion for me because it is a home series.