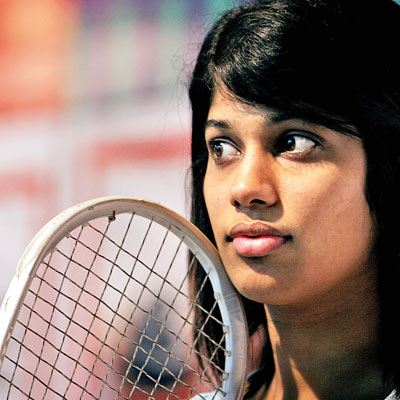 Other than the fact that it is one of the biggest sporting events in the world, FIFA World Cup is also a great opportunity to see some of the best athletes compete in the same frame. I may not follow football to the extent where you can call me a fanatic, but I am aware of a lot of players and what goes on, like the tournaments and the results. But I don't really stay up late in the night to watch the matches on television.
In fact, my psychologist works with one of the football clubs in England. Hence, I have been told about how the athletes train. I have also seen a few footballers practise while I was in England.
I don't have any favourite team but I like the way Lionel Messi plays. He is one of the most talented players around. So, I think I have a weakness for Argentina.
At times, I have to watch a few matches because my friends follow it and it helps me to participate in the discussions. But I lack the technical knowledge. I won't be able to say what is Cristiano Ronaldo's greatest strength and from which flank he should attack.
But I respect the footballers as athletes. I am more interested in their training part. Of course, they are stars in their own right but I would like to know more about their fitness mantra. I even read up and research on that. I respect the sport.
I want to see Argentina and Portugal in the final because that way I'll get to watch Ronaldo and Messi play against each other.
—Joshna Chinappa is an India squash player, she spoke to Wriddhaayan Bhattacharyya