New Zealand's Valerie Adams, reigning queen of shot put, tells G Krishnan that her ultimate goal is to keep fit and win in Rio. Excerpts from an interview...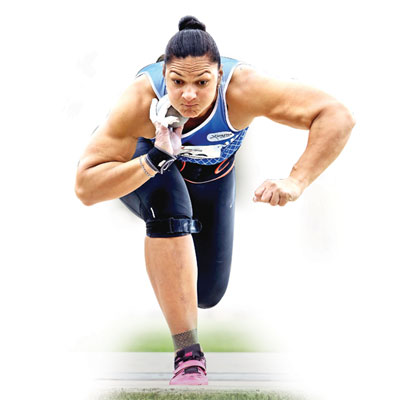 How have you managed to be a 'clean' athlete and stay away from temptations?
I never had any temptations. I managed to be a clean athlete because I wanted to be a clean athlete. I think it is the choice that you want to make. Even when the going gets tough, it is mind over matter. The only things that I take are proteins, some good meat. I believe in myself and my own strength, personally. So, there is no need to go looking for other stuff. I am happy with the result that I am gaining with my own strength. There was never any temptation and, if there was one, I was the first to look away from that and from that person. It was nothing that ever crossed my mind if I ever wanted to take something or not. I am really anal about what goes into my mouth, really anal with what medication is being prescribed by the doctor. I make sure that I see the same people every time and they are the ones who know what exactly I am tasting and making sure everything is clean. At the end of the day, you are responsible for what goes into your mouth.
You have achieved everything that is for a shot-putter. What next?
There is still more for Valerie to achieve. I'd love to still have another personal-best throw. My ultimate goal is to keep fit for Rio 2016 and try and win again in Rio. That is my ultimate, ultimate goal. I have not looked beyond Rio. The first and foremost thing for me is to look ahead to this year, but Rio is my ultimate goal. I will be working as hard as I can to reach there. It is going to be a very tough road. It will be amazing to stand on the podium and hear your national anthem at the Olympics because it is the pinnacle for everybody in the sporting career. I am looking forward to it.
Which medal do you cherish the most?
The Beijing Games was the most memorable win for me because it was my first Olympic title. It was an amazing feeling. A feeling of relief, first of all. And also, I was immensely proud of being a Kiwi that day. I was part of what we call back home as 'Super Saturday' because New Zealand won three gold medals that day. That probably stands out for me. The London Games, obviously, was a completely different competition with all the drama that happened there.
Your winning streak now stands at 46. How keen are you to extend it?
It is quite an amazing number number of competitions going unbeaten. I go there focussed, win, forget about it and move on to the next competition. It is still a big challenge going to every competition knowing that I am the hunted. Before that, I was the hunter. Now, I am the hunted. Girls out there are training hard to hunt me down. That's great and it is part of the sport. As an athlete, you have to make goals for yourself and strive to reach them. And have fun doing that as well. It has been quite an amazing journey.
How do you challenge yourself?
My coach and I have kept goals in place that we want to reach. I want to wake up every morning and go to training. I enjoy it. I keep myself focussed and am lucky that I am strong mentally. I think the love and passion that I have for the sport is a massive motivation for me to continue doing what I do. If you don't love what you do, it is hard to be successful. The day I wake up and can't be bothered going training is the day I hang my boots up. We train everyday to win and who doesn't want to win! Someone asked me if I was sick of winning. Of course, not. If I was sick of winning, then I will stop. I want to be the best not only for myself but for my country because in athletics, track and field is a very minor sport and. at the end of the day, if I can inspire one person, one young kid and change his life for ever, then that is a fantastic thing for me.
You won the world junior title at 17. Two weeks later, you won silver in your first Commonwealth Games. That was way back in 2002. How did success at early age help you in your career?
I think it's an important time in anyone's career's to compete in the world youths and world juniors. They are important stepping stones to competing with the big dogs at the senior level, although it's a completely different ball game. Obviously, the pressure is a lot higher and the results and level are a lot higher, but to have that experience at junior level, the call rooms and the scheduling and things like that is just like at the senior level. It's a great experience for any athlete who wants to compete at the senior level, and an elite level, to do the juniors if they can. I really enjoyed doing junior competitions and especially the world juniors in Jamaica, and getting that experience, and for me it was a great experience because I went from the world juniors straight to the Commonwealth Games two weeks later and won a silver medal there.
What would you tell youngsters who taste success very early but fade away?
It is a mental challenge for a lot of them. It is a pretty big step to go from junior to senior. I have been lucky. Being successful at a young age helps you want to be more hungry. It comes down to the mental toughness of the athlete and how badly they want to get there and how much you are willing to work for it.
New Zealand are co-hosts of 2015 ICC Cricket World Cup. Do you follow cricket? Who are your heroes in other sports?
I am sorry I don't follow cricket (laughs). The only person that I had as a pin-up was my mom only because she was the most amazing person in my life and stood like a rock. She passed away when I was 15. She has always been my hero and my source of inspiration in my life. New Zealand have had some amazing inspirational athletes with the likes of John Walker (the great middle-distance runner of the 1970s and 1980s) and others. But the biggest inspiration in my life is my old mumma.
Are your training routines different for outdoor championships and indoors? Why is Switzerland as your training base?
There is no difference to training for indoor and outdoor competitions. The only indoor competition I get is whenever I compete in the indoor world championships, I have already taken part in indoor competitions three times, all three being the indoor world championships. I am in Switzerland because my coach, Jean-Pierre Egger, is Swiss and his wife is here. It is my fourth year here. For me, it is fantastic to be here and training at this place, which is also the Olympic training base.
Why have the world records stood for so long?
People often ask if my goal is to break the world records. That is not my goal. My goal is to be the best I can be and to be able to throw as further as I can. And trust me, the record that has been there since 1987 will be there for a long time. Nobody has thrown 22 metres since those days. To throw 21 metres then and 21 metres today is quite amazing. It is not a goal of mine. It is pretty hard to compare. We can't do much about it.
DID YOU KNOW?
Valerie Adams was born to a Tongan mother and an English father. She is one of the 18 children her father, Sid Adams, who settled down in New Zealand after serving the Royal Navy, had from five women. Her brother Steven Adams is an NBA star who plays for Oklahoma City Thunder. Valerie said she was proud of him. "It's pretty hard to follow him closely even though there's the internet and the rest of it because I'm focussed on what I'm doing and he's focussed on what he's doing. But he's my little brother and I'm really proud of him," she said. Adams is one of only nine athletes (along with Usain Bolt, Veronica Campbell-Brown, Jacques Freitag, Yelena Isinbayeva, Kirani James, Jana Pittman, Dani Samuels, and David Storl) to win world championships at the youth, junior, and senior level of an athletic event. She is the first woman to win four consecutive individual titles at the world track and field championships
A FOR ADAMS
Full Name: Valerie Adams
Born: October 6, 1984, in Rotorua (New Zealand)
Height: 193 cm
Weight: 120 kg
Personal best: 21.24 metres (outdoor) and 20.54 metres (indoor)
Olympic Games: Gold in Beijing (2008) and London (2012)
World Championships: Gold in Osaka (2007), Berlin (2009), Daegu (2011), Moscow (2013) and silver in Helsinki (2005)
World Indoor Championships: Gold in Valencia (2008), Istanbul (2012), and Sopot (2014)
Commonwealth Games: Gold in Melbourne (2006), New Delhi (2010) and silver in Manchester (2002)