In wake of Pollard-Starc ugly altercation recently, legendary West Indies fast bowler tells G Krishnan he didn't want a situation where things went out of hand and got physical. Excerpts: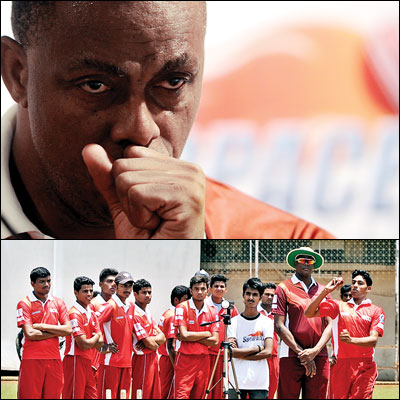 What did you think of Darren Sammy retiring from Test cricket?
As I said before I got here, I am not going to comment too much. I said it in press from day one that Sammy did everything he could for the West Indies. I wish him well in whatever he is doing and wish the new captain (Denesh Ramdin) well. It is not something I want to go into detail.
Do you catch up with IPL? There are quite a few West Indians playing in it...
I watch quite a lot of it. It keeps me up in the mornings or at nights because of the business I do something at home. It is something I follow not because of the West Indians in it. Yes, I want to see them. It is good to see so many West Indians playing but I think because of the nature of the game and the excitement it adds, it is something you have to watch. I enjoy watching them.
Would you have loved to play in it?
(Sneezes) Yes I'd have loved to play, and the sneeze was a sort of blessing (Laughs). It is only four overs and I keep telling people that I love to play in a cricket match where the captain can't ask you to bowl more than four overs. You would have to focus your practicing skills and try and do the best you can. It is a challenge I would have loved to be able to do. Sadly, it came around after I retired. I am not here to compare how well or how badly I would have done here. It was just that the prospect of practicing new skills and bowling four overs is something that thrills me and I would have been happy to have had a chance of playing it.
You are an example of how the gentleman's game is played in the right spirit. Last week, IPL saw an ugly incident between Kieron Pollard and Mitchell Starc. Are there few gentlemen left in the game?
I actually did not see it live. I saw clips of it on YouTube as I was flying in over here through England. That's the thing you don't want to see on a cricket field. But as I said, I have never had the chance to see the details of it. It is a part of the game you don't want to see out in the middle. Hopefully that will be the end of it. Hopefully we won't see any of this nature surfacing again because those are two guys who have high respect for the game and respect each other. Probably, when they go back home and look at it again, they will realise the mistake they have made and hopefully won't do that type again.
But we have seen West Indians and Australians having go at each other for years. Incidents of Curtly Ambrose-Steve Waugh, Ramnaresh Sarwan-Glenn McGrath, James Faulkner's 'I don't particularly like them' comment and Darren Sammy's 'talk is cheap' response...
We have always had banter. Even Steve Waugh-Curtly Ambrose was blown out of proportion. Pictures did not say as much as what people believed to have been said. You are going to have people saying things and banter going on. Call it sledging or whatever. That is always going to happen in the game. It is controlled aggression and words being exchanged from time to time. For me, I never got into any of those. The ball normally did the talking. You are always going to have competitiveness. I have nothing against it. As you said, it started before our time and there is nothing wrong with a bit of banter but you don't want it to get to the extreme situation where it looks as if it is getting physical on the field.
They say it happens in the heat of the moment. How does one keep a cool mind in such situations?
Things are going to happen in the heat of the moment. We are not perfect. I think it is how well you control it, and sometimes you need cooler heads around you to keep you under control. As I said, you don't want such incidents to be seen. You are going to have incidents that flare up. That is why it is good to have match referees with a bit of honesty standing around to get you on the right track and get the right balance. The guys who are playing are under a lot of pressure because everything is on TV, everything is being scrutinised. You have got to give it to them. Back in those days, sometimes things were said and players got away with them. Now, everything is out in the media. So, you have got to care for those even before you go out on the field. It is just part of modern-day cricket and, as I said, controlled aggression is what you want to expect from these guys. But you are going to have times when in the heat of the moment something is probably said and done but you don't want to see it go to the extreme that brings the game into disrepute.
WALSH STATS
Format M Wkts BBI BBM Econ SR 5w/10w
Test 132 519 7/37 13/55 2.53 57.8 22/3
ODIs 205 227 5/1 5/1 3.83 47.6 1/0