Victorious Karnataka captain R Vinay Kumar tells G Krishnan how thrilled he is to join the elite skippers from the state to lift the Ranji Trophy. Excerpts: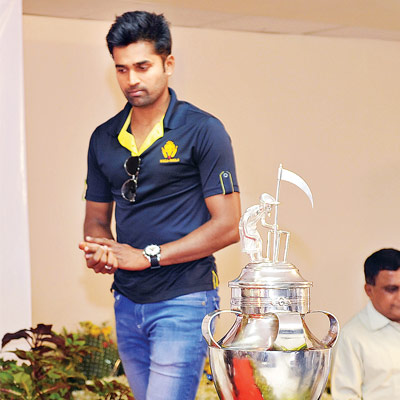 What contributed to Karnataka winning Ranji Trophy after 15 years?
Everyone understood their role. There were many good individual performances. It was an overall team effort. We were not dependent on any one individual. Robin Uthappa, KL Rahul, Amit Verma, Ganesh Satish, Manish Pandey all scored consistently. Karun Nair's three back-to-back 100s, Shreyas Gopal taking wickets were all crucial for us, Mithun and myself bowling in tandem and picking up wickets... Even in the final, all the 11 performed. That was the biggest plus for us. Also, everyone is desirous of playing for India. When you have such a goal in front of you, the performances will take care of itself if you have the right frame of mind and give your best. That was our biggest advantage. Our bench strength was amazing, too. Whoever got opportunities performed and pushed the seniors to do well. This was missing in the last few years. There were performances here and there but this year there were many big performances. Consistency was the key.
With everyone performing, was your role as captain made easy?
As captain, my theory is simple. When I have the ball in hand, I am just a bowler. When I am not bowling, I am the captain. I know each and every person in the team, their strengths and weaknesses.
We have been playing together for the last four-five years as the same core group. That made my work easier.
What does it mean to have led Karnataka to title win?
I am very happy. I have enjoyed captaincy from my Davanagere days, to leading Tumkur Zone, Kuvempu University, leading in Vizzy Trophy, the Challengers, Duleep Trophy and the Karnataka state. I just keep it simple and try to get the best out of the players. Leading Karnataka means a lot. To join the elite list of captains like EAS Prasanna sir, Brijesh Patel sir, Anil Kumble, Rahul Dravid and Sunil Joshi, who have contributed so much to Indian and Karnataka cricket, it feels great, hailing from Davanagere and leading a big side as Karnataka.
When did your team believe that it could win Ranji this season?
We started believing before the season began. Our performances in the pre-season tournaments like Safi Darashah and Moin-ud-Dowla were very good. We believed we had the team to win. We had those three back-to-back outright wins against Orissa, Haryana, Punjab in the league stage, the way we came back against Mumbai to win after conceding the first innings lead, our belief became stronger and stronger.
Who did you learn captaincy from?
When I started playing, it was not difficult for me to handle players. Playing under great captains like Rahul Dravid (for Karnataka), MS Dhoni (for India) and other good leaders for Karnataka, India 'A', IPL sides, I've observed each captain and what went into their thinking. These things have helped.
As a medium-pacer, are you satisfied with pitches in the country?
They are fine. You need to bowl on any kind of wicket. Pitches are batsman friendly but that is okay.
Next season, defending the Ranji title will not be easy. How will you address the situation?
I don't dwell too much in what happened. It was a great feeling when we stepped out of the Bangalore airport (on Monday), when we entered the Chinnaswamy Stadium, to receive the people's warmth and love for winning Ranji Trophy. It will be for a day or two. We need to start from zero next season. The focus is now on winning the Irani Cup. As defending champions, my biggest challenge will be to keep the players focussed so that they will then give their best.
How tough is it for you to make a comeback to the Indian side?
According to my performances this season (29 wickets in Ranji season), I am confident of a comeback. I also touched the 300-wicket mark in first-class during the Ranji final. There are many positives for me to stage a return to Indian team. But it is the selectors' call. I am not going to think much about it. I will have to perform every time.