Legendary Gunner Freddie Ljunberg tells Anil Dias that good signings bodes well for the team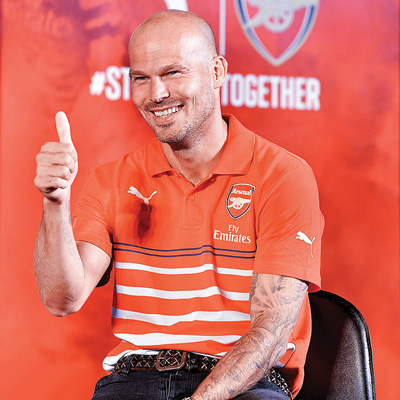 Arsenal have had a great push after beating City 3-0 to lift the Community Shield. Do you think they have what it takes to win the Premier League this season?
ANS: I believe Arsenal has a good chance of winning the league this season. To win the league you need to have the best players in the world. Due to financial restraints, we could not do that the last few years. Now that we are out of it and made some very good signings, I think we stand a chance. I hope the team goes all the way.
Arsenal always seem to be doing great till December and then suddenly falter after the break. Why do you think that happens?
ANS: It is important for the club to dig deep and push through in the final months. It's easier said than done.
You've had an amazing club career in England, US, Scotland and Japan. What made you decide to play in the ISL?
ANS: I will talk about this at an appropriate forum when the time is right.
What do you think a League such as the ISL can do for a nation? Especially since it's ranked 151 in the world.
ANS: A local league is the best way to build talent and give footballers a platform. While I was in Bangalore, I played with Bengaluru FC players and soccer schools kid – they are good with technique – something that's very essential for a player.
Do you think that two months for a League are enough?
ANS: Every league has its own format and runs according their preferences
Are you happy with the response you've got from the fans here? Did you expect it?
ANS: It's great as a former Gunner to see how loved and celebrated the club is in India. Indian fans know a lot about the club and the Arsenal Tunnel of Time by PUMA is an incredible tribute to the legacy of the club and its ever-exciting future. Indian fans to the club have been extremely loyal and its great to see how loved and well received is the club.