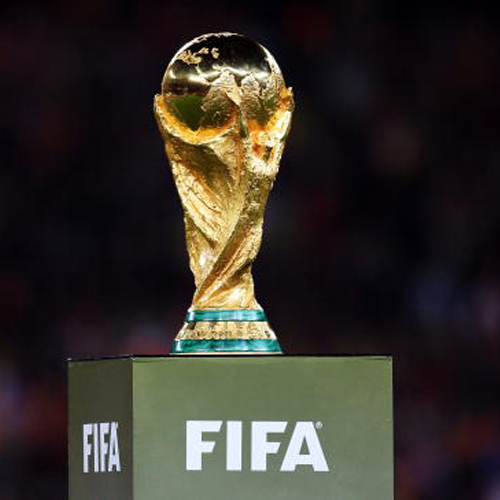 As the 2014 FIFA World Cup nears and everyone is talking all about the players, the teams, possible winners and surprises, perhaps it's time to have a a look at what everyone is playing for, the FIFA World Cup trophy.
The FIFA World Cup trophy is given to the winner of the tournament. Since the competition's inception in 1930 there have been two trophies which have been presented to the winner. Jules Rimet Trophy was used till the 1970 tournament. Brazil won the right to permanently keep the trophy after winning their third world cup when they defeated Italy 4-1 in the final.
A new trophy was commissioned by FIFA for the 1974 World Cup. A total of 53 submissions were received from sculptors from seven countries. Finally it was the Italian artist Silvio Gazzaniga whose work was chosen. Gazzaniga described his creation as two athletes rising in spirals, stretching out to receive the world.
The current FIFA World Cup trophy depicts two human figures holding up the Earth. It stands tall at 36.8cm, it is 6.175 kg heavy, and made of five kg of 18-carat gold. The base contains two layers of semi-precious malachite (green coloured semi-precious stone) which is 13 centimetres in diameter. Engraved at the bottom of the trophy is the year and name of each FIFA World Cup winner since 1974. The trophy has been deliberately created hollow inside or else it would have been about 70-80 kg, making it too heavy to lift.
According to the new regulations of FIFA, the trophy cannot be won outright any more so the winners are awarded a replica which they get to keep as a permanent reminder of their success. Reports suggest that there is only space to accommodate four more winners name on the trophy, which means only the winning team till 2030 world cup will find a mention. It would be interesting to see if FIFA retires the trophy when the space eventually run out.