With Brazil's hopes severely hit after striker being ruled out, Neymar urges fans to stay optimistic for sixth World Cup crown
Still coping with the loss of its biggest star, Brazil is trying to find ways to remain upbeat about its prospects at the World Cup.
The medical helicopter that took Neymar home with a back injury also carried away much of the country's hopes for a sixth world title, but the tournament isn't over yet and Brazil is just days away from a difficult semifinal against Germany. Neymar departed Brazil's base in Terespolis on Saturday afternoon, waving to the cameras after he was loaded on a stretcher onto a helicopter on a pitch at the Granja Comary training ground.
With his father alongside him, Neymar then took off for Rio de Janeiro, from where he was expected to return to his family home. Several dozen fans gathered outside the forward's home in Guaruja to welcome him back, many carrying signs that said "Strength, Neymar." The forward thanked fans for their support on Saturday and said his team mates will do everything to keep his dream of winning the World Cup alive.
"My dream isn't over. It was interrupted by a play but it continues," Neymar, who has been ruled out of the rest of the tournament with a fractured vertebra, said in a video released by the Brazilian Soccer Federation. "I'm certain that my team mates will do everything possible so that my dream, which is to be a champion, comes true. "My dream was also to play in a World Cup final but this time it didn't work out," the 22-year-old said, his voice cracking with emotion. "But God willing, they're going to win this, they're going to be champions, and I'm going to be by their side, with them. And all us Brazilians are going to be celebrating."
Read Also: Germany sorry about Neymar injury during Brazil v/s Colombia match
The Brazil squad applauded the 22-year-old Barcelona striker in an emotional farewell at their Teresopolis camp before he was taken to Rio de Janeiro by helicopter. Meanwhile, Brazilian team doctor Jose Luiz Runco called for World Cup referees to do more to protect players as he confirmed details of Neymar's fractured third lumbar vertebrae, a bone in his lower back. "In games involving Brazil we have seen some things happen that are not in keeping with what we should see on a football field," he said, recalling the crunching challenges during last week's game against Chile that already left Neymar battered and bruised.
"Referees have tried to avoid giving out cards but FIFA is likely to take some action now. They must have experts looking into what happened." Runco said that the fracture will need around six weeks -- 40 to 45 days -- to heal, and that the player will rest at home with his family in Guaruja, near Sao Paulo. In the meantime, Brazil must hope that the injury does not have a negative impact on squad morale.
"Everyone in the squad was shocked, upset by what happened," Runco said of the mood in the dressing room. "One said to me: 'It seems like we have lost the game'". One way for Brazil to try to stay positive may be to look to its past.
It's not the first time Brazil's national team lost its best player to injury during the World Cup. It happened to Pele and Brazil still won the title. "I was also injured during the 1962 World Cup in Chile, and I was out for the rest of the tournament," Pele said. "But God helped Brazil continue on to win the championship."
When Pele hurt a muscle in the second match of the tournament in Chile, most in Brazil said the chances of a world title had diminished significantly. But the team won its next four matches to clinch its second consecutive trophy. "I hope the same will happen with our Selecao in this World Cup," Pele said.
Runco added that Neymar's absence can work in Brazil's favor. "I think this will help make this group become stronger, it will motivate them to reach the final and win the title," the doctor said. "They will want to honor this teammate who always helped the team."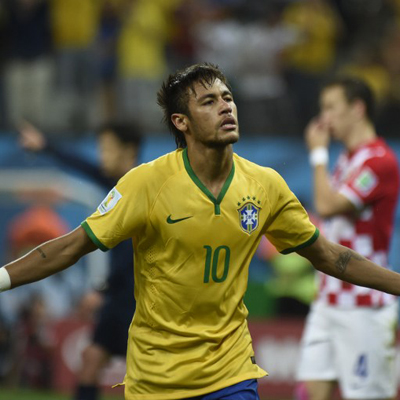 They took away my dream of playing in a World Cup final, but the dream of being a world champion is not over
- Neymar, Brazil striker
-Argentina fans celebrate Neymar's injury-
Argentina fans mocked Brazil star Neymar after they were filmed celebrating with a spinal chord skeleton. The fans are seen waving a spinal column in the air while chanting what seems to be a cheap shot at the Brazilian star's back injury. His injury is a catastrophe, says Sabella
Argentina coach Alejandro Sabella said that the back injury that has ruled Brazil poster boy Neymar out of the World Cup was "a catastrophe". "For those who love football and know football, it's bad news," said Sabella, shortly after his side's 1-0 victory over Belgium in the quarterfinals on Saturday. "I love great players. For people like me, Brazil losing a player like him is me losing the possibility of watching him again.
"It's a catastrophe, nothing more, nothing less. There's nothing worse than getting injured at a World Cup when your dream of lifting the trophy is still alive. The only thing I can do is wish him a quick recovery."