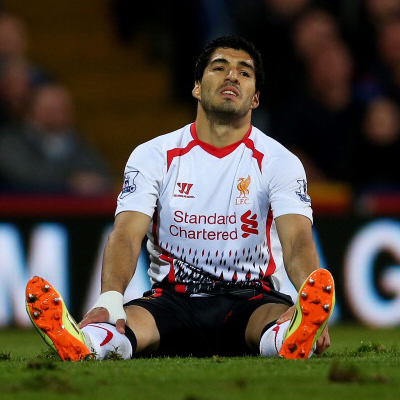 Luis Suarez, who was recently in the news for biting Italian defender Giorgio Chiellini, has officially apologized. He used his Twitter handle to send out the apology to Chiellini. Here is his tweet:
My apologies to Chiellini: pic.twitter.com/CvfkkjxzlM

— Luis Suarez (@luis16suarez) June 30, 2014
The whole incident has created numerous controversies through the days. Firstly, Luis Suarez was handed a nine match ban from international football and another four month ban from any football related activity. Before handing Suarez with the ban, a disciplinary panel was set-up by FIFA. The panel considered 34 camera angles before any kind of conclusions. After a through study, FIFA concluded that the bite was "deliberate, intentional and without provocation".
Twitter reaction to the biting incident:
Trident chewing gum:
Chew Trident. Not soccer players. #ITAvsURU

— Trident Gum (@tridentgum) June 24, 2014
Snickers:
Hey @luis16suarez. Next time you're hungry just grab a Snickers. #worldcup #luissuarez #EatASNICKERS pic.twitter.com/3RAO537HjW

— SNICKERS® (@SNICKERS) June 24, 2014
CONGRATULATIONS: Luis Suarez retains the award for the second successive year. pic.twitter.com/qvGlSZ4Ygi

— Just Football (@JustFutball) June 24, 2014
Another view of those bite-marks pic.twitter.com/NXIvhOOh67

— Just Football (@JustFutball) June 24, 2014
The Walking Suarez pic.twitter.com/BiaXU3bM59

— Just Football (@JustFutball) June 24, 2014
Without Suarez, Uruguay lost 2-0 to Colombia in the Round-of-16. This caused an outrage amongst Uruguay supporters world wide.
Uruguay defender Diego Lugano stated that, "It's a breach of human rights that a player cannot go into a stadium where there are 80,000 people or into a hotel with his team-mates, that he cannot work for four months. He has committed a crime, but this [ban] is barbarity. Not even a criminal would receive this penalty. "He is irreplaceable. Us losing him is much worse even than Brazil losing Neymar or Argentina losing [Lionel] Messi." - ESPN.co.UK. Suarez was even backed by the Uruguayan President Jose Mujica, who insulted FIFA for imposing the ban on Suarez. The President commented: "At FIFA, they are a bunch of old sons of b*****s. They could have punished (him), but not with fascist sanctions." - Reuters
Football legend Deigo Maradona has also openly supported Suarez. Maradona appeared on a South American show De Zurda Maradona, was wearing t-shirt with a message 'Luisito Estamos Con Vos,' which means 'Little Luis we are with you.' On the show, Maradona quoted: "The FIFA sanction is shameful, they have no sensitivity towards the fans, they might as well handcuff him and throw him in Guantanamo. The sanction on Luis is a way of punishing Uruguayan clubs for asking CONMEBOL (the South American confederation) for a fairer share of money. It hurts that they have cut short the career of a lad who is a winner. It's an excessive suspension, FIFA cannot talk about morals to anyone. Suarez didn't kill anyone. This is an unjust punishment, the act of an incredible mafia." - Daily Mail
Edinson Cavani's tweet to support Suarez:
Lucho con nosotros. Lucho is with us. Lucho avec nous. Lucho con noi. #COLURU #Brasil2014 @luis16suarez pic.twitter.com/IesuRGehiH

— Edi Cavani Official (@ECavaniOfficial) June 28, 2014
However, Luis Suarez added a different perspective to the whole incident. He claims that he lost his balance, which made his body unstable and fell on top of the opponent. He also said that because of the collision whit Chiellini, he hurt his cheekbone and also complained about pain in his teeth.
The whole biting incident involving Suarez, as he has bitten two players previously. The first bite incident occurred when he bit PSV Eindhoven's Otman Bakkal after a league match. The second time Suarez repeated this incident on Chelsea's Brainslav Ivanovic in a 2-2 draw at Anfield. That incident resulted in an undisclosed fine for Liverpool and a ten match ban for Suarez.
Twitter reaction to Suarez's apology:
.@luis16suarez It's all forgotten. I hope FIFA will reduce your suspension.

— Giorgio Chiellini (@chiellini) June 30, 2014
@Stubbs89 @chiellini @luis16suarez na hopefully they make it longer

— Matthew Harrold (@MatthewJHarrold) June 30, 2014
@chiellini @luis16suarez No make him serve it, this is his third time doing it!

— NY Sports Talk (@NYSportsTalk) June 30, 2014
@chiellini @luis16suarez next time u can allow him to bite u n then the score will be 1-1!!

— Ayan Chakraborty (@ayanc_99) June 30, 2014
Six days after the shameful incident, Suarez has apologized to Giorgio Chiellini. The Uruguayan FA have officially appealed against the ban.