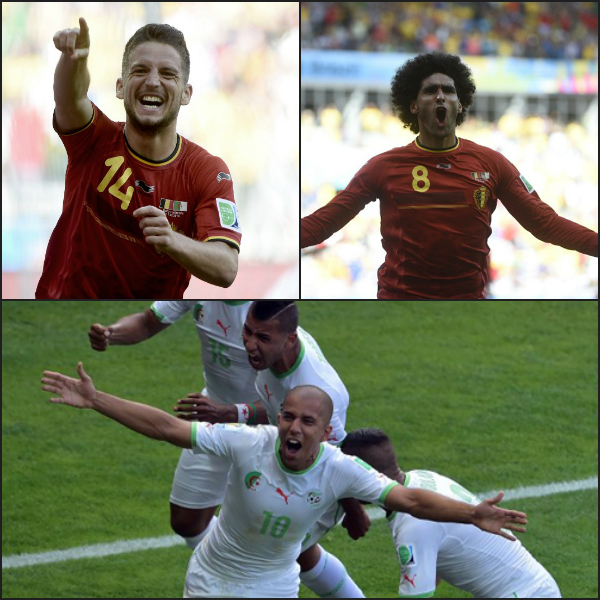 Latest Updates:
FULL TIME SCORE: Belgium beat 2-1 Algeria.
Belgium beat Algeria 2-1 in a stunning comeback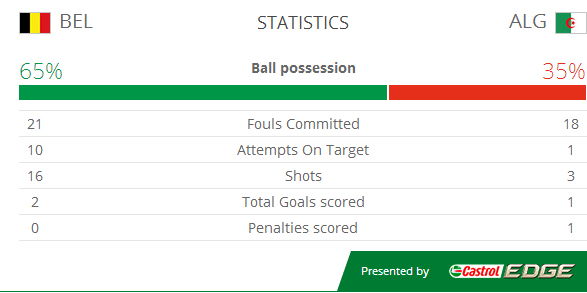 90' 3 minutes of added time.
86' Mertens penalised after committing a foul.
84' Ghilas comes replaces Medjani.
84' Mertens tries for a second goal, swings in the corner.
* 80' GOAL! Mertens scores for Belgium, makes the score 2-1
Martens for Belgium. Brilliant http://t.co/cL9JJLbyiT

— Football Vines (@FootballVines) June 17, 2014
78' De Bruyne takes another shot on target but it's denied by the Algerian keeper.
* Marouane Fellaini is the first goalscorer for Belgium at a World Cup or European championship since current coach Marc Wilmots scored against Russia in the 2002 World Cup.
71' Lacen replaces Mahrez for Algeria.
70' GOAL! Kevin De Bruyne give a great assist to Fellaini equalising the score for Belgium.
Goal Fellaini yes you read it right Fellaini for Belgium http://t.co/5nMTGC0pjk

— Football Vines (@FootballVines) June 17, 2014
67' Mertens takes a corner kick for Belgium.
66' Origi hits the target but is blocked by Raiz.
66' Slimani comes in to replace Soudani for Algeria.
61' Dembele concedes a free-kick following a challenge on Taider.
60' Mahrez takes a great swings to the corner.
58' Origi comes in to replace Lukaku for Belgium.
48' Pace has increased in the second half.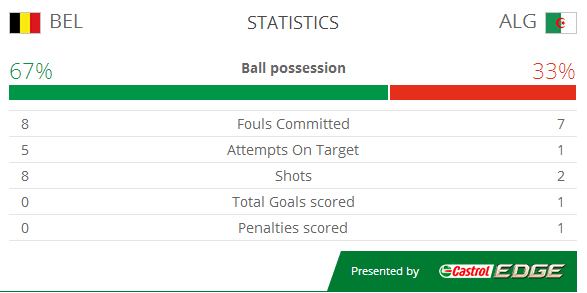 HALF TIME Score - Algeria 1-0 Belgium.
45' Only 1 minute of extra time.
Also Read: John Brooks' 86th-minute goal gives USA famous 2-1 win over Ghana
38' Mahrez concedes a foul.
35' Another try by Witsel but he's blocked again by Rais.
35' Bentaleb gets a Yellow Card.
30' Taider concedes a free kick, Hazard attacks right after.
Also Watch - The fastest goals in World Cup history
25' GOAL! Feghouli scores, making it Algeria's first goal in 28 years! First since Djamel Zidane scored against Northern Ireland in 1986.
Alegria take the lead. Belgium 0-1 Algeria http://t.co/0MuNZ58Tyg

— Football Vines (@FootballVines) June 17, 2014
24' Vertonghen gets a Yellow Card. Penalty awarded to Algeria.
21' Witsel takes a shot on target but it's blocked by the Algerian keeper.
20' Free kick has been awarded to Algeria
18' Algeria's Van Buyten misses a great chance which could have been crucial.
15' Both teams attacking, but there's been no result so far. Possession seems to be almost equal, with the Belgium just edging out Algeria
9' Even though Hazard, De Bruyne, and Chadli search for an opening, the Algerian defence stands strong.
5' Hazard eager to prove his worth, trying to find avenues to attack the Algerian side.
Read Also: Here's a look at the Red and yellow cards at the World Cup after Monday's matches.
4' Belgium might be the stronger side, but Algeria will not give up without a fight.
2' First foul of the game, free kick awarded to Algeria.
* The whistle blows and so the match begins!
* The players come on to the pitch as the national anthems begin.
* Striker Romelu Lukaku has shrugged off a bruised ankle to lead Belgium's attack in the opening Group H game against Algeria at Belo Horizonte's Mineirao stadium on Tuesday. Read More
* The match between Belgium and Algeria will begin shortly.
ON THIS DAY: Belgium (@BelRedDevils) and @England made a #worldcup record #joinin #BEL #ENG - http://t.co/NkQh8jyuz3 pic.twitter.com/gOsOeUuidb

— FIFAWorldCup (@FIFAWorldCup) June 17, 2014
Belgium will play Algeria in the the first Group H match. Belgium boasts a strong side, and are favoured to win the match.
Much is expected from Belgium's impressive roster at this World Cup and everyone will get to witness a first sample when the Red Devils take on underdogs Algeria in a Group H encounter. Belgium and Chelsea striker Romelu Lukaku has been declared fully fit for his side's World Cup opener against Algeria in Belo Horizonte on Monday. The Chelsea forward, who spent last season on loan at Everton, injured his ankle in the Belgians' 1-0 friendly win against Tunisia last week but resumed full training on Wednesday and told the media on Sunday he was looking forward to participating in his nation's first World Cup since 2002. Lukaku is set to start for Belgium after Aston Villa striker Christian Benteke was ruled out of the tournament with a serious injury in April. Read The Full Match Preview
Here are the Sqauds:
#BEL LINE-UP: Courtois, Alderweireld, Kompany (c), Vertonghen, Witsel, De Bruyne, Lukaku, Hazard, Van Buyten, Dembele, Chadli #BELALG

— FIFAWorldCup (@FIFAWorldCup) June 17, 2014
#ALG LINE-UP: Mbolhi, Bougherra (c), Ghoulam, Halliche, Feghouli, Medjani, Bentaleb, Soudani, Taider, Mahrez, Mostefa #BELALG #worldcup

— FIFAWorldCup (@FIFAWorldCup) June 17, 2014
Belgium Team Profile:
Considered as the "Dark Horses" for the 2014 FIFA World Cup, Belgium is a star studded team. With the likes of Eden Hazard, Thibaut Courtois, Romelu Lukaku, Vincent Kompany and Marouane Fellaini, no team in the World Cup will under-estimate this team. Currently ranked 11th in the latest FIFA rankings, Belgium will be looking forward to leave a mark on the world with the help of their immensely talented side.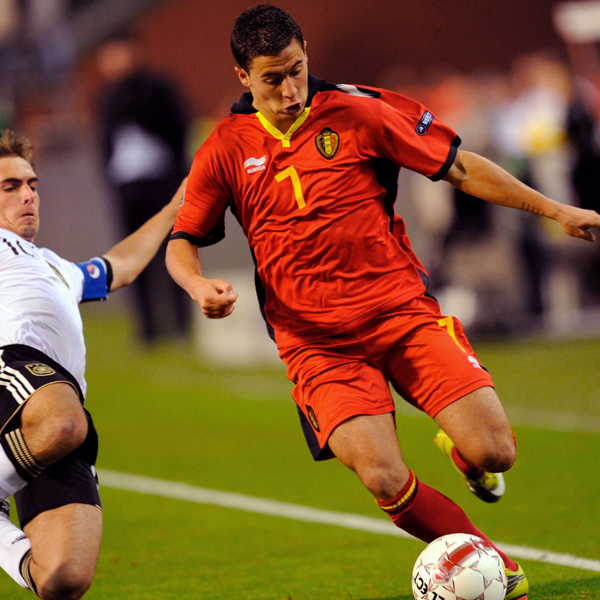 In the central defence, Bayern Munich veteran Daniel Van Buyten played all four matches back in 2002, while his partner Manchester City's magnificent Vincent Kompany is one of the very best defenders in the world. Arsenal's Thomas Vermaelen is also at his peak, while former Ajax captain Jan Vertongen now bosses the defence at Tottenham. Many feel the jewel in the kingdom of Belgium's crown is the playmaker Eden Hazard, who looks capable of pulling the strings for a decade to come. Alongside him Manchester United's Maruane Felaini is best known for his massive afro haircut, but is also renowned for brilliant chest control.
Read the Full Team Profile Here
Also Read: Thomas Müller hat trick, Hummels goal cement Germany's victory; Cristiano Ronaldo disappoints
Algeria Team Profile: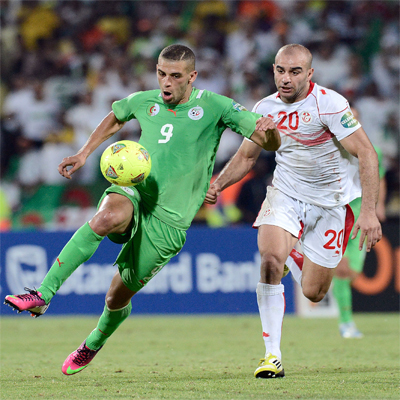 The Algeria national football team is an African team. The team is nicknamed Les Fennecs (The Fennec Foxes). Algeria national football team is controlled by the Fédération Algérienne de Football. Algeria's home ground is the Stade 5 Juillet 1962 (5 July 1962 Stadium/El Djezair Stadium) in Algiers. The head coach of the team is Vahid Halilhodžić. Algeria was founded on January 1, 1962 and joined FIFA on January 1, 1964.
Player to look out for: Sofiane Feghouli
Spurred on by fanatical home support Algeria go to their fourth World Cup after a narrow away goals win over Burkina Faso in a stadium that had been raucous and packed full some six hours ahead of kick-off. The team that coach Rabah Saâdane took to South Africa in 2010 has since been dramatically overhauled by Bosnian disciplinarian Vahid Halilhodzic, whose outfit is defensively disciplined and tactically astute.
Read the Full Team Profile Here