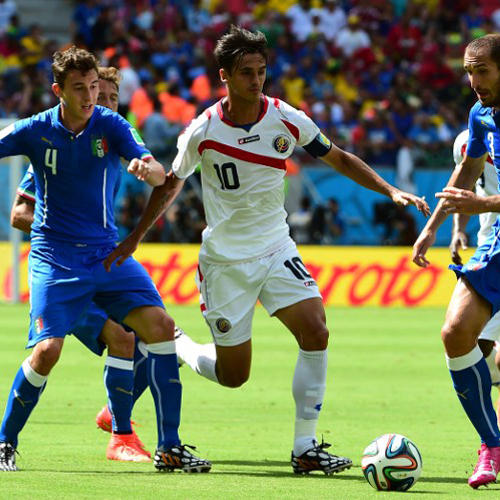 LIVE UPDATES:
FULL TIME SCORE: Italy 0-1 Costa Rica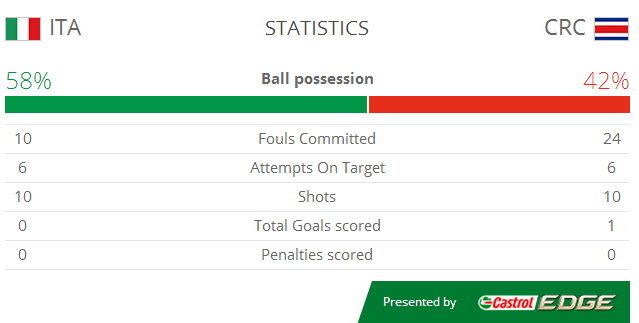 Costa Rica have topped their group and will advance to the next round after winning both their games. Italy and Uruguay will play next and the winner will advance. England has already been eliminated with Costa Rica's victory
90 + 2' Cassano takes a shot but it's off target.
90' 4 minutes of added time has been announced.
88' Urena commits a foul.
81' Brenes comes off the bench to replace Costa Rica captain and goal scorer Ruiz. He hands his captain armband to keeper Navas.
* FIFA FACT: The last team to keep Italy from scoring at the World Cup is France in 1998 (0-0). Since that match Italy have scored in 15 successive World Cup games.
73' Campbell concedes a free kick.
71' Cubero gets Yellow Card.
70' Cerci comes off the bench to replace Marchisio.
70' If Costa Rica wins this match, England is definitely out of the World Cup.
69' More bad news for Italy as Balotelli gets a Yellow Card.
68' Cubero comes off the bench to replace Tejeda.
* It seems that the tensions were flying high as the Italian and Costa Rican players had a bit of a scuffle during half time.
60' Abate concedes a free kick.
57' Insigne comes off the bench to replace Candreva for Italy.
54' Borges takes a shot on target but it's blocked by Buffon.
50' Gonzalez takes a shot but it's off target.
50' Bolanos swings one in the corner for Costa Rica
HALF TIME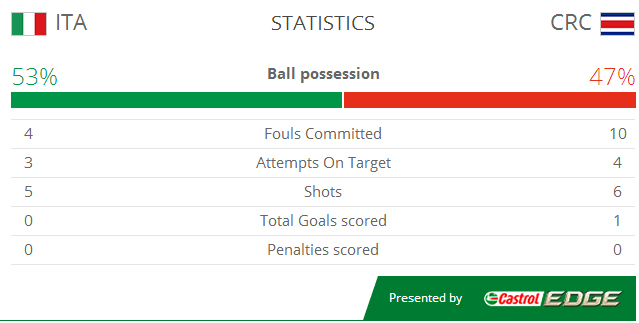 44' GOAL! Bryan Ruiz scores for Costa Rica
41' Campbell takes a shot off target .
38' Ruiz takes yet another shot on target but it's again blocked by Buffon.
31' Mario Balotelli misses a golden chance for Italy to take the lead.
Pirlo with an unbelievable no-look pass and Balotelli miss http://t.co/1zoTggqOUP

— Football Vines (@FootballVines) June 20, 2014
28' Ruiz of Costa Rica commits a foul.
27' Thiago Motta of Italy takes a shot but it's off target.
22' Costa Rica have had over 60% of possession here in Recife in the opening half of the first half.
* FIFA FACT: Italy didn't win any of their three first-round games at Spain 1982, while Paolo Rossi failed to score until his fifth outing. La Nazionale nevertheless finished the tournament as champions and Rossi finished as its six-goal leading marksman.
16' Bolanos takes a corner kick, but Italy's captain is ever vigilant.
10' Pirlo commits a foul.
8' Borges takes a shot but it's off target.
5' Abate concedes a free kick.
2' Bolanos takes a shot on target, Italuy's captain Buffon blocks it easily.
1' And the match begins!
* National Anthems are going on, and the match is about to begin.
* The Line Ups have been announced:
Italy team v Costa Rica: Buffon, Chiellini, Darmian, Motta, Candreva, Abate, Marchisio, Balotelli, Barzagli, De Rossi, Pirlo. #ITA #CRC

— SunSport Now (@SunSportNow) June 20, 2014
Costa Rica tam v Italy: Navas, Gonzalez, Umana, Borges, Duarte, Bolanos, Campbell, Ruiz, Diaz, Gamboa, Tejeda. #ITA #CRC

— SunSport Now (@SunSportNow) June 20, 2014
The Group D match between Italy and Costa Rica will begin shortly.
After missing the opening win over England, the Juventus shot-stopper is set to return to help Cesare Prandelli's men pursue a spot in the last 16. Italy are hopeful of having Gianluigi Buffon back for their crunch Group D meeting with Costa Rica on Friday, with both sides looking for a victory which could ensure their passage to the last 16 of the World Cup. Buffon picked up a slight ankle strain during training ahead of the Azzurri's opener with England in Manaus and, despite Cesare Prandelli initially playing down the injury, the Juventus keeper was ruled out of the 2-1 victory.
Salvatore Sirigu deputised and did well, although there were uncertain moments at corners, and Prandelli is hoping to have his No.1 available for selection despite not knowing the extent of the problem. The coach also praised Matteo Darmian's impact at right-back, so the Torino man is expected to retain his place in a four-man defence, while Marco Verratti should also start after being taken off against England because of a virus.
Costa Rica also got off to an excellent start earlier on Saturday, roaring back from a goal down to beat Uruguay 3-1. It was the first time los Ticos had scored more than twice in a World Cup match in 11 attempts, and they came from just four shots on target, all of which were in the second half. It was also the first time they had ever beaten Uruguay, at their ninth attempt, and they did it with five at the back and four midfielders. It is unlikely they will be more adventurous against Italy, who recorded the highest pass completion rate (93.2 per cent) of any team at a World Cup since 1966. The midfield were key to that, with Andrea Pirlo racking up the most individual passes of the 2014 tournament to date against England – 108, with only five missing their target. Ninety-nine of Daniele De Rossi's 105 passes found a team-mate, too.
Read The Full Team Profile Here.
Also Read: FIFA World Cup 2014: Boatengs put brotherly love on hold again
Also Read: FIFA World Cup 2014: Why I will cheer for Italy
Italy Team Profile: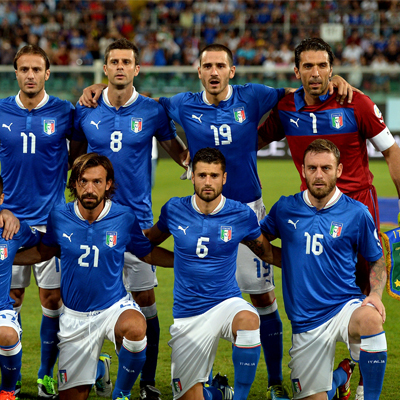 Four years after a nightmare first round exit at the South African World Cup, Italy will head off to Brazil with real ambitions of lifting the trophy. The 2010 team that drew with Paraguay and New Zealand before going down to Slovakia to go home after the first round, has been completely revamped into one with multi-fold attacking options under the brilliant guidance of coach Cesare Prandelli. It looks like the 1960's "catenaccio" defensive style that lived on for so long has made way for something altogether more possession-based and attack-minded, with a prototype of this style taking the Italians to the final of Euro 2012. They took a thumping against Spain in the final but their squad by that time had been worn down through a series of injuries.
They still have the long considered to be the best 'keeper in the world Gigi Buffon in goal, now 36, and still a commanding force. But Prandelli expects his full backs to take their game along the entirety of each flank, helping out in midfield and attack. With the maestro Andrea Pirlo still pulling the strings with killer balls from deep, Thiago Motta, Claudio Marchisio and Daniele De Rossi make up a formidable pool to draw from in midfield.
Read The Full Team Profile Here.
Player To Look Out For: Gianluigi Buffon, Mario Balotelli, Andrea Pirlo, Karim Benzema
Costa Rica Team Profile: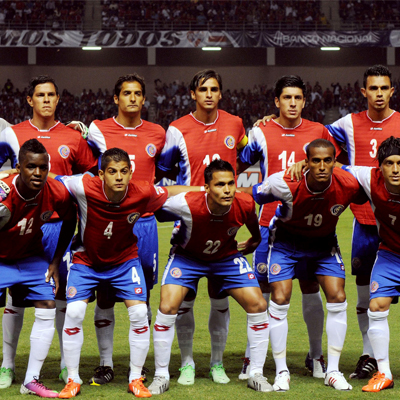 A convincing qualifying campaign has given Costa Rica a boost as the Central Americans head south for their fourth World Cup brimming with confidence. The Ticos's captain Bryan Ruiz wants to at least equal their best ever World Cup showing down in Brazil by emulating or surpassing the 1990 group, who were led by Hernan Medford and his teammates. Back at Italia 90 Costa Rica qualified from a group featuring Brazil, Scotland and Sweden before taking a cold shower in their last-16 match with the Czech Republic, when they lost 4-1.
Their Colombian coach Jorge Pinto, who has been at the helm since September 2011 had been hoping for what he called a balanced group, but unfortunately for the Central Americans the draw was tough on them, with Uruguay, Italy and England all coming out of the pot with Costa Rica. "If we concentrate on our individual qualities and our collective understanding then we can equal or even do better than the 1990 team," an optimistic Pinto said after the draw. But even the other three teams will go into that group fearing elimination at the first round, which is what happened to Costa Rica at the 2002 and 2006 World Cups with Paulo Wanchope, Walter Centeno and co.
Read The Full Team Profile Here