FULL-TIME Belgium remain at top of Group H with a 1-0 win, and will face USA in the Round of 16 on July 2. South Korea crash out from the tournament. Algeria have held Russia 1-1 in Curitiba so Algeria go through as well and will face Germany in the Round of 16 on July 1.
90 + 1' Four minutes of stoppage time has been provided
90' Hazard! He drives forward and smashes a right footed effort towards the left corner of the goal. Jung's strong wrist blocks it though, just in time.
88' Eden Hazard comes in for Kevin Miralles for Belgium. This is just a formality, with Belgium playing a very different side.
84' If scores don't change here in Sao Paulo or in Curitiba, Belgium will win Group H and Algeria will join them in the Round of 16.
83' Origi is really sprinting for Belgium, and wins them a free kick out of nowhere as they continue to step on the gas despite being 1-0 up.
82' Belgium are now happy to sit back and invite pressure, as a draw is enough to confirm them as group leaders.
78' Korea are almost certainly out of the World Cup now.
77' GOAL! Vertonghen scores for Belgium. Origi shoots a straight and fast one at the Korean keeper, who deflects it. The parry goes to Vertonghen who slams home the rebound!
73' Dong-Won Ji substituted for Heung-Min Son by Korea
71' Chung-Yong Lee races through the heart of the Belgian defence, before taking one touch too many and being robbed of the ball on the edge of the box.
70' South Korea combine well into the edge of the penalty area, but the cross is blocked by the Belgian defence
68' A good corner by Miraillas is met with a header by Fellaini who shoots it over the crossbar. That should have been 1-0 to Belgium.
66' Kim Bokyung replaces Kim Shinwook for South Korea
62' A couple of positive changes from Belgium, as Origi and Chadli get the opportunity to show what they can do ahead of the Red Devils' knockout fixture.
59' Close from Mertens! The winger releases a right-footed effort from 25 yards, but Jung gets down smartly to palm it away
57' South Korea have been applying a lot of pressure in the last few minutes.
54' South Korea are really taking the game to this weakened Belgium side, driving forward at pace and looking to break whenever possible
50' Mousa Dembele gets a yellow card
HALF-TIME Belgium are down to 10 men at half-time after Steven Defour was sent off, but with the scoreline at 0-0, they do not have much to worry about in the face of an insipid-looking Korean side.
45' Belgium's Steven Defour has been sent off with a red card! Belgium are down to 10 men. He made a tough tackle on South Korea's Shinwook, stepping on his ankle recklessly. Meanwhile, two minutes of extra time has been added.
42' Belgium are looking very unconvincing tonight, but all they have to do is to draw the game to be assured of a spot in the last 16. Korea need to win by a huge margin, and even huger now that Rusia are 1-0 up against Algeria.
38' Vertonghen's effort on the free kick for Belgium is on target, but the Korean keeper Lee blocks it
37' Ki commits a foul for Korea Republic
35' Hong Jeongho earns the first booking of the match after holding back Mirallas, preventing a counter-attack in the process. He is yellow-carded.
33' Yun concedes a free kick following a challenge on Borre of Belgium
31' The free kick gets cleared by the Belgian defence
30' Korea have a chance! That was close. Ki of Korea puts in a curling kick from the centre, and it very nearly is beyond the Belgian goalkeeper's reach, but he gets fingertips to it with a big dive. It hits the right corner post and goes out for a corner kick.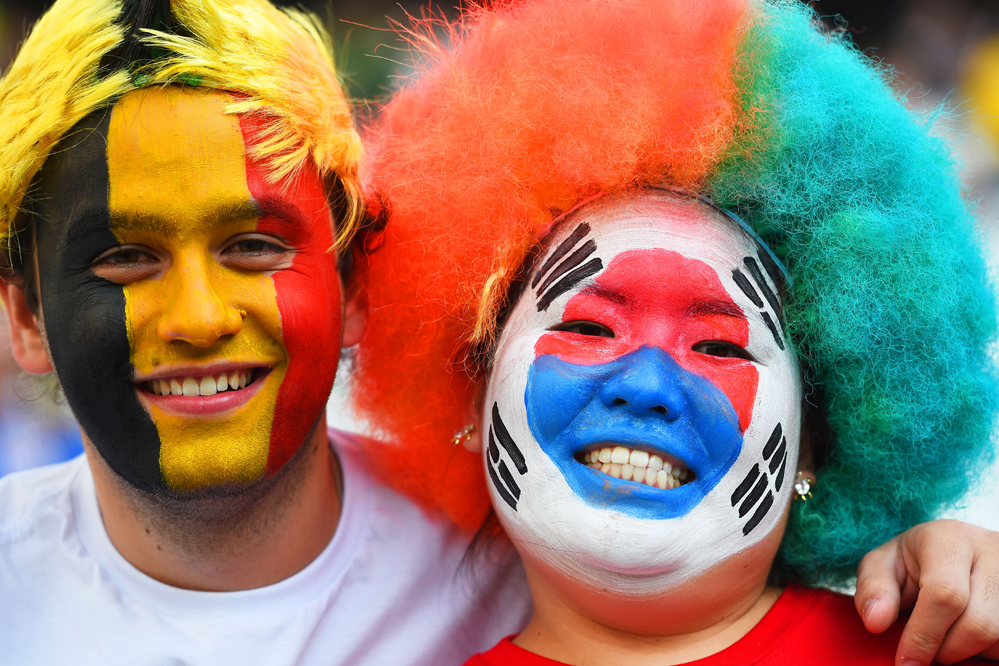 25' What a miss from Belgium! That should have been 1-0! Mertens turns a loose ball over the crossbar from eight yards! Mirallas squares a pass into his teammate, who balloons the effort embarrassingly into the crowd!
23' Good work from Mirallas! The lone striker wriggles free of two challenges before having a shot blocked, before picking up the rebound and scampering back away from goal and towards the byeline. He delivers a cross into the back post, but nobody is there to turn it home.
20' Belgium are looking more likely to score even after having made six changes. Korea just do not seem to have the ability to crack the Belgian defence
17' After a foul by Ki of Korea, Vertonghen takes the free kick for Belgium but it is way off target
17' The opening minutes have passed without too many questions being asked of either goalkeeper, with Jung merely required to command his area from a couple of corners.
15' Belgium control play as Anthony Vanden Borre and Adnan Januzaj combine well in the corner, but the Korean Republic backline tackles well to force a goal-kick.
11' Defour of Belgium concedes a free kick following a challenge on Lee of Korea
10' Lombaerts of Belgium is penalised for committing a foul, but Kim's kick is off target.
8' Kim concedes a free kick following a challenge on Fellaini of Belgium. Kim basically jumped on him from the back and tried to hold on! However, Belgium can't convert the free kick.
4' Wook and Dembele clash heads while going for an aerial ball, but its the Belgian who looks more affected and needs some treatment. Belgium is controlling the early going, with Korea barely able to get out of their half.
2' Mirallias is leading the line for Belgium and Fellaini is playing in the midfield today
1' JC Koo of Korea is adjudged to be in an offside position
KICK-OFF Belgium begin in Sao Paulo!
Thibaut Courtois and Daniel Van Buyten retain their places in the Belgian defence, but Vincent Kompany and Thomas Vermaelen miss out through injury. Anthony Vanden Borre slots in at right-back, while Jan Vertonghen receives a second chance on the opposite flank.
We are good to begin as the anthems are over.
And the national anthems are underway in Sao Paulo
The players are coming out onto the pitch, and its nearly time for the national anthems
Here are the lineups for the two sides:
#BEL LINE-UP: Courtois, Vertonghen (c), Fellaini, Mirallas, Mertens, Van Buyten, Defour, Lombaerts, Dembele, Januzaj, Vanden Borre #KORBEL

— FIFAWorldCup (@FIFAWorldCup) June 26, 2014
#KOR LINE-UP: S G Kim, S Y Yun, Y G Kim, H M Son, Y Lee, J C Koo (c), K Y Han, S Y Ki, C Y Lee, S W Kim, J H Hong #KORBEL #WorldCup

— FIFAWorldCup (@FIFAWorldCup) June 26, 2014
Welcome to the live coverage of the Belgium-South Korea encounter. Belgium are through to the last 16, but South Korea have a difficult task on their hands to entertain any hopes of making the Round of 16. They must beat Belgium convincingly and hope that Russia draw or win against Algeria, in order to reach the knockouts.
Though Belgium won their previous two group matches, they haven't played to their potential. Against Algeria, Belgium had a poor first half as they were a goal down, but somehow managed to score two goals in the second half. Similarly, against Russia, Belgium failed to score until the 89th minute, when Belgian substitute Divock Origi broke the dead-lock.
South Korea's perfomance hasn't been good enough upto this stage either. They drew 1-1 against Russia in their opening match and lost 4-2 against Algeria. Their striker Park Chu-Young has not yet got a shot on target in the previous two group matches. Read the full match preview here
Belgium is considered as the "Dark Horses" for the FIFA World Cup 2014. With the likes of Eden Hazard, Thibaut Courtois, Romelu Lukaku, Vincent Kompany and Marouane Fellaini, no team in the World Cup will under-estimate this team. Currently ranked 11th in the latest FIFA rankings, Belgium will be looking forward to leave a mark on the world with the help of their immensely talented side. They are on the top of the table in their group, winning both the group matches against Algeria and Russia. Read the Belgium team profile here
South Korea MUST beat Belgium to qualify for the knockouts, but they also must win with a big margin. This sounds like a Herculean task given Belgium's superiority as a team and South Korea's mediocre performances, which have seen them languish at the bottom of the table. Read the South Korea team profile here