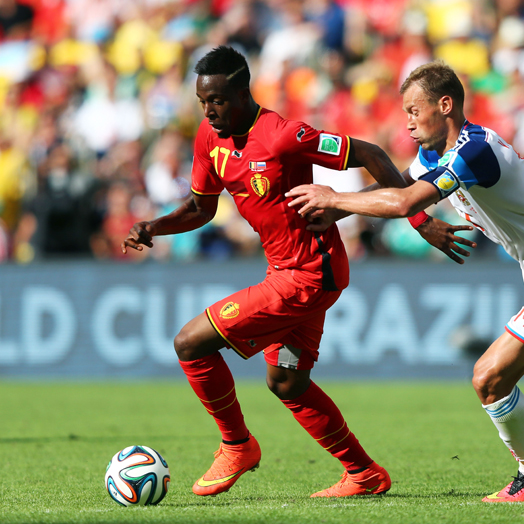 LIVE UPDATES:
FULL TIME SCORE: Russia 0-1 Belgium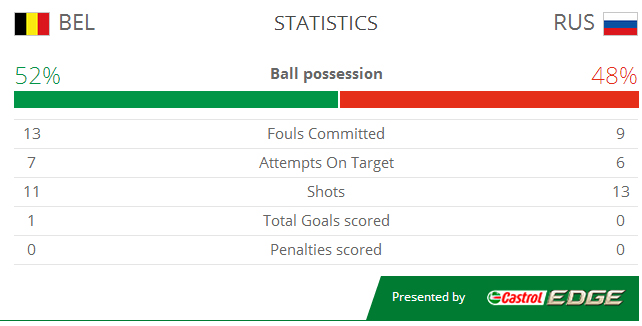 90' 3 minutes extra time.
* FIFA Fact: Belgium have now scored three successive goals by substitutes at this World Cup, a feat already achieved by Switzerland.
88' GOAL! Origi scores for Belgium making the score Russia 0-1 Belgium.
84' Hazard takes a shot, but it hits the post.
83' Dzagoev comes off the bench to replace Shatov.
81' Eshchenko takes a shot but it's off target.
LIVE: #BELRUS is very even so far. Real-time stats see little difference between #BEL & #RUS - http://t.co/05rRitbLZs pic.twitter.com/JDUT1Ep58C

— FIFAWorldCup (@FIFAWorldCup) June 22, 2014
75' Mirallas comes off the bench to replace Mertens.
73' Alderweireld gets a Yellow Card.
72' Hazard concedes a free kick.
66' Kompany of Belgium is penalised after committing a foul.
54' Witsel gets a Yellow Card.
53' Glushakov takes a shot but it's way off target.
50' He also concedes a free kick.
49' Kanunnikov of Russia commits a foul.
HALF TIME SCORE: Russia 0-0 Belgium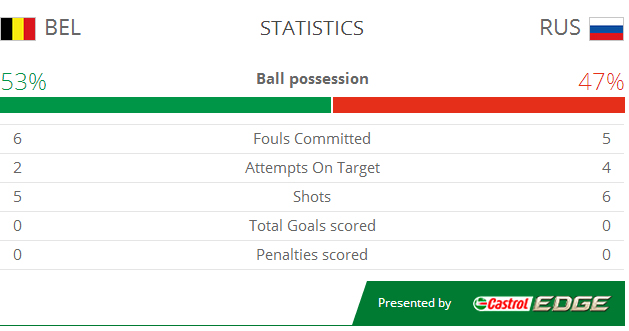 45' 1 minute of extra time has been awarded.
39' Lukaku takes a shot on target, but he's blocked by Ignashevich.
38' Glushakov gets a Yellow Card.
31' Vertonghen comes off the bench to replace Vermaelen.
27' Vermaelen of Belgium commits a foul.
22' Mertens finds some room and takes a shot, but it's off target.
20' FIFA FACT: At their last World Cup encounter in 2002, Belgium won 3-2 in the group phase. Daniel Van Buyten was in the starting line-up for Belgium and Aleksandr Kerzhakov came on as a substitute. Marc Wilmots also played for Belgium in that match and scored the third goal.
18' Mertens is penalised for illigally handling the ball.
13' Shatov commits a foul.
Also Read: Animals no longer able to predict World Cup correctly after Paul the Octopus' death
12' Fayzulin makes a great try, but it's blocked well by the keeper. Russia concede a free kick.
8' Alderweireld concedes a free kick.
4' Mertens takes a shot on target.
2' Kaninnikov takes a shot on target, but it's an easy blocked.
1' The whistle has been blown and the match is underway.
* FIFA Fact: Belgium coach Marc Wilmots is his country's all-time top scorer at the World Cup with five goals. The former midfielder's last strike came against none other than Russia in a 3-2 win in 2002.
* The national anthems are on, and the game is about to start.
* The Line Ups are have been announced:
#BEL LINE-UP: Courtois, Alderweireld, Vermaelen, Kompany (c), Witsel, De Bruyne, Fellaini, Lukaku, Hazard, Mertens, Van Buyten #BELRUS

— FIFAWorldCup (@FIFAWorldCup) June 22, 2014
#RUS LINE-UP: Akinfeev, Kozlov, Ignashevich, Kanunnikov, Glushakov, Kokorin, Berezutskiy (c), Shatov, Samedov, Fayzulin, Kombarov #BELRUS

— FIFAWorldCup (@FIFAWorldCup) June 22, 2014
* The Group H match between Belgium and Russia will begin shortly
Belgium made hard work of their first match in World Cup Group H but Marc Wilmots' much hyped side managed to come from behind to beat Algeria. As favourites to win the group, Belgium can expect to again face a team prepared to sit deep and defend in numbers when they play Russia on Sunday. The main injury concern for Belgium is a groin problem for Vincent Kompany, but the captain is expected to lead his side out again at the Maracana, providing vital leadership and quality in the heart of the defence.
Romelu Lukaku was disappointing in the 58 minutes he played against Algeria but the Chelsea striker will continue to lead the line for Belgium, with his pace and power likely to cause problems for Russia's slow defence. The most likely change for Belgium is a starting place for Marouane Fellaini after the Manchester United midfielder came off the bench to score against Algeria, with Tottenham winger Nacer Chadli likely to make way. The other scorer against the north Africans Dries Mertens is also pushing for a start. Wilmots has claimed that Eden Hazard is among the top five players in the world but to prove it the Chelsea forward will have to improve on his record of six international goals in 45 matches. He could make the difference and provide the extra quality to get past Russia.
Belgium Team Profile:
Considered as the "Dark Horses" for the 2014 FIFA World Cup, Belgium is a star studded team. With the likes of Eden Hazard, Thibaut Courtois, Romelu Lukaku, Vincent Kompany and Marouane Fellaini, no team in the World Cup will under-estimate this team. Currently ranked 11th in the latest FIFA rankings, Belgium will be looking forward to leave a mark on the world with the help of their immensely talented side.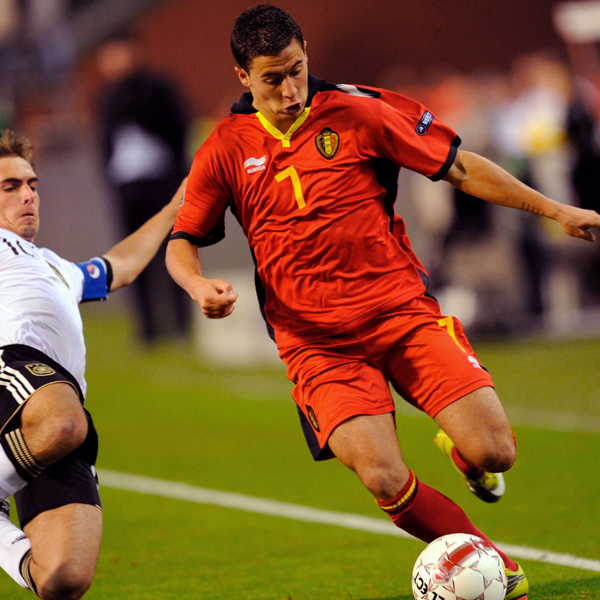 In the central defence, Bayern Munich veteran Daniel Van Buyten played all four matches back in 2002, while his partner Manchester City's magnificent Vincent Kompany is one of the very best defenders in the world. Arsenal's Thomas Vermaelen is also at his peak, while former Ajax captain Jan Vertongen now bosses the defence at Tottenham. Many feel the jewel in the kingdom of Belgium's crown is the playmaker Eden Hazard, who looks capable of pulling the strings for a decade to come. Alongside him Manchester United's Maruane Felaini is best known for his massive afro haircut, but is also renowned for brilliant chest control.
Read the Full Team Profile Here
#WorldCup Round of 16 so far: #ARG, #CHI, #COL, #CRC, #NED #BEL could join these five today - http://t.co/jolEx7qrXt pic.twitter.com/2pexSrrZQy

— FIFAWorldCup (@FIFAWorldCup) June 22, 2014
Also Read: Belgium wins a fast paced match with goals by Mertens, Fellaini; Final Score - Belgium 2-1 Algeria
Russia Team Profile: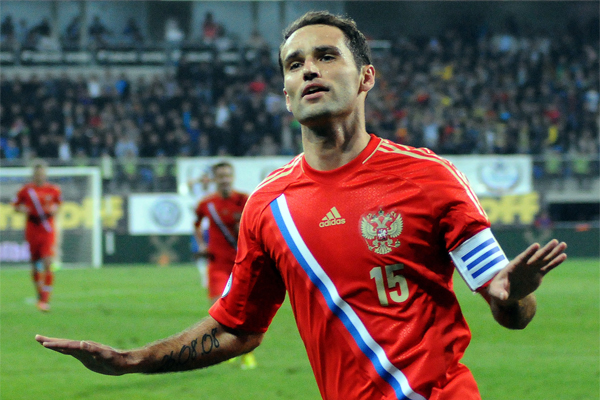 Russia will be looking to boost football in their country as they will host the 2018 FIFA World Cup. Russia qualified for the 2014 FIFA World Cup as the UEFA Group F winners with 22 points, finishing a point ahead of Portugal. This is the 3rd appearance of Russia at the FIFA World Cup. Russia's best result is group stage in 1994 and 2002. However FIFA considers Russia as the successor team of the USSR.
Having missed the last two World Cups Russia will be present at the next two having edged Group F ahead of pre-qualification favorites Portugal to make the cut for Brazil and by virtue of the fact they host the show in 2018. The man behind their qualification is the Italian coach Fabio Capello who took over from Dick Advocaat after a first round exit at Euro 2012. Russia's on field performance had been gutless and captain Andrey Arshavin had a public row with supporters, refusing to say sorry to Russia for their failure.