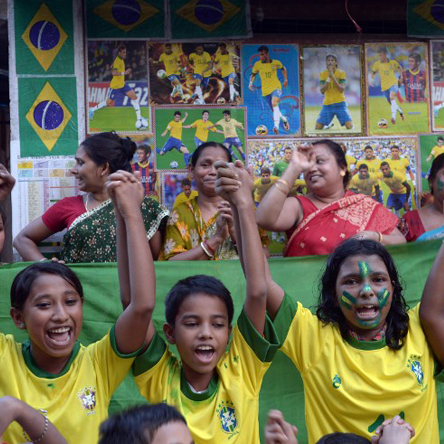 Wearing soccer team t-shirts and accessories, styled with tattoos and haircuts of players, Indians street danced to the tune of drum beats as FIFA World Cup frenzy gripped the nation.
Soccer is a great game, and the rich variety of styles and passions that come with being truly global makes the World Cup a nonpareil event in the universe of competitive sport.
People were seen dancing on the streets of Kolkata, Bangalore and Chennai on Thursday.
Even though India does not figure highly among soccer playing nations, there is palpable excitement among sports fans for the world's biggest sporting extravaganza.
Brazil was the best bet for over half of the respondents, way ahead of Germany and arch-rivals Argentina, as international soccer fans vie for one of the millions of tickets to cheer on their home country.
"We have craze in supporting FIFA teams and this is very special to us. We all support for Brazil," said a Soccer Lover, Shadab in the IT hub, Bangalore.
An estimated 600,000 foreign football fans are expected to travel to Brazil for the World Cup.
Kolkata revelled in festive spirits as women and children danced to the tunes of FIFA themed songs.
Brazil and Argentina were seen among the favourites.
"I am going to support Argentina and we will dance, cheer for the team and we will all enjoy," said Sahil.
The national teams of 31 countries advanced through qualification competitions to participate with the host nation Brazil in the final tournament. A total of 64 matches are to be played in 12 cities across Brazil. For the first time at the World Cup finals, the matches will use goal-line technology.
Ardent soccer fans said their spirits were high and were all set to cheer for their favourite team.
"We are all so excited as if Brazil has already won the world cup. We will all be awake whole night to watch the match," said an excited, Ananya.
The football frenzy filled the air in Chennai, children were seen holding soccer practicing sessions and getting ready for the celebrating the mega event.
School teacher Venkatesh said that the mood in India is same as in other soccer lover nations across the globe.
"The mood in India is also the same as what is in the world, because football is the universal game and it is also a game played by everyone in the society because even a common man, a rich man and a poor man play at least the game," said Venkatesh.
Hosts Brazil is favourites to win a sixth World Cup, confirming on home turf its reputation as a soccer superpower, according to a global survey of more than 120 football-loving market analysts polled by Reuters.
The 32-nation tournament kicked off on Thursday, and will cost Brazil 25.8 billion reais (6.92 billion pounds) in investments in stadiums, airports, urban transport and other infrastructure improvements. One third has been spent on new or renovated stadiums in 12 host cities.
The tournament finishes on July 13.