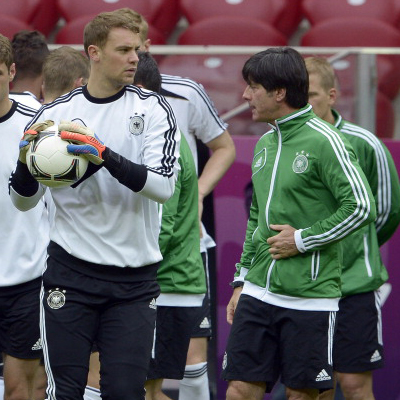 German football team manager Joachim Low has hailed their goalkeeper Manuel Neuer as the 'perfect player', and said that the keeper could play in the midfield as the squad prepares for their World Cup quarterfinal against France.
Neuer reportedly made 19 touches outside the box as Germany squeaked past Algeria to earn a place in the last eight tied against France.
According to The Mirror, Low and Neuer's Bayern Munich club-mate Toni Kroos believe that their man would give hem the extra ingredient to win the Maracana match.
Low said that if a team tries to play with a high line, like they did against the USA and Algeria, one has to go into the opponents' half.
He added that if that is the case, it is obvious the keeper cannot stay in his own box and he has to know how to react when the ball is played over the top.
Low said that is where Neuer always shows his class, because he can basically be an outfield player behind the defenders, adding that the goalkeeper could play in the midfield and is welcome to take these risks.
The boss also said that Neuer is a technical player, adding that the keeper has the same skills as the others and he is the 'perfect player'.
Meanwhile, Kroos said that they know Neuer is an extraordinary football player and is extremely important because he can clear the ball so easily with his feet, which many keepers cannot do.
Kroos said that Neuer is a complete keeper who is present when the German squad needs him.
Germany will face France in the quarterfinal at Maracana to battle for a place in the World Cup semifinals.