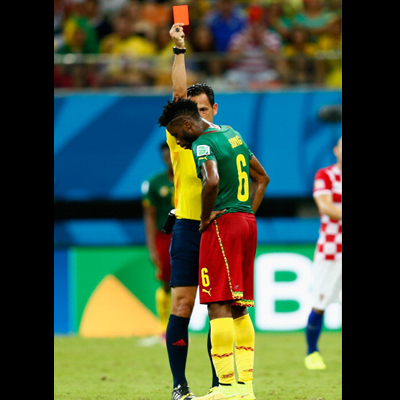 German magazine Der Spiegel claimed on Tuesday that Wilson Raj Perumal – the best-known match-fixer in football, had correctly predicted a detailed result of the Cameroon vs Croatia match, hours before the match.
According to the magazine, Wilson had predicted a 4-0 loss for Cameroon in a Facebook chat with one of their reporters a few hours before the match. He also said that one of Cameroon's players would be sent off field in the first half of the game. Both these predictions came true in the July 18 match. Croatia defeated Cameroon by four goals and Cameroon midfielder Alex Song was sent off before halftime for elbowing Croatia striker Mario Mandzukic in the back.
The fact that he is well known fixer just adds fuel to the fire when such allegations are made against him. He has been convicted of match-fixing in Finland and is suspected of fixing other games in Africa, involving African teams.
Perumal has denied all these allegations in his statements. He claims that the said chat occurred on June 21, three days after the match and not hours before the game as is being said by the magazine's reporter. "At no time did I make reference to four goals being scored or to a red card being issued. At no time did I suggest that I had any way of corroborating or substantiating what was meant to be an educated guess based on my extensive match-fixing experience. Last but not least: at no time was I informed by the Der Spiegel journalist that our chat was going to end up in the German publication," his statement said.
"I am shocked and amazed that a respected magazine such as Der Spiegel would go so far as to fabricate statements by yours truly with the visible aim of stirring the row over match-fixing," he said. "I apologize to the Cameroon FA and to its fans if I inadvertently offended them; it was not my intention. I strongly believe that Der Spiegel should also do the same since they placed words in my mouth that I did not utter."
The magazine, however, continues to stand by its claims. "We firmly stand by our assertion that Mr Perumal wrote in a Facebook chat with Der Spiegel some hours before the world cup match Croatia vs Cameroon, that the result of the match will be a 4-0-victory for Croatia and that a player of Cameroon will get a red card in the first halftime," Rafael Buschmann, one of the magazine's reporters, said.
Earlier, Cameroon's football federation had said it instructed its ethics committee to open an investigation into the matter. The federation, Fecafoot, evoked the possibility that seven players on its team may have been corrupted. "Recent allegations of fraud around Cameroon's three 2014 FIFA World Cup preliminary games, especially Cameroon vs Croatia, as well as the 'existence of seven bad apples (in our national team)' do not reflect the values and principles promoted by our administration in line with the FIFA Code of Conduct and the ethics of our nation," Fecafoot said in the statement.
FIFA President Sepp Blatter confirmed the probe: "Yes I have been told about this but let them do their work on this investigation."