The momentum built over years of solid Socceroos results was left floundering when shortly after squeezing through the Asia zone World Cup qualifiers Australia suffered consecutive 6-0 defeats to Brazil and then France. Their German coach Holger Osieck may have qualified them for the 2014 finals, but he was sacked in the dressing rooms of Paris' Parc des Princes stadium after a truly painful spanking from a rather ordinary France side. Some pundits were shocked at the sacking of a coach after a friendly defeat. In qualifying second from Asia Group B behind Japan but ahead of Jordan, Oman and Iraq. Osieck was never popular and came in for plenty of criticism during qualifying when Australia lost to Jordan and drew twice with lowly Oman.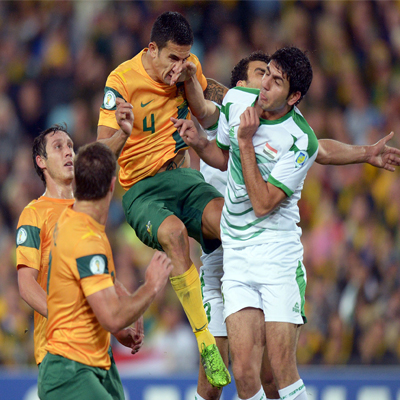 AFP
The signs of decline have long been present at Australia, who were thumped 4-0 by Germany in their opening game of the 2010 World Cup campaign and four years down the line Tim Cahill and the old guard are risking their dignity unless the new man can tighten the defence. Incoming boss Ange Postecoglou is an Australian of Greek origin and was chosen ahead of interested parties including Marcelo Bielsa and Guus Hiddink. He had notably won the A League twice but has no experience of high level football and says he wants to restore pride in wearing the Australia shirt. He has his work cut out, but what better motivation than a World Cup finals.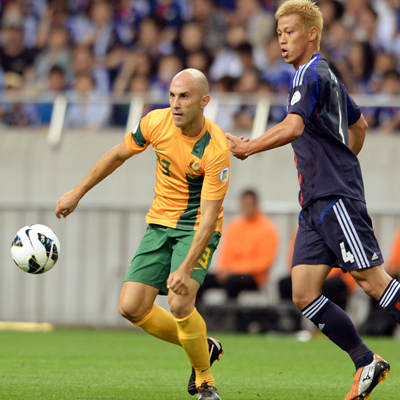 AFP
Country Profile:
Population: 22.9 million
Area: 7,692,024 sq. km
Capital: Canberra
Currency: Australian dollar
Federation: Football Federation of Australia, affiliated to FIFA in 1963.
Registered players: 436,000
Colours: Yellow shirts, green shorts, yellow socks.
World Cup appearances: 3 (1974, 2006, 2010).
World Cup record: Second round (2006), first round (1974, 210).
Oceania Nations Cup: winner (1980, 1996, 2000, 2004), finalist (1998, 2002).
How they qualified: Australia were exempt from the first two qualifying rounds. In round three they finished top of Asian Group One with 10 pts ahead of Qatar 10pts, Iraq 7 and China 6 with 3 wins, 1 draw, 2 defeats, 7 goals for, 3 against. In round 4 they finished top of Asian Group One with 20 pts ahead of Japan 15pts, Bahrain 10, Qatar 6 and Uzbekistan 4 after 6 wins, 2 draws, 0 defeats, 12 goals for, 1 against.
Top clubs: Sydney FC, Melbourne Victory, Perth Glory.
Key players: Tim Cahill, Mile Jedinak
Coach: Ange Postecoglou (since 23/10/2013)
With few stars emerging from the ranks of an inexperienced group purged of its older players, Australia has to fight past Spain, the Netherlands and Chile in Group B with a fresh faced squad. Australia go out to its third straight World Cup and its fourth overall after the amateur set up went out to Germany back in 1974. They would be denied another finals until Germany again hosted in 2006. France were not the only team that felt short changed by eventual champions Italy after a 1-0 defeat where Australia had held fair until a 95th minute Francesco Totti penalty. They had enjoyed their first round however, with an opening 3-1 win over Japan they then took on Brazil and lost 2-0. But hey, they'd played Brazil in the finals. They then qualified by holding Croatia 2-2 in a game memorable for ill temper and Croatian defender Josep Simunic getting three yellow cards. In 2010 Australia rallied from their battering at the hands of Germany to draw with Ghana and beat Serbia, but they missed the cut for the second round.