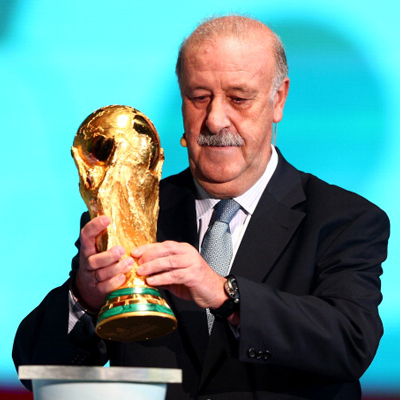 Spain head coach Vicente Del Bosque has announced the final 23-man squad from the 30-man provisional squad. Del Bosque has dropped Manchester City Duo Alvaro Negredo and Jesus Navas, who recently won the Premier League with the English side. Along with the Manchester City duo, Juventus' Fernando Llorente and Real Madrid youngster Dani Carvajal have also been snubbed by Del Bosque.
In the defense, 22-year old Dani Carvajal and Sevilla defender Alberto Moreno have been dropped. Morneo has made only two appearances for the Spanish side, while Carvajal is still uncapped. Sergio Ramos and Gerard Pique will be the first choise central defenders for Vicente Del Bosque's starting 11, along with Chelsea's Cesar Azpilicueta and Barcelona's Jordi Alba, who might be the first choise wing-backs.
In the midfield, Jesus Navas and Thiago Alcantara have been excluded. Alcantara's reason for exclusion from the World Cup squad has been due to tearing knee ligament. However, Navas missed the final few weeks of Premier League action due to an ankle injury and evetually, has missed out on the World Cup squad. Vicente del Bosque on Jesus Navas' exclusion: "My heart sinks. He's a guy who's spent two months without playing. He's almost perfect, but it has been two months without playing. We prefer to take someone in a condition that we have no questions about" - ESPN.co.UK
Atletico Madrid's 22-year old midfielder has made it into the 23-man squad after being instrumental in Altelico Madrid's La Liga glory. 25-year old Athletic Bilbao midfielder Ander Iturraspe, initially named in the provisional squad, has also failed to make it into the squad. Iturraspe has managed only one appearance with Spain in a 2-0 victory over Bolivia on 30 May 2014. Barcelona mid-fielders Xavi, Sergio Busquets, Andres Iniesta and Cesc Fabregas will remain key players in the central midfield along with Real Madrid's Xabi Alonso. Arsenal play-maker Santi Cazorla, who missed the 2010 FIFA World Cup due to a hernia, will attempt to make an impact with the national side. Manchester United's Juan Mata, who once feared of being dropped out of the World Cup squad, has been named in the final 23-man squad. This news delighted Mata and he tweeted:
Couldn't be happier! Very proud to be in the squad! Let's try to make history again! #WorldCup #Brasil2014

— Juan Mata García (@juanmata8) May 31, 2014
Manchester City's Alvaro Negredo has been snubbed from the 23-man squad. Negredo scored mere 9 goals in 32 league appearances, but played a part in Manchester City's Premier League glory. Juventus striker Fernando Llorente has also been dropped out of the World Cup squad. The 29-year old Spaniard scored 16 goals in 34 matches for Juventus, helping them secure a third consecutive Serie A trophy. Fernando Torres' selection in the 23-man squad has surprised many.
Fernando Torres scored five goals in the EPL this season. Fernando Llorente scored five goals in the last month of the season.

— BWRAO (@JuventusNation) May 31, 2014
Though Torres has been poor with Chelsea, he has performed well with the national side. Torres scored the winning goal in 2008 UEFA Euro competition. In 2012, Torres won the Golden Boot for being the top scorer in UEFA Euro 2012 and also became the first player to score in two consecutive UEFA Euro finals. In 2013, Torres was the top scorer for Spain in the FIFA Confederations Cup. Diego Costa, who missed the two missed the last two matches of the season, probably the most important matches of his career, is also included. Costa missed Atletico Madrid's title decider against Barcelona and was also substituted against Real Madrid in the 9th minute in the Champions League finals. Costa, a Brazilian by birth, opted for Spain over his country-of-birth. Costa has been very important for Atletico Madrid, scoring 27 goals in 35 league games. However, he hasn't fully recovered from his hamstring injury, If 100% fit, Costa is more likely to be in the starting 11 over club team-mate David Villa and Torres.
Here is the final 23-man squad that will travel to Brazil:
Goalkeepers: Iker Casillas (Real Madrid), Pepe Reina (Napoli), David De Gea (Manchester United).
Defenders: Sergio Ramos (Real Madrid), Gerard Pique (Barcelona), Raul Albiol (Napoli), Cesar Azpilicueta (Chelsea), Juanfran (Atletico Madrid), Jordi Alba (Barcelona).
Midfielders: Xavi (Barcelona), Xabi Alonso (Real Madrid), Sergio Busquets (Barcelona), Andres Iniesta (Barcelona), Cesc Fabregas (Barcelona), Santi Cazorla (Arsenal), Koke (Atletico Madrid), Javi Martinez (Bayern Munich).
Forwards: David Silva (Manchester City), Diego Costa (Atletico Madrid), Fernando Torres (Chelsea), Pedro (Barcelona), Juan Mata (Manchester United), David Villa (Atletico Madrid).