James Rodriguez is having the time of his life. After having scored five goals in four matches, he the the top scorer in this World Cup at the moment. He also scored a fantastic volley against Uruguay in the Round-of-16, which is considered as the potential best goal of the FIFA World Cup 2014. After having reached such a terrific form, James Rodriguez will aim for a semi-final spot for Colombia. The Brazil vs Colombia match is more likely to be Neymar vs Rodriguez
Surname: Rodriguez
Firstname: James
Country: Colombia
Date of birth: 1991-07-12
Birthplace: Cucuta
Height: 180 cm
Weight: 78.0 kg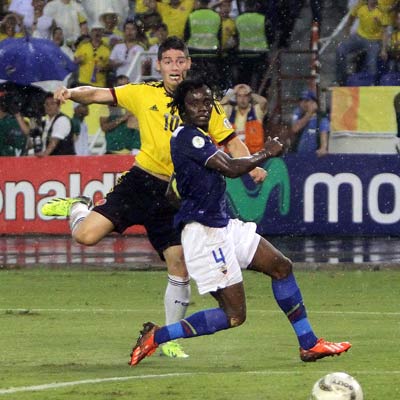 AFP
Position: Striker
Teams: Envigado (2007-2008), Banfield (Arg/2008-2010), FC Porto (Por/2010-2013), AS Monaco (Fra/since 2013)
International appearances: 25
International goals: 9
International debut: 11/10/2011, Bolivia-Colombia (1-2)

Playing honours:
Club
1 Europa League (2011).
1 Argentinian Championship (Opening - 2010).
3 Portuguese Championships (2011, 2012, 2013).
1 Portuguese Cup (2011).
3 Portuguese Supercups (2010, 2011, 2012).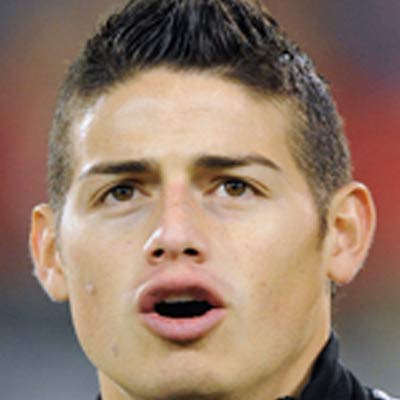 AFP
He eventually captained the U-20 team during the 2011 FIFA U-20 World Cup. Rodríguez scored his first senior national goal against Peru in a 1–0 victory in less than 6 months after his debut. His playmaking abilities have led many to consider him to be the successor of compatriot Carlos Valderrama.
Rodríguez's emergence in the Colombia national football team started with the U-20 national team, where he was captain of the 2011 Toulon Tournament-winning side. In 2011, Rodríguez won the LPFP Award for Breakthrough Player of 2011–12 Primeira Liga season at age 20, becoming the first Colombian player to do so. He is a two-time winner of the SJPF Player of the Month. Rodríguez won the Portuguese Golden Ball award in 2012, becoming the second Colombian after Radamel Falcao to win the award, as well as being the youngest player ever to hold the honour. The following season, he won the league title for a third consecutive time where he won his eighth overall title in Europe after just three seasons for Porto and at just 21 years of age. His move to Monaco required a transfer fee of 45 million euros, making him the second most expensive Colombian player in history as well as the one of the highest in world football.