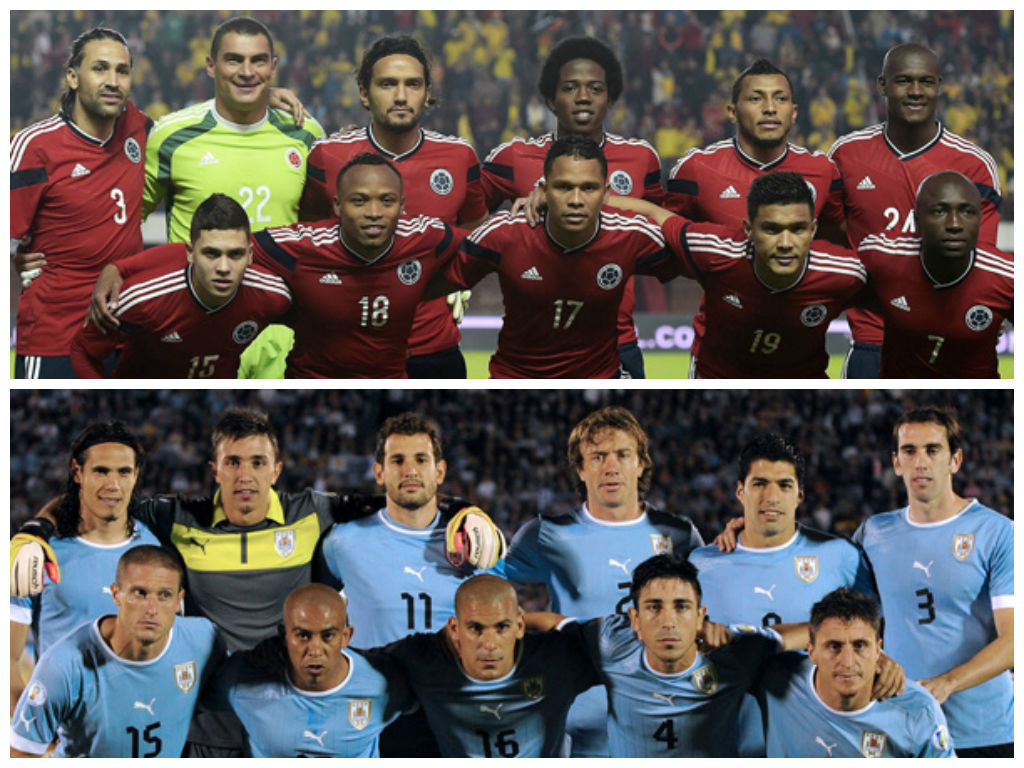 The FIFA World Cup 2014 is at the peak of excitement as the knock-out has finally approached. In this excitement, Colombia take on Uruguay in the second match of the Round-of-16.
This match will be a worth watching as Colombia have performed spectacularly in the group stages as the won all of their group stage matches. On the other hand, Uruguay made their way into the Round-of-16 from the 'Group-of-Death' in a controversial manner. Uruguay were up against Italy in a 'do-or-die' scenario, as the winner of the match would progress to the knock-out phase. Italy suffered a major setback as their midfielder Claudio Marchisio was sent-off for a horrific tackle on Egidio Arévalo. But the highlight of the match was Suarez's bite on Italian defender Giorgio Chiellini. That incident left the Italians devastated as no action was taken against Suarez for that shameful act. And to add on to Italian miseries, few minutes after the incident, Uruguay captain Diego Godin gave them the lead and eventually went on to win the match controversially.
After the match, FIFA took a stern action against Luis Suarez for that disgraceful incident and handed him a nine match ban from the international stage and a four month ban from club football. This has been a big blow for Uruguay as they will miss their talisman for the remainder of the World Cup. The only match Suarez missed for Uruguay was their opening match against Costa Rica, which they lost 3-1. He made his comeback in the match against England and scored a brace against them, helping Uruguay win their first group stage match.
With Suarez missing for the all-important clash against Colombia, Uruguay might have a tough time ahead.
Colombia delt with a big blow before the World Cup started as their main player, Radamel Falcao was ruled out of the World Cup due to a knee injury. But despite their star player missing from the team, Colombia played in true spirit of the game and went on to win all the group stage matches.
Without Suarez, it will be really difficult of Uruguay to face well performing Colombian side. Colombia have been superior compared to Uruguay, as they have scored nine goals in the group stages and conceded mere two goals. However, Uruguay aven't been upto the mark. The Uruguayan side has scored four goals and conceded the equal amount of goals. Uruguayan FA have appealed against Suarez's ban, but it highly unlikely that the ban will be lifted.
Here are some intresting facts related to matches between Uruguay and Colombia (optasports.com):
• Colombia and Uruguay's only previous World Cup encounter was in the group stages of the 1962 tournament; the Celeste won 2-1 despite Colombia opening the scoring. It is Colombia's only previous game against a fellow South American team at the World Cup.
• Uruguay have won six of their last eight encounters with Colombia (D1 L1).
• Uruguay won their first five World Cup games against South American teams but have lost their last two (v Brazil in 1970 and Argentina in 1986).
• The last nine encounters between Colombia and Uruguay have produced 32 goals; an average of 3.6 per game.
• Colombia have reached the last 16 of the World Cup for the second time in their history after 1990 when they were knocked out by Cameroon (1-2 after extra-time).
• It's also the first time that Colombia have finished top of their group at the World Cup.
• Colombia have won as many games at this year's World Cup (3) as they did in their previous 13 games in the competition (3).
• This is already Colombia's most prolific World Cup in terms of goals scored (9 after 3 games).
• Nine of Colombia's last 11 goals at the World Cup have been scored in the second-half.
• This is the second time in a row that Uruguay have reached the last 16 of the World Cup (2010, 2014), the first time they have achieved this in consecutive tournaments since 1986-1990.
• Uruguay have won two of the three World Cups that they've played on South American soil (1930, 1950).
• Uruguay have scored in each of their last nine World Cup games – the last time they failed to find the net was against France on 11 June 2010.
• James Rodriguez has scored three goals and delivered two assists in 225 minutes at this World Cup, an average of a goal / assist every 45 minutes. He's already been involved in more goals than any other Colombian in World Cup history (5).
• Rodriguez has scored in each of his last five games for Colombia.
• Diego Godin's last three goals have come in the Spanish title decider against Barcelona, the Champions League final against Real Madrid and the clash against Italy that saw Uruguay qualify for the last 16.
• Luis Suarez has missed two games at the World Cup since 2010. Both were defeats for Uruguay (Netherlands in the 2010 semi-final and Costa Rica in the 2014 group stages).