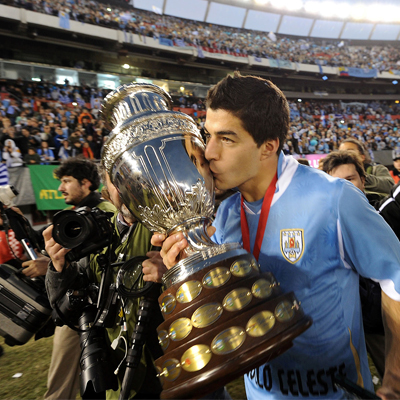 Luis Suarez is in the headlines, yet again for the wrong reasons. Once again Suarez has proved why he is one of the most hated players in the world. In Uruguay's final group match against Italy, Suarez did something which he has done previously. He bit Italian defender Giorgio Chiellini. The Italian defender appealed to the refree and even showed him the bite mark, but the refree refuced to give a red card to Suarez.
#ITA's Giorgio Chiellini claims @luis16suarez bit him. #URU LINES ARE OPEN: 0500 909 693. pic.twitter.com/redwtlJFjD

— BBC 606 (@bbc606) June 24, 2014
Suarez will claim he was whispering sweet nothings into Giorgio Chiellini's ear. #ITAvURU pic.twitter.com/aFY2gJaqCU

— Soccer Gods (@soccergods) June 24, 2014
It's not new for football fans to see Suarez biting players. He has repeated this disgraceful act twice previously. While playing for Ajax, Suarez bit a player for the first time. The player was Otman Bakkal, PSV Eindhoven.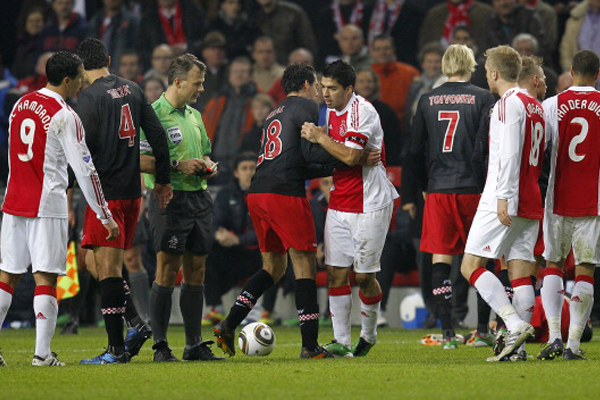 Getty Images: Luis Suarez's first bite
Ajax suspended him for two games and fined him an undisclosed amount. This was the first time Suarez did this shameful act. The second time Suarez repeated this act in Liverpool's 2-2 draw against Chelsea at Anfield. Suarez bit Chelsea defender Brainslav Ivanovic. This resulted in a ten-match ban for Suarez. There were claims that Suarez apologized to Ivanovic, but the Chelsea defender rejected the apology.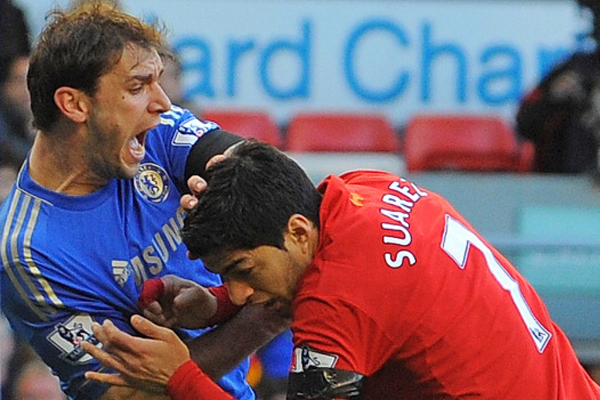 Getty Images: Brainslav Ivanovic's reaction after Suarez's bite on him
Suarez got away without getting a red card against Italy and a few minutes after the disgraceful incident, Uruguay's captain Diego Godin scored the goal for Uruguay which eventually turned out to be the winner. Italy are now out of the 2014 FIFA World Cup. However, problems are on their way for Suarez. According to the FIFA rules, Luis Suarez could face upto or two years ban from football, but official news related to the ban are yet to come in.
Frustrated Giorgio Chiellini expressed his anger on the whole incident: "The game was decided by the referee. t's a shame because we deserved it [to go through]. During the first half there had been many situations with different treatments - the expulsion of Marchisio was ridiculous and that, along with the lack of punishment for Suarez, has changed everything. Eventually it proved decisive. Suarez is smart because FIFA allow it because they want to their champions to play. The referee saw everything, but did not have the courage. There are episodes that affect the game. The action is clear, they say that the referees are informed on the players, but obviously they are not." - Goal.com
The Fifa vice-president Jim Boyce said: "I have watched the incident several times on television. There is no doubt Luis Suárez is a fantastic footballer but, once again, his actions have left him open to severe criticism. Fifa must investigate the incident seriously and take whatever disciplinary action deemed necessary." - The Guardian
All the Suarez bites in one picture:
Luis Suarez, ladies and gentlemen. pic.twitter.com/QFOQXhqjqz

— Waleed Abu Nada (@waleedabunada) June 24, 2014
All the Suarez bites in one video:
Suarez completes his hatrick of bites http://t.co/EtBdVLD84q

— Football Vines (@FootballVines) June 24, 2014
Twitter reaction to Suarez's bite:
Hey @luis16suarez. Next time you're hungry just grab a Snickers. #worldcup #luissuarez #EatASNICKERS pic.twitter.com/3RAO537HjW

— SNICKERS® (@SNICKERS) June 24, 2014
Luis Suarez ready to leave the stadium. On to the next game / victim. #WorldCup2014 #Brazil2014 pic.twitter.com/ipbSQGILRj

— Veikkaajat.com (@Veikkaajat) June 24, 2014
CONGRATULATIONS: Luis Suarez retains the award for the second successive year. pic.twitter.com/qvGlSZ4Ygi

— Just Football (@JustFutball) June 24, 2014
Another view of those bite-marks pic.twitter.com/NXIvhOOh67

— Just Football (@JustFutball) June 24, 2014
The Walking Suarez pic.twitter.com/BiaXU3bM59

— Just Football (@JustFutball) June 24, 2014