Accepting that Brazil's 1-7 loss to Germany in the first semi-final of the FIFA World Cup 2014 on Tuesday was the worst day in his life, Coach Luiz Felipe Scolari took full responsibility for the defeat, and sought the forgiveness of the football loving public of his country.
Scolari said that he would be remembered as the coach who losut 1-7 to Germany, and added that few would remember that he was the coach of Brazil's World Cup winning side in 2002. According to reports, he was the person who decided the line-up, substitutions and the tactics, and added that the choices were made by him.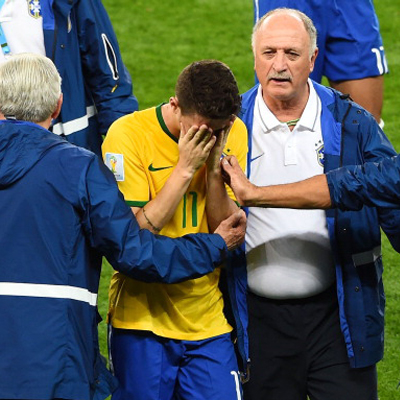 Getty
Scolari said that his side would now try to go for a third place finish. Tuesday's game equals Brazil's all-time biggest margin of defeat, when they lost 6-0 to Uruguay in 1920. It was the first time since 1938 that Brazil have lost a World Cup semi-final, having progressed in their previous six.
The previous biggest defeat in a semi-final was in 1954 when Germany beat Austria 6-1. Scolari said: "We did our best, but we came up against a great German team."