The Round of 16 will feature Brazil, Mexico, France, Switzerland, Argentina, Nigeria, Germany, USA, Costa Rica, Uruguay, Netherlands, Chile, Colombia, Greece, Belgium and Russia.
The group stages got the 2014 FIFA World Cup off to a thrilling start, but the intensity is set to kick up a notch as the knockout stage plays out. A few of the top-ranked squads failed to advance out of their groups and are heading home earlier than they expected to. The World Cup has mostly been dominated by the South-American countries with 5 out of 6 nations qualifying for the latter stage. Chile and Costa Rica were the standouts, knocking out Spain and Italy respectively.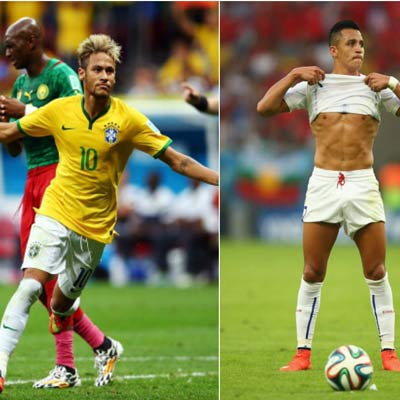 Getty
Defending champions Spain were eliminated by the time their second match was complete. England and Italy were both eliminated before the round of 16 even arrived. On the other hand, a few of the pre-tournament favorites had no trouble advancing to the round of 16. Host nation Brazil, led by Neymar, won Group A after being unbeaten in the group stages. The Brazilians beat Cameroon in their final group game thanks to Neymar Jr.'s twin strikes. Another Latin American nation, Mexico, who wrapped up the group stages with a 3-1 win over Croatia.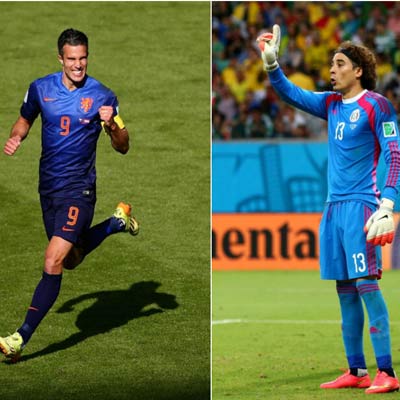 Getty
The Netherlands, who lost to Spain in the 2010 World Cup Final, made a statement by owning Group B. In their opening game, they routed the World champions 5-1, with Manchester United striker Robin van Persie scoring one of the goals of the tournament. Arjen Robben, who was also on target, tore apart the Spanish defence with a sprint which was officially clocked at 38km/h, to score a more than impressive goal. Chile on the other hand, also beat the World Champions 2-0 which eventually knocked the Spanish out.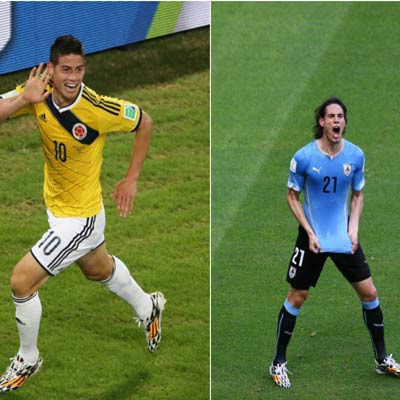 Getty
Colombia and Greece went through to the next round from Group C. Colombia were more than comfortable after scoring 9 goals in their 3 games, beating Japan 4-1. On the other hand, Greece, made it through with a last gasp penalty by Giorgis Samaras which resulted in a 2-1 victory over the Ivory Coast.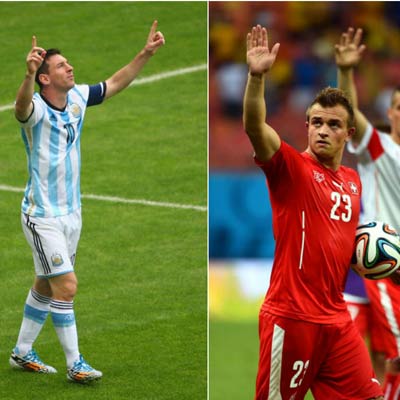 Getty
The "Group of Death" lived up to the hype. Uruguay and Costa Rica went through to the next round, as England and Italy disappointed. Costa Rica, this tournament's surprise package were surprisingly unbeaten after beating Uruguay and Italy, and drawing their final game against England. Uruguay, beat Italy 1-0 in their do or die encounter against the Azzuri which was overshadowed by controversy. Uruguayan striker Luis Suarez was in the headlines again, after biting Italian defender Giorgio Chiellini. Suarez is given a 9 match international ban and a 4 month ban from any football activity, which means he will miss Uruguay's Round of 16 match against Colombia and the entire world cup if they progress.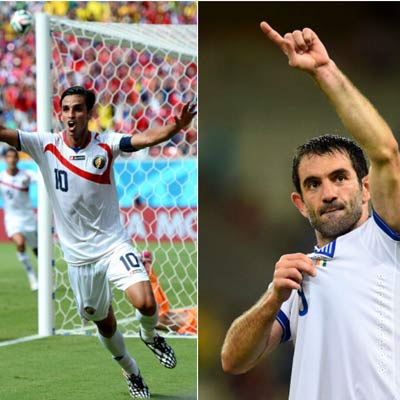 Getty
France dominated Group E and made it through to the round of 16 with 2 wins and a draw. They opened with a 3-0 win over Honduras, where Karim Benzema scored two. The Les Blues' final game was a dull 0-0 draw against a good Ecuador side. The French were accompanied by the Swiss with star player, Xherdan Shaqiri scoring a hat-trick in their final game against Honduras.
In Group F, Lionel Messi was the player everyone was talking about. Argentina opened their campaign with a 2-1 victory over Bosnia & Herzegovina. Their second game against Iran was heading towards a goal-less draw when Argentina scored in the final minute of injury-time, thanks a moment of magic from Lionel Messi. The South-Americans were accompanied by Nigeria to the next stage. Their final game ended in a 2-3 defeat at the hands of Leo Messi and co.
In Group G, Germany and USA make it through to the Round of 16. Germany opened their campaign with a 4-0 vicotory over Cristiano Ronaldo's Portugal. Their final match was a 1-0 win over the USA. The USA won their opener 2-1 against Ghana and conceded a last second goal to Portugal, to draw 2-2.
In Group H, Belgium finished top of the group, winning all their three games. They defeated Algeria, Russia and then South Korea to make the Round of 16. Algeria finished second after a 1-1 draw against Russia.
The Group Stage is over and now we head to the knockouts. The Round of 16 will feature Brazil, Mexico, France, Switzerland, Argentina, Nigeria, Germany, USA, Costa Rica, Uruguay, Netherlands, Chile, Colombia, Greece, Belgium and Russia. The matches are:
Brazil v/s Chile on June 28
Colombia v/s Uruguay on June 29
Netherlands v/s Mexico on June 29
Costa Rica v/s Greece on June 30
France v/s Nigeria on June 30
Germany v/s Algeria on July 1
Argentina v/s Switzerland on July 1
Belgium v/s United States on July 2
This is a straight knockout round. The winners reach the quarterfinals, the losers go home. While Brazil, Uruguay, Netherlands, France, Germany, Argentina and Belgium are all favourites to win their Round of 16 game, the nature of this World Cup, with several suprises so far, does not yield to definite predictions. Costa Rica though, may be the team to watch out for. The giant killers have eliminated 2006 Champions Italy from the World Cup and ousted England, even before they had played them.