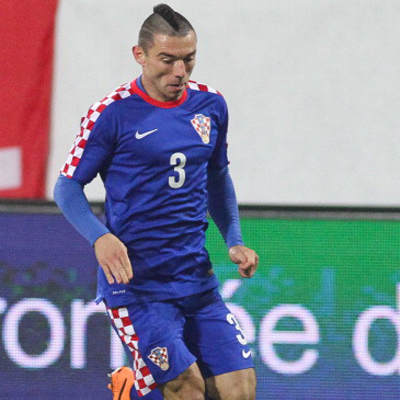 Croatia will go undefeated into the FIFA World Cup opener against Brazil but coach Niko Kovac's team paid a high price in a 1-0 win against Australia in Salvador. Hull City forward Nikica Jelavic scored the only goal of the game in the 58th minute thanks to Luka Modric's deflected pass, and shot home unmarked in the heart of the Australian's penalty box.
That brought some joy to the Croatians but there were still a lot of worried faces around after the match, as Panathinaikos left-back Danijel Pranjic went down after twisting his ankle while crossing the ball into the box. The injured left ankle will probably rule him out of the match against Brazil and possibly out of the whole tournament.
"His ankle is swollen. We have to wait and see if he gets better before we take any decisions. I hope he will be ok," Croatia's coach Niko Kovac said after the match. Croatia's left-back position was already the most vulnerable in the team after FC Dnipro defender Ivan Strinic was ruled out of the World Cup before the start of the training camp. Still, Kovac has some options and one of them is Genoa's 22-year old right-back Sime Vrsaljko who came in as a substitute for injured Pranjic.
There was another scary moment for the Croatian team when Mario Mandzukic went to the ground asking for medical help after a tackle from an Australian defender. "Mandzukic got kicked in the shin but he'll get well," Kovac explained.
Even though there were some indications that the Croatian coach would test his starting line-up for his opening game against Australia but that was not the case as Kovac left Sevilla captain Ivan Rakitic and Lokomotiv Moscow defender Vedran Corluka on the bench, which he won't do on June 12 in Sao Paulo with their opening match against the hosts and potential winners, Brazil.
"It was a useful match for us, even though Australia is not on the same level with Brazil. We know that there will be a totally different match June 12 but we gave a chance to some players and saw what we can expect from them. My players will be ready for Brazil and if they'll play to the maximum of their abilities there is nothing to fear about. I hope they will play like they did in the second half against Australia," Kovac said.
Brazil's narrow 1-0 win against Serbia and a performance that was far from breathtaking will also serve as a boost to Kovac's team self-confidence.