The Algerian football team made history at the FIFA World Cup 2014 by qualifying for the knockout stages for the very first time in their history. Algeria lost 2-1 to a formidable German side in their round of 16 match, with the Algerians holding Germany to a goal-less 90 minutes but eventually lost out in extra time.
BREAKING: Algeria's Islam Slimani has revealed that the country's squad will donate their World Cup bonus to the people of Gaza.

— FIFA World Cup 2014 (@WorldCup_Net) July 2, 2014
Respect to Algeria #ALG @slimaniislam @Sousou_Officiel #Gaza pic.twitter.com/G0LSRHqjuK

— Noafinho vanNeymessi (@noaf__14) July 3, 2014
The team returned home to a heroes welcome when they touched down in the capital, Algiers. In regard to this, the Algeria national team has decided to donate their team salary of $9 million they got after their Round of 16 match with Germany to the people of Gaza, revealed one of the squad's forwards.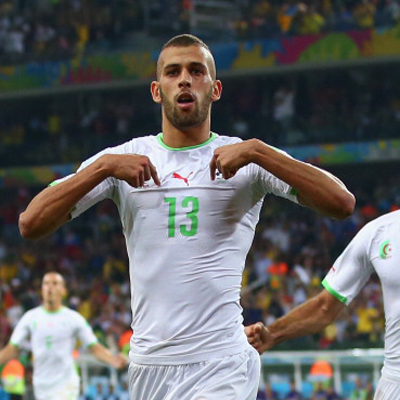 Getty
The Algerian players return home and receive a heroes welcome in the capital Algiers. #ALG pic.twitter.com/MP5x7M4urf

— FIFA World Cup 2014 (@WorldCup_Net) July 3, 2014
"They need it more than us," said 26-year old striker Islam Slimani, who plays for Portuguese club Sporting Lisbon. Coach Vahid Halilhodzic hasn't officially confirmed Slimani's statement yet, but the official twitter handle of the FIFA World Cup broke out with the story. However some of the celebrations got out of control in France. Hundreds of the Algerian team's fans flooded the streets, with officers making at least 74 arrests.