Italy vs. Uruguay was not full of excitement for a majority of the match but with a game that includes Luis Suarez, you shouldn't count out anything. Luis Suarez wrote his name into World Cup infamy by biting Italian defender Giorgio Chiellini towards the end of a dramatic Uruguay win. Suarez seemed to be tussling with Chiellini as they chased a ball inside the Italy penalty area and the Liverpool striker leaned his forehead into Chiellini, in what looked, initially to be a head butt before biting down on Chiellini's shoulder. Suarez flung himself to the ground and moments later, he could be seen holding his teeth.
BREAKING: #URU's Luis Suarez suspended for nine matches and banned for four months from any football-related activity. MORE TO FOLLOW

— FIFAWorldCup (@FIFAWorldCup) June 26, 2014
Luis Suarez is regarded as having breached article 48 paragraph 1 of the Fifa disciplinary code, and article 57. He is to be suspended for nine international matches and four months from any football activity. The first match of this suspension is to be served in the upcoming Fifa World Cup game between Uruguay and Colombia.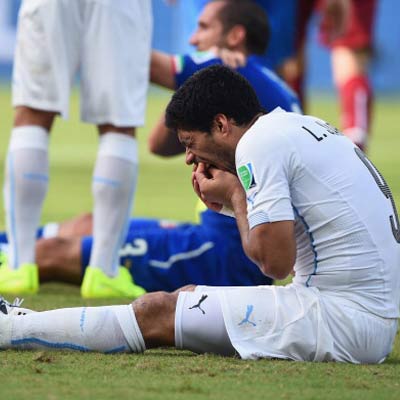 Getty
And a ban from all football stadiums while matches are in progress, according to article 21. Plus a fine of 100,000 Swiss francs was also implemented on the disgraced Liverpool striker.
All the controversial Luis Suárez moments. Including from his early career. Utter madness > http://t.co/Cq6jn4SC5p pic.twitter.com/fQsg7wL4Nm

— 2014 World Cup (@2014WC_Brazil) June 26, 2014
"Such behaviour cannot be tolerated on any football pitch, and in particular not at a FIFA World Cup when the eyes of millions of people are on the stars on the field. The Disciplinary Committee took into account all the factors of the case and the degree of Mr Suarez's guilt in accordance with the relevant provisions of the Code. The decision comes into force as soon it is communicated," said Claudio Sulser, chairman of the FIFA Disciplinary Committee.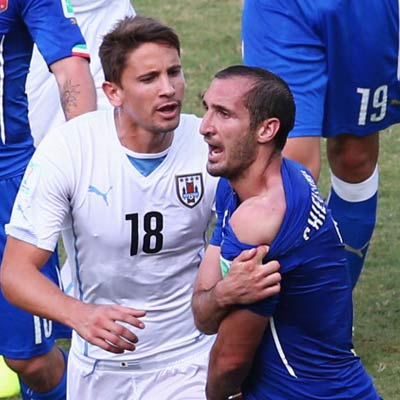 Getty
Internet does wonders. It has been proved yet again as some users have come up with a modernised version of the 80's game Pac-Man with Luis Suarez as the main feature. In relation, some users have come up with a modernised version of the 80's game Pac-Man with Luis Suarez as the main feature. You can see Suarez's face chomping on several Giorgio Chiellini heads as Mexican referee Marco Rodríguez runs behind him to give him a red card.
To read the entire story regarding the game, Click Here.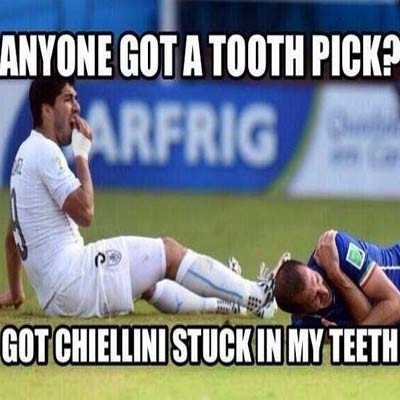 Shortly after the incident, those in the Twitter-verse decided to recreate memes to once again bring light to Suarez's "gnawty" habit of biting people. Here's a look at some of them,
Luis Suarez loves eating Italians? Football fans take a dig on Twitter
How companies cashed in on Luis Suarez's incredible bite saga