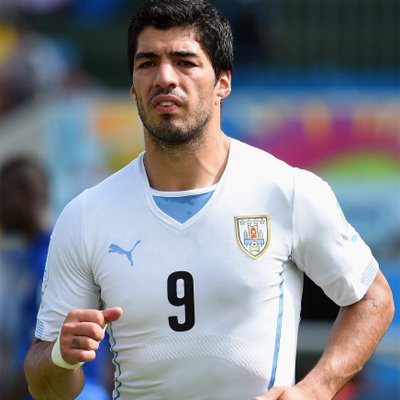 In an exciting twist to the Luis Suarez biting saga, the world football governing body, FIFA has insisted that the Uruguayan tainted football player will now not even be allowed to train with his club, Liverpool during the four-month ban period, retracting from their previous claims of allowing him to train with them. He will be allowed only to be transferred but cannot indulge in any kind of playing activity.
The verdict to ban him comes in the wake of Suarez biting Italian defender Giorgio Chiellini .
Claudio Sulser, head of FIFA's ethics committee, had said termed banning the Uruguayan International from pre-season training as "disproportionate". Eurosport published an official FIFA spokesperson's clarification to the Press Association Sport: "As said at various occasions he is not allowed to participate in any football activity during the ban period and as such is also not allowed to train with the team during the ban."
"This is inaccurate," said a FIFA spokesperson. "Claudio Sulser just said he could make the medical testing for a transfer [only this] but clearly said as many times earlier that he cannot do any football activity which includes that he cannot train with the national team nor club."
Suarez will be allowed to only move clubs during his ban. It is believed that Catalan giants Barcelona are on the verge of signing him in a £70m deal. The fact that Barca sporting director Andoni Zubizarreta has previously praised the striker after he finally apologised to Chiellini after the unsporting incident, minimizes the speculation around the club Suarez will next go.
Suarez was banned for four months and for nine competitive international matches and a €80,000 (£64,000) fine for the bitter incident. He has appealed against the four-month ban imposed. Brendan Rodger's-led Liverpool are in talks with Barcelona over the transfer and Sulser in a new conference on Friday said said that the player is allowed to have only a medical as the transfer deal unfolds.