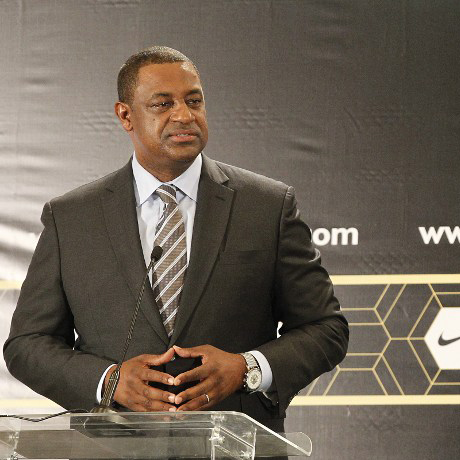 FIFA's anti-discrimination chief hit out at world soccer's governing body on Thursday for not deploying staff specifically to tackle racist or homophobic abuse among fans at World Cup matches.
Jeffrey Webb said there was a "disconnect" between FIFA's stated aim of stamping out discrimination at games and its failure to back a proposal to use trained staff in Brazil to investigate and report on cases.
"There is absolutely no reason why at this World Cup we don't have anti-discrimination officers here doing proper investigations, proper reporting," Webb, the chairman of FIFA's Anti-Discrimination Task Force, told reporters.
Webb, who is from the Cayman Islands, is also the president of the CONCACAF confederation representing North and Central America and the Caribbean island countries and a member of FIFA's executive committee.
The Task Force proposed in March that trained anti-discrimination officers should be used in Brazil but the idea was not accepted, he said at FIFA's daily media briefing.
"Really, this is one of the key parts of fighting against racism and discrimination," Webb said.
In the most high-profile case involving possible abuse by fans at the World Cup in Brazil, FIFA's Disciplinary Committee ruled last month that there would be no punishment for Mexico's FA after Mexican fans chanted the word "puto" - or "faggot" in Spanish - at opposition goalkeepers during games.
Claudio Sulser, head of the Disciplinary Committee, told the same FIFA briefing on Thursday that the decision to take no action against Mexico reflected how the abuse was not aimed at an individual player.
FIFA also took no action against German fans who blacked up their faces at the match against Ghana and Croatian fans who displayed neo-Nazi flags and insignia.
Webb said the Mexico case was the kind of behaviour that would normally be looked into by trained anti-discrimination officers who already feature at matches organised by European soccer's governing body UEFA and other regional groups.
"This is exactly what we are trying to work on and it should have been in place for this World Cup," Webb said.
"It is obvious there is a disconnect between what we in the Task Force deem as racism and discrimination and what the Disciplinary Committee deems as racism and discrimination."
Another FIFA official said anti-discrimination officers were not used at the Brazil World Cup because there was not enough time to train representatives of all 32 participating countries between March, when the proposal was made, and the start of the tournament in June.
Training would start for future events, he said.
Webb said it was vital that FIFA beefs up its fight against discrimination in time for the build-up to the World Cup in Russia in 2018.
"It is much more of a problem in Russia. Russia itself needs a special task force, just for Russia and from an educational standpoint internally," he said.