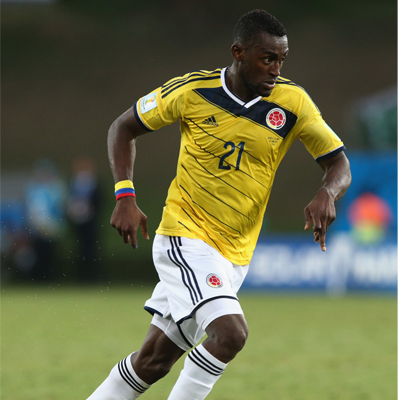 The unofficial release of country-wise rankings raised many eyebrows, specially with Colombia being awarded rank one as per the World Cup 2014 power rankings after they mesmerised the crowds and much to the delight of their countrymen after the group stage matches. Colombia have ruled the roost and are in comfortable position as they go into the round of 16 to face the host nation, Brazil. The Los Cafeteros won all of their three games in a group comprising of mid-size football power houses, Greece, Ivory Coast and Japan. The Jose Pekerman-led Colombia breezed past comfortably producing a plentiful total of nine goals during the group stage. A nation unconsidered as a potential threat on the world footballing map has garnered attention and respect after their much found group stage success.
The side ran riot as playmaker, James Rodriguez starred in wins against their group contenders. The side entered the tournament without Ramadel Falcao, yet promising to do it and have been true to their word. The merciless manner in which they topped Group C, with a 100% record and a plus-seven goal difference, seems to gain an ever-increasing and wider fan base. The playmaker James Rodríguez has been the star, scoring in wins against Greece, Ivory Coast and Japan. Jackson Martínez and Teófilo Gutiérrez have remained far from bothered about the lack of absence of their talisman. Colombia's transitions from a defence-oriented to an attacking side is a pure joy and thrill combined whereas, their defence too has passed the Samba test, withstanding resistance.
The rankings are officially confirmed by FIFA at the start of every month. Defending champions were a damp squib and were decimated 5-1in their campaign first by 2010 finalists Netherlands and then by Chile, 2-0. the Vicente del Bosque-coached Las Rojas found solace in their only 3-0 win against Australia. As a result they have plummeted to eighth spot.
Behind them are Argentina, Germany, Uruguay and Belgium, making up the top five.
As the tournament progresses into the round of 16 the favourites will feel the heat with the build-up and preparations of the underdogs in the group stage.
This year's edition of the FIFA World Cup brings a lot of promise, hope, excitement, heart-throbbing and ofcourse the loyal, crazy fans who have travelled all the way to the carnival capital of the world and tournament venue, Brazil to see their teams get involved in a slugfest. The audience of the host nation have already painted the samba town green and yellow. The best teams will vie for the 'golden trophy'. The loyal fans were witness to some fine matches, some disappointing ones, a lot of footballing action. The players and teams produced some good drama too(Ghana players sent back home for protesting over non-payment of dues and Luis Suarez hanger act), to the already glamorous event.