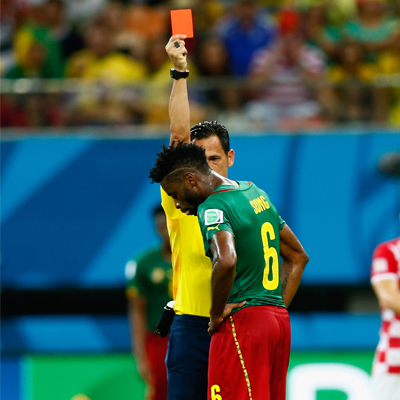 In a shocking revelation of what appears to be by far this year's biggest football scandal, reports of alleged involvement by seven players of the Cameroon National team at the ongoing FIFA World Cup in Brazil have surfaced.
Breaking news overnight: Cameroon investigate claims of World Cup match-fixing involving 7 players - tune in at 6am for the full story #SSN

— Sky Sports News (@SkySportsNews) July 1, 2014
Cameroon officials and team management will investigate the claims that seven of their team players were involved in the scam. The ethics committee of the African country have promised to look into the role and fraud in their three Group A matches after a dismal performance, being placed at fourth spot and getting knocked out in the group stages, including their 4-0 loss against Croatia.
Joseph Owona, President, Cameroon Football Federation, has confirmed that an investigation are underway into allegations of match-fixing. As per news reports FECAFOOT, country's football federation in a statement said "Recent allegations of fraud around Cameroon's three 2014 World Cup games, especially Cameroon v Croatia, as well the existence of "seven bad apples (in our national team)" do not reflect the values and principles promoted by our administration,".
The allegations have to come to light after a convicted match-fixer from Singapore, Wilson Raj Perumal revealed to a German news magazine Der Spiegel. Perumal had correctly predicted the result and send-off of a player he confiding in the magazine. These allegations first came to the fore in April this year when Perumal was detained by police in Finland on an international arrest warrant.
Cameroon midfielder Alex Song was given the marching orders before halftime for needlessly swinging in his elbow in the back of Croatia's Mario Mandzukic leaving a 10 men side battling for rest of the game. This was not all. The game witnessed more drama after two Cameroon players clashed with each other. Towards the end Benoit Assou-Ekotto attempted to head-butt team mate Benjamin Moukandjo.
The issue has travelled so far that an investigation has been ordered by the country's president, Paul Biya, into the team's poor run at the World Cup. Seasoned bookmakers have said that there hasn't been any suspicious betting activity around Cameroon's games - or any other at this World Cup.
FIFA said, "Speaking generally, the integrity of the game is a top priority for FIFA and as such we take any allegations of match manipulation very seriously."
Even before the footballing extravaganza began Cameroon's players had refused to board a plane to Brazil over dispute regarding non-settlement of bonus payments.
As per a report carried out by the BBC Sport website "Some players behaved very badly, and that's why we have conceded four goals," Cameroon head coach Volker Finke told French newspaper L'Equipe after the Croatia defeat. The coach also said that he was not in agreement of the on-field behaviour of players terming it 'unsatisfactory'.
Another African nation Ghana is also gripped by corruption charges. GFA president Kwesi Nyantakyi is apparently going to sue the Daily Telegraph newspaper rubbishing claims of him agreeing for the national team to play in matches that were fixed.