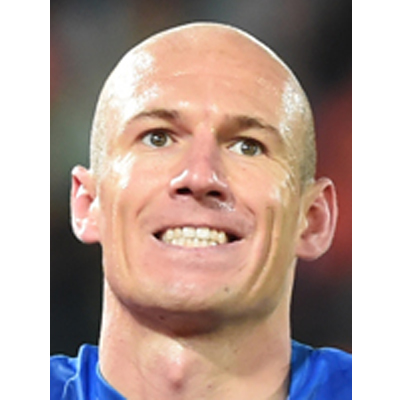 Arjen Robben had a decent World Cup as he scored three goals for the Dutch. But his influential performances could not save the Dutch from being knocked out of the tournament. Arjen Robben is likely to be a part of the Netherlands squad that will face Brazil in a third place play-off at Estádio Nacional de Brasilia, in Brasília.
Personal Data:
Surname: Robben
Firstname: Arjen
Country: Netherlands
Date of birth: 1984-01-23
Birthplace: Bedum
Height: 180 cm
Weight: 75.0 kg
Playing Career:
Position: winger
Clubs: FC Groningen (2000-2002), PSV Eindhoven (2002-2004), Chelsea (Eng/2004-2007), Real Madrid (Esp/2007-2009), Bayern Munich (Ger/since 2009)
Playing Honours
International - World Cup: finalist (2010), second round (2006), 8 matches, 3 goals
European Championships: semifinals (2004), quarter-finals (2008), first round (2012), 9 matches, 1 goal
Club -
1 Champions League (2013), finalist (2010, 2012)
1 Club World Cup (2013)
1 European Supercup (2013)
1 Dutch Championship (2003)
1 Dutch Supercup (2003)
2 English Championships (2005, 2006)
1 English FA Cup (2007)
2 English League Cups (2005, 2007)
1 Community Shield (2005)
1 Spanish Championship (2008)
1 Spanish Supercup (2008)
3 German Championships (2010, 2013, 2014) 3 German Cups (2010, 2013, 2014)
2 German Supercups (2010, 2012)
Biography:
Robben delivers on promise - Early in his career Dutch winger Arjen Robben was described as the greatest talent of his generation by the great Johan Cruyff, talent the now 30-year-old has turned into league titles at PSV, Chelsea, Real Madrid and Bayern Munich. He is crucial to Bayern Munich's success and it was his goal that won them the Champions League in 2013 after defeats to Inter Milan and Chelsea in 2010 and 2012. He has also excelled with Holland, who only lost to Spain in extra-time at the 2010 World Cup. His trademark acceleration down the right, followed by powerful low shots at goal are the stuff of dreams, but Robben is a stern, unsmiling man prone to injury and selfish play. The Netherlands though, will be aware that he can and does deliver on the promise first noted by Cruyff.