Uruguay face a good Colombian side in their last 16 match after beating Italy in their final do-or-die group game. The game was marred by controversy as star player Luis Suarez has been banned for 9 international matches after 'biting' Azzuri defender Giorgio Chiellini. Uruguay will surely miss him, the last time he didn't play, they slumped to a 3-1 defeat in their opener against underdogs Costa Rica.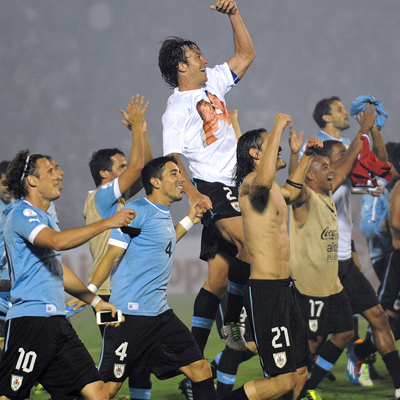 AFP
Having come fifth in South America, they faced and defeated Jordan with ease in a play-off. The team is not dissimilar from the one that made the semi-finals at the 2010 World Cup and then won the 2011 Copa America, except that since then two of their players have become global superstars. With Luis Suarez banned for the rest of the competition, the onus would be on Diego Forlan and Paris Saint Germain's mega purchase Edinson Cavani, who also has a ferocious hunger for goals, Uruguay look set to terrorise opposition defences. With these two and Uruguay's impressive tournament record, they should be considered a potential winner.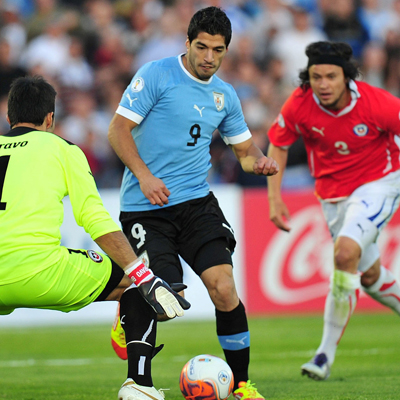 AFP
Country Profile:
Population: 3.28 million
Area: 176,215 km2
Capital: Montevideo
Currency: Uruguayan Peso
Federation: Asociación Uruguaya de Fútbol (AUF) founded in 1900 and affiliated to FIFA in 1923.
Registered players: 41,800
Colours: Blue shirts, black shorts, black socks.
World Cup appearances: 12 (1930, 1950, 1954, 1962, 1966, 1970, 1974, 1986, 1990, 2002, 2010, 2014).
World Cup honours: winner (1930, 1950), semi-finalists (1954, 1970), fourth (2010), quarter-finalists (1966), second round (1986, 1990), first round (1962, 1974, 2002).
Copa America: Winner (1916, 1917, 1920, 1923, 1924, 1926, 1935, 1942, 1956, 1959, 1967, 1983, 1987, 1995, 2011), finalist (1919, 1927, 1939, 1941, 1989, 1999), 3rd (1921, 1922, 1929, 1937, 1947, 1953, 1957, 1975, 2004), 4th (1925, 1945, 1946, 1955, 2001, 2007).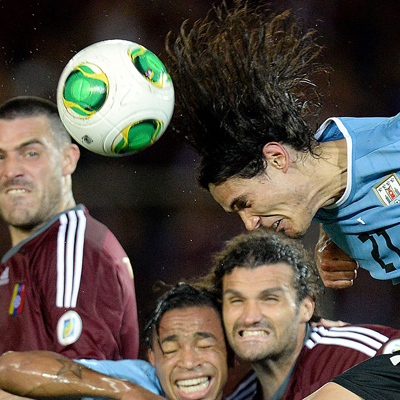 AFP
How they qualified: Finished fifth in AMSUD Zone with 25 points behind Argentina 32, Colombia 30, Chile 28 and Ecuador 25, with 7 wins, 4 draws and 5 defeats, 25 goals for and 25 against. Then beat Jordan in a play-off 5-0 away and 0-0 at home.
Top clubs: Penarol, Nacional, Defensor, Danubio.
Key players: Luis Suarez, Edinson Cavani, Diego Forlan and Diego Lugano.
Coach Oscar Tabarez (since March 2006)
It is difficult to say quite why they struggled during a South American qualifying campain which saw them concede four goals against their rivals on three separate occasions. Colombia beat them 4-0, while Argentina and Bolivia both recorded 4-1 victories over Oscar Tabarez's side. Fortunately for Uruguay, group winners Argentina were already qualified when the two sides met and the Uruguayans edged them 3-2 on the final day to just make the cut for the play off. So on paper it looks discouraging for Uruguay ahead of taking on Italy, England and Costa Rica in the World Cup group phase.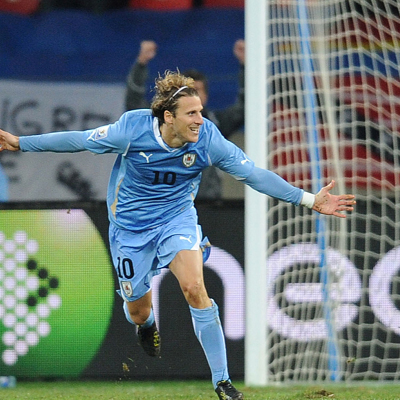 AFP
.35-year-old Diego Forlan, who is now at Cerezo Osaka in Japan, and with five goals at the 2010 World Cup was voted player of that tournament. Diego Lugano is a different case. The 34-year-old defender, who was recently released by West Brom, seems a liability at times but is firmly installed as the team captain. The midfield looks stronger with the likes of Cristian Rodriguez of Atletico Madrid and the defensive midfielder Walter Gargano of Parma. Following the disastrous campaign for the 2006 World Cup former coach Jorge Fossati was ousted in favour of Oscar Tabarez who also occupied the post for the 1990 tournament. The now 67-year-old is still in place. And Tabarez is a firm believer in his team playing with the staggeringly relentless intentensity and agression known as "garra charrua".