It would take a brave man to predict the end of the runnaway success that Spain enjoyed during Euro 2008, the 2010 World Cup and Euro 2012 as they tika-taka-tortured their way to unprecedented glory. At the 2014 World Cup they fight for a fourth straight international tournament win and along with hosts Brazil will be the favourites.
But can Iker Casillas, Xavi, Xabi Alonso, Andres Iniesta, Segio Ramos and company show the same hunger, the same patience, the same killer punch? Even their coach Vicente Del Bosque is an old timer. In qualifying they had to see off France and only conceded three goals in 10 matches. But the staggering fact they only racked up 14 goals in 10 qualifiers tells a story. They scored 28 goals in the qualifiers for 2010. Spain has stuck with its tried and tested pressing and possession game that has brought them such spectacular success, but maybe their adversaries have wised up as to which tactics to use against them.
On top of that, Spain seem to be losing the hearts and minds battle, for those fans who once loved to watch them play now find the whole tika-taka game a little boring. But Del Bosque is reluctant to change a winning formula: "Our best qualities are patience and control, we're not suddenly going to call that our weakness," he said.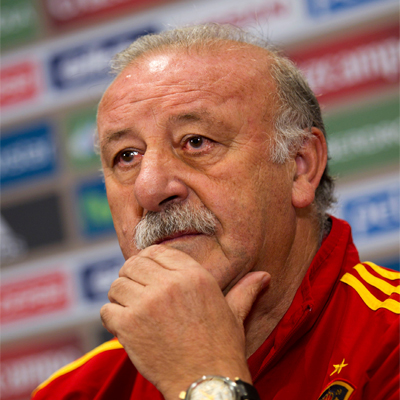 Country Profile:
Population: 44,500,000
Area: 505,992 km2
Capital: Madrid
Currency: Euro
Federation: Real Federacion Espanola de Futbol, founding member of FIFA in 1904, with federation created in 1913.
Registered players: 653,190
Colours: Red shirts, blue shorts, black socks.
Top clubs: Real Madrid, Barcelona, Atletico Madrid, Valencia.
World Cup appearances: 13 (1934, 1950, 1962, 1966, 1978, 1982, 1986, 1990, 1994, 1998, 2002, 2006, 2010).
Winners: 2010
World Cup record: Fourth (1950), quarter-finals (1934, 1986, 1994, 2002), second round (1982, 1990, 2006), first round (1962, 1966, 1978, 1998).
European Championship appearances: 8 (1964, 1980, 1984, 1988, 1996, 2000, 2004, 2008).
European Championships: winner (1964, 2008), finalist (1984), quarter-finals (1996, 2000), first round (1980, 1988, 2004).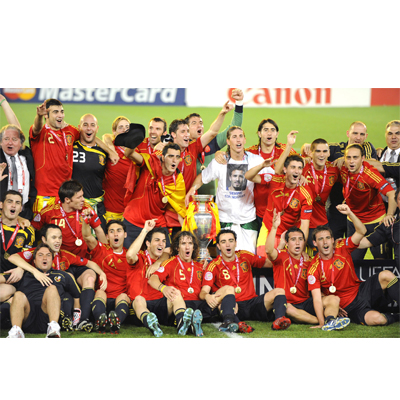 How they qualified: Won Group 5 with 30 pts (10 wins, 0 draws, 0 defeats, 28 goals for, 5 against) ahead of Bosnia (19 pts), Turkey (15), Belgium (10), Estonia (8) and Armenia (6).
Key players: Iker Casillas, Andres Iniesta, Xavi, Xavi Alonso.
Coach: Vicente Del Bosque.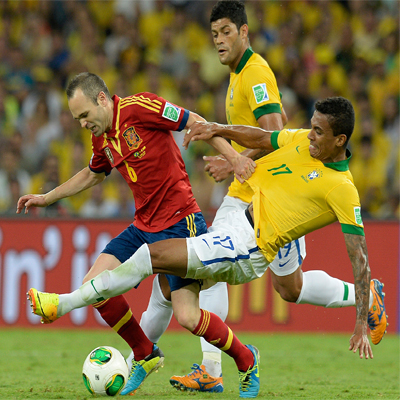 Veteran 'keeper Iker Casillas is now 33 and while he is no longer first choice stopper at Real Madrid he does have over 150 caps experience and could not be considered a weak link. The central defensive partnership of silk and steel in Gerard Piqué and Sergio Ramos flanked by Alvaro Arbeloa and Jordi Alba if anything better than ever. But in midfield, perhaps the best days are behind their incredibly succesful generation as Xavi hits 34 and his deputy Xabi Alonso is 32.
But if there is one area where Spain have a plenty of wealth it is in midfield, with a host of talent battering at the door to get half a chance. The striking options for Del Bosque are rather peculiar. At Euro 2012 he often played midfielder Cesc Fabregas as a false 9, rather than his orthodox strikers Diego Costa, Fernando Torres or David Villa. Barcelona's Pedro was their top marksman in qualifiers with four, and while Spain seemed to have solved their striker crisis after Brazilian-born Costa committed himself to La Roja, the Atletico Madrid striker suffered a nasty injury towards the end of the domestic season. However, the striker who netted 36 times this season is expected to be fit for Spain's opening game against the Netherlands.
Spain's ability and know how is not in doubt. Whether they still possess the will which helped them secure their maiden World Cup triumph four years ago may determine their quest to secure their fourth straight major tournament victory.