Despite winning their opening group match against England, Italy suffered a shock loss to Costa Rica. Similarly, Uruguay also lost to Costa Rica. With both the teams having one victory and one loss to their names, the Italy vs Uruguay match will decide who progresses to the next round of the World Cup. Though a single point is enough for Italy to progress, it is a must win match for Uruguay.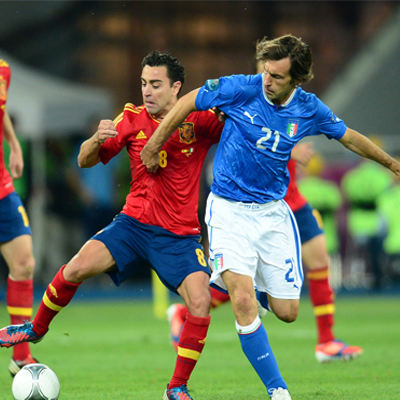 AFP
They still have the long considered to be the best 'keeper in the world Gigi Buffon in goal, now 36, and still a commanding force. But Prandelli expects his full backs to take their game along the entirety of each flank, helping out in midfield and attack. With the maestro Andrea Pirlo still pulling the strings with killer balls from deep, Thiago Motta, Claudio Marchisio and Daniele De Rossi make up a formidable pool to draw from in midfield.
Country Profile:
Population: 61 million
Area: 301,318 km²
Capital: Rome
Currency: Euro
Federation: Federazione Italiana Giuoco Calcio (FIGC) created in 1898, affiliated to FIFA in 1905.
Registered players: 1,515,000
Colours: Blue shirts, white shorts, blue socks with white trim.
World Cup appearances: 18 : 1934, 1938, 1950, 1954, 1962, 1966, 1970, 1974, 1978, 1982, 1986, 1990, 1994, 1998, 2002, 2006, 2010 and 2014.
World Cup record: Winner (1934, 1938, 1982, 2006), finalist (1970, 1994), 3rd (1990), 4th (1978), Quarter-finals (1998), second round (1986, 2002), first round (1950, 1954, 1962, 1966, 1974, 2010).
European Championship appearances: 8 (1968, 1980, 1988, 1996, 2000, 2004, 2008, 2012).
European Championship record: Winner (1968), finalist (2000, 2012), semi-finals (1980, 1988), second round (2006), first round (1996, 2004).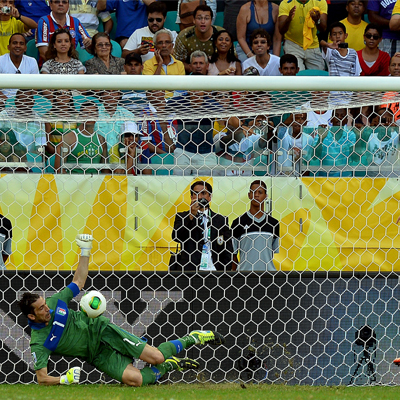 AFP
How they qualified: Finished top of Group B with 22 pts (6 wins 4 draws, 0 defeats, 19 goals for, 9 against) ahead of Denmark on 16, Czech Republic 15, Bulgaria 13, Armenia 13 and Malta 3.
Top clubs: Juventus, AC Milan, Inter Milan, AS Roma.
Key players: Gianluigi Buffon, Daniele de Rossi, Andrea Pirlo, Mario Balotelli.
Coach: Cesare Prandelli (since July 2010)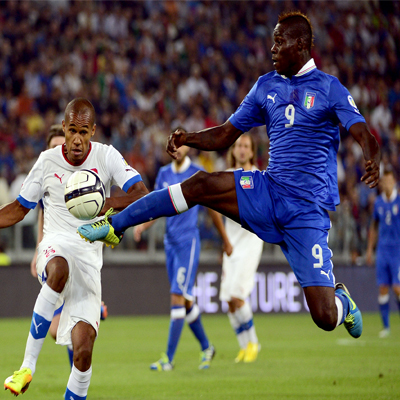 AFP
Meanwhile in attack, Mario Balotelli continues to fly the flag for the Azzuri. The 23-year-old scored twice as his side beat Germany in Euro 2012 and the AC Milan striker loomed large over the Confederations Cup in Brazil. And while the former Manchester City striker is unpredictable, he is rightly feared as a serious threat when on his game. Italy qualified for the World Cup with great ease and will go to Brazil seeking a fifth world title after wins in 1934, 1938, 1982 and in 2006, they were also losing finalists in 1970 and 1974 and came third in 1990. "We're one of the favourites. There are better teams, but they have to watch out for us," says Balotelli. One thing that seems to set Italy apart is its astonishing flexibility to switch systems from 3-4-2-1 to 4-5-1, 3-5-2 or 4-3-3 depending on circumstance and opposition. "Our game is not only more attacking but above all more diversified than it was," explains Prandelli. "But the thing about this team now is that it won't lose its head when things go wrong because it has so many solutions to call upon." We will have to wait and see if Italy can deliver, but if they do any better than they did in the 2013 Confederations Cup in Brazil when they finished third, many neutrals will be won over to the beauty of their current project.