The Germans have been impressive this FIFA World Cup. Joachim Low's men have scored an incredible 17 goals in six World Cup matches. Germany made a mark on the World Cup in their opening match, as they defeated Portugal 4-0, with Thomas Muller grabbing a hat-trick. Germany were decent in rest of their matches, but when they were up against Brazil in the semi-final round, they proved to the world who they really are. They thrashed Germany 7-1 in front of their home crowd, to progress to the World Cup final. Germany five goals in the first thirty minutes of the match, breaking Brazil's hope of any kind of come-back. Further into the second half, substitute Andre Schurrle added two more, which humiliated Brazil to greater extent. Germany's last World Cup final appearance was in 2002, where they lost the trophy to Brazil. Since then, Germany have finished in the third place on two consecutive occasions(2006 & 2010). After defeating Brazil by a huge margin, Germany will be hoping for a positive result from the 2014 FIFA World Cup final.
Neuer could make the difference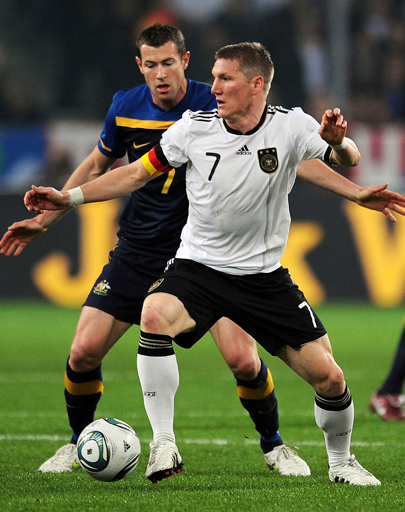 The Mannschaft, as the Germans call their national team, can also count on the monumental pair of Bayern Munich midfielder enforcer Bastian Schweinsteiger, and the vision and pace of Arsenal's Mesut Özil.
Real's Samir Khedira and three burgeoning younger talents Toni Kroos, Gotze (both Bayern) and Draxler (Schalke 04) will also stoke the fires in the German engine room.
If the team has a weakness it might be the defence, with even Loew accepting that his backline could improve, especially when they don't have possession.
Full-back Philipp Lahm can play on either flank as well as in midfield while Jerome Boateng and Per Mertersacker are also very solid, but their defensive line, which lacks the depth of their attacking options, leaked ten goals in ten qualifiers.
Their goalkeeper Manuel Neuer follows in the wonderful tradition of wall-like German 'keepers that previously provided us with Oliver Kahn and Sepp Maier. Neuer is a real gem, and his role will be crucial if Germany are to win their first World Cup since 1990.
Country Profile:
Population: 80,500,000
Area: 357,022km²
Capital: Berlin
Currency: Euro
Federation: Deutscher Fussball Bund, founded April 7, 1919 - founding member of FIFA in 1904
Registered players: 6,308,946
Team colours: White shirt, black shorts and white socks
World Cup appearances: 18 (1934, 1938, 1954, 1958, 1962, 1966, 1970, 1974, 1978, 1982, 1986, 1990, 1994, 1998, 2002, 2006, 2010, 2014)
World Cup record: Winner (1954, 1974, 1990), finalist (1966, 1982, 1986, 2002), 3rd (1934, 1970, 2006), semi-finalist (1958), quarter-finalist (1962, 1994), last-16 (1938, 1998), second round (1978)
European Championships appearances: 11 (1972, 1976, 1980, 1984, 1988, 1992, 1996, 2000, 2004, 2008, 2012)
European Championships record: Winner (1972, 1980, 1996), finalist (1976, 1992, 2008), semi-finalist (1988, 2012), first round (1984, 2000, 2004)
How they qualified: Won group C with 28pts ahead of Sweden (20), Austria (17), Ireland (14), Kazakhstan (5) and the Faroe Islands (1), 9 wins, 1 draw, 0 defeats, 36 goals for and 10 against
Top clubs: Bayern Munich, Borussia Dortmund, Schalke 04
Top players: Manuel Neuer, Philipp Lahm, Bastian Schweinsteiger, Mesut Özil
Coach: Joachim Loew (since 12/07/2006)