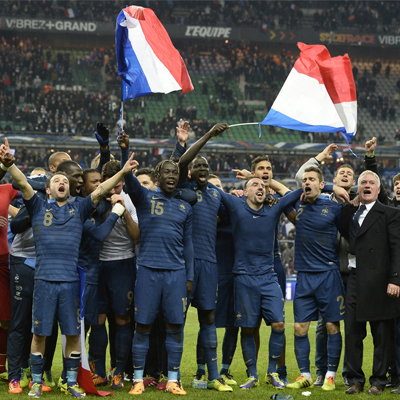 The 2006 World Cup final loss to Italy is still fresh in the memories of the French. But this World Cup, France are out to prove a point. Les Bleus have performed well in the group stages as they won two of their three group matches in convincing manner. The French won 3-0 in their opening match against Honduras. In their second group match, Les Bleus thrashed Switzerland 5-2, to go on top of Group E. Their last game was a dull 0-0 draw against Ecuador. They made it to the quarterfinals by beating Nigeria 2-0 in their round of 16 tie, but it was a less than convincing victory. Against a formidable German side, the French need to step up their game and hope Karim Benzema comes up with the goods.
Country Profile:
Population: 63.75 million
Area: 551,500 sq.km
Capital: Paris
Currency: Euro
Federation: French Football Federation founded in 1919, affilated to FIFA in 1904 when the organising federation was the Union of French societies and sporting athletics
Registered players: 1,794,940
Colours: Blue shirs, white shorts, red socks
World Cup appearances: 14 (1930, 1934, 1938, 1954, 1958, 1966, 1978, 1982, 1986, 1998, 2002, 2006, 2010, 2014)
World Cup record: winner (1998), finalist (2006), 3rd (1958, 1986), 4th (1982), quarter-finalist (1938), first round (1930, 1934, 1954, 1966, 1978, 2002, 2010)
European championship appearances: 8 (1960, 1984, 1992, 1996, 2000, 2004, 2008, 2012)
European championship record: winner (1984, 2000), semi-finalists (1960, 1996), quarter-finalists (2004, 2012), first round (1992, 2008)
How they qualified: Came 2nd in Europe zone Group I with 17pts behind Spain on 20 and ahead of Finland 9, Georgia 5 and Belarus 4 - 5 wins, 2 draws, 1 defeat, 15 goals for and six against - Beat Ukraine in the play-off 2-0, 3-0 won 3-2 on agg.
Top clubs: Paris Saint Germain, AS Monaco, Marseille, Lille and Lyon
Key players: Paul Pogba, Hugo Lloris and Karim Benzema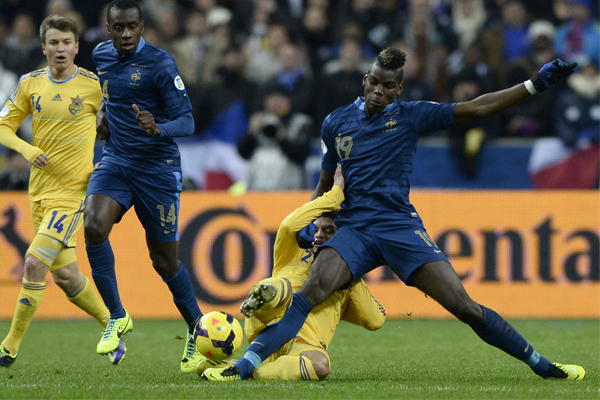 AFP
Coach : Didier Deschamps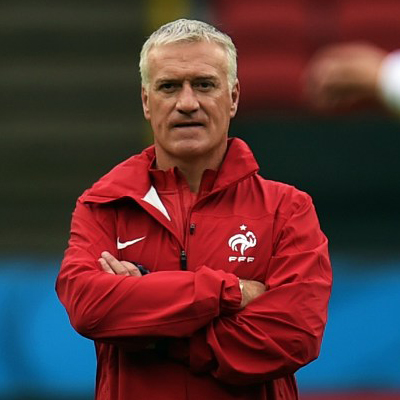 AFP
France's cathartic turnaround - France has a love-hate relationship with its national football team as perfectly demonstrated by the reaction to a 2-0 first-leg play-off defeat to Ukraine and the ecstatic euphoria generated at the Stade de France that carried the team to a 3-0 second-leg victory and a place in the finals in Brazil. There was something of the spirit of 98 (when France won the World Cup with a 3-0 win over Brazil) the night France came back to qualify, that ended a years-long schism between Les Blues and their fans. The problem stemmed from South Africa 2010 when the players protested the sending home of Nicholas Anelka by boycotting a training session leaving everyone, from top to bottom, aggrieved for one reason or another, not least the first round elimination. Laurent Blanc took over the team and went 23 matches without defeat until meeting Spain in the quarters at Euro 2012. The team had no real star and Blanc had done well to get that far, but he made way for another former international from 98, Didier Deschamps. After a trophy laden playing career, the silverware followed Deschamps into the dug-out at AS Monaco, Juventus and Marseille, and the French needed a modest yet winning type such as Deschamps to help bridge the divide with the public.
Youngsters and 2016 - Unluckily, France drew Spain in the qualifiers, coming second with five wins, two draws and a defeat to the World Champions and group winners, while looking uninspired. One key problem was that Real Madrid striker Karim Benzema failed to find the net in 1222 minutes of football for France while Samir Nasri was another talented player failing to deliver. In the end a wave of youth, enthusiasm and guts swept France past Ukraine on a memorable night at the Stade De France. They did so with a brand new central defensive partnership of 21-year-old Raphael Varane and 24-year-old, two-goal hero, Mamadou Sakho. Their best player on the night was probably Paul Pogba, also 21. Even Benzema looked motivated, scoring twice but seeing one disallowed. Behind him Yohan Cabaye in the central role, Frank Ribery on the left, Pogba's all-round excellence mean that France may not have a group of stars but one that can operate as a team. Goalkeeper and captain Hugo Lloris is generally solid and at the other end Olivier Giroud has emerged as a replacement for Benzema. The odd man out Samir Nasri performs well for his club Manchester City but was left out of the squad as a potential source of trouble in the ranks. France is set to host Euro 2016 and only a quarter-final place in Brazil will secure Deschamps his future in the job. Although fortune favours the brave, they look short of quality players.