Colombia have been one of the most sucessful teams in the FIFA World Cup 2014. They progressed through the group stages, winning all 3 of their matches and with a formidable scoreline, scoring 9 goals in 3 group matches. They were up against Uruguay in the Round-of-16. With Uruguay's main striker Luis Suarez missing, it was a golden opportunity for Colombia to progress to the Quarter-Final round. The colombians won he match 2-0, as Jamez Rodriguez got a brace to his name. After looking at their form in their previous four World Cup games, they seem to be a stronger side than the hosts Brazil. It is likely that Brazil will have a tough time against Colombia in the mouth-watering quarter-final round.
Colombia World Cup stats:
Goals Scored: 11
Average Goals Scored per Match: 2.8
Average Shots on Target (%): 70%
Attempts per Match: 11.5
Fouls Committed: 68
Yellow Cards: 3
Red Cards: 0
Average Distance Covered per Match: 104.5km
Passes Completed: 1224
Pass Completion Rate: 70%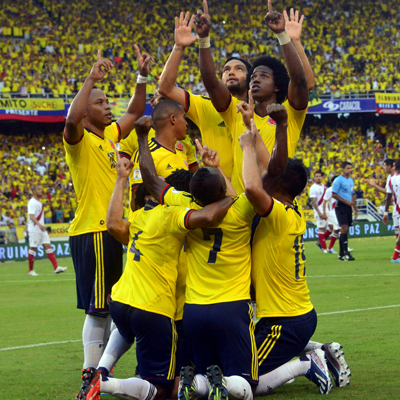 AFP
Country Profile:
Population: 47 Million
Area: 1,141,748 Km2
Capital: Bogota
Currency: Colombian Peso
Federation: Colombian Football Federation founded in 1924, affiliated to FIFA in 1936.
Colours: Yellow jersey, blue shorts and white socks.
World Cup appearances: 5 (1962, 1990, 1994, 1998 and 2014).
World Cup record: Second round (1990), First round (1962, 1994, 1998).
Copa America: Winner (2001), finalist (1975), 3rd (1987, 1993, 1995), 4th (1991, 2004), quarter-finals (1997, 1999, 2011).
How they qualified: Came second in the South Amzerican qualifiers with 30 points behind Argentina on 32, ahead of Chile 28, Ecuador 25 and Uruguay 25, with 9 wins, 3 draws and 4 defeats, 27 goals for and 13 against.
Top clubs: Millionarios, Atletico Nacional, America Cali and Deportivo Cali.
Key players: James Rodriguez, David Ospina, Teofilo Gutierrez and Mario Yepes.
Coach: Jose Pekerman (January 2012)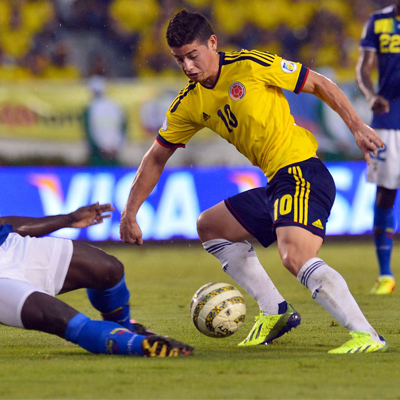 AFP
In Falcao, nicknamed the Tiger, Colombia had the added menace of a great striker and a goalscorer. He scored nine of their 27 goals in qualifying and has been terrifyingly impressive for his club sides Porto, Atletico Madrid and AS Monaco. He will however miss the World Cup after failing to recover from surgery on ruptured cruciate ligaments. Nevertheless, his back up is impressive, with Teofilo Gutierrez of River Plate racking up six goals and Jackson Martinez of Porto and Carlos Bacca of Seville giving Pekerman a rounded set of options up front. Colombia's playmaker, the 22-year-old James Rodriguez, has dazzled audiences with his skills and cheeky finishing, while Juan Cuadrado also impressed in midfield during the group stages.
Colombia only let in 13 goals in their 16 qualifying games thanks partly to their young 'keeper David Ospina, but also to their Italian based defenders Mario Yepes of Bergamo, despite being 38 years of age, and the Napoli duo Pablo Armero and Juan Zuniga. In fact most of the Colombia squad are playing their club football in either France or Italy and honing their technical skills on the Old Continent. There are hopes of a run to the second round in Brazil to emulate the Italia 90 effort, but bookmakers are even more optimistic than that, rating them as sixth favourites to win the competition. Back in 1986 Colombia backed out of organizing a World Cup due to internal security problems. The country is ranked second most violent (behind South Africa) in the world but a good campaign here will help their proposed bid for 2026.